Mac Address on iPhone refer to Wi-Fi number. This article covers how to find out the iPhone mac address on device using the 2 ways mentioned and its advantages…
Do you have an iPhone device or any other Apple device that you generally use? If yes, then you must know hot to find Mac Address on Apple Phone which should be happy that iOS allows all customers to check their MAC Address and which type of WiFi Address code.
Mac Address on iPhone
There are different reasons why someone would need access to their MAC Address. One among them would be limiting your access to the WiFi by your university or employer.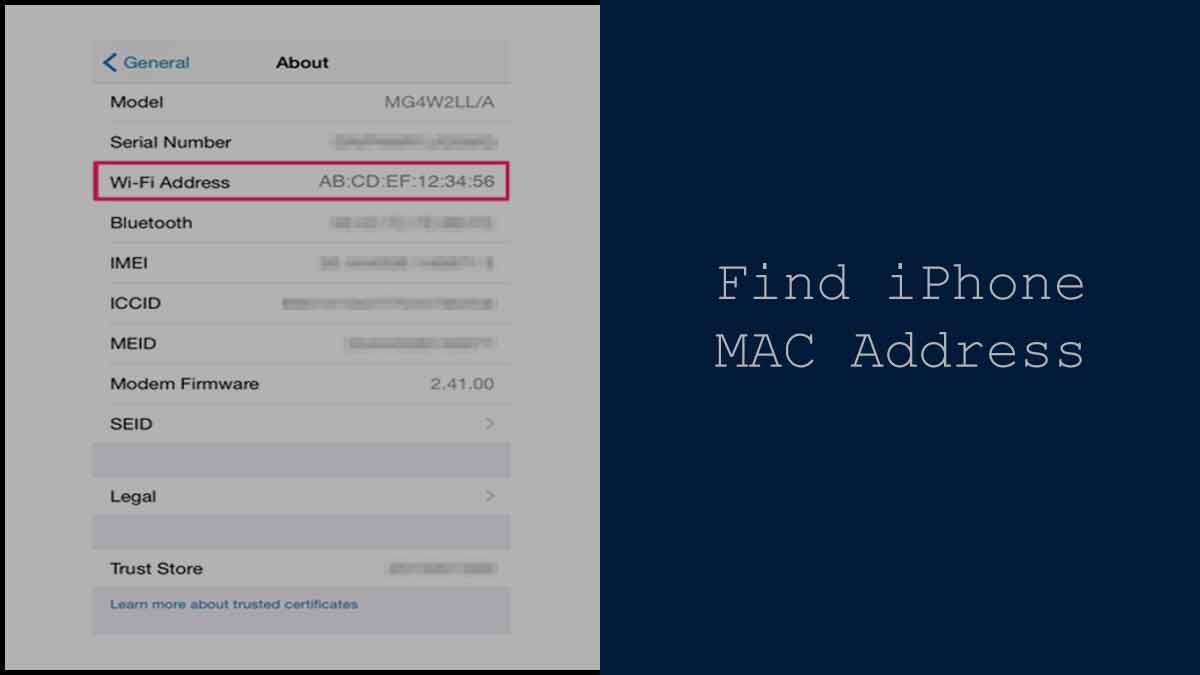 On the other hand, the MAC Address on your Apple device either on the iPhone, iPad, iPod or Mac. This may used to find your device if it stolen or cannot accessed due to some problem as well. But it does not hold much value in case you use your home WiFi and device connected to it.
One of the important understanding from this article is that MAC Address of any device may traced back to their recent positions and what the device actions have been over the past period of time over the Internet.
This can be used for any investigation or self analysis purpose but a note is that every device has an auto generated MAC Address which should never be shared with anyone else.
There are 2 ways to find the mac address on Apple Phone. Do follow these below steps to get these details for iPhone device, this is to note that entire iOS devices will have the same settings option form where you can get the these details.
How to find Mac Address on iPhone without WiFi
Well now the main part of this guide is to find out how to check the MAC address from your Apple Phone, So simply open either your Apple device such as iPod, iPad or iPod Touch and follow the below instructions.
Open your iPhone and then click on the Settings option
After that click on the General button
Under the General page, click on the About option
Under the About page you can see the MAC Address under listed as Wi-Fi Address for your Apple Phone
And this is how you can access the MAC Address for your I Phone device and you can access do the same for any other Apple related device to check their MAC Address.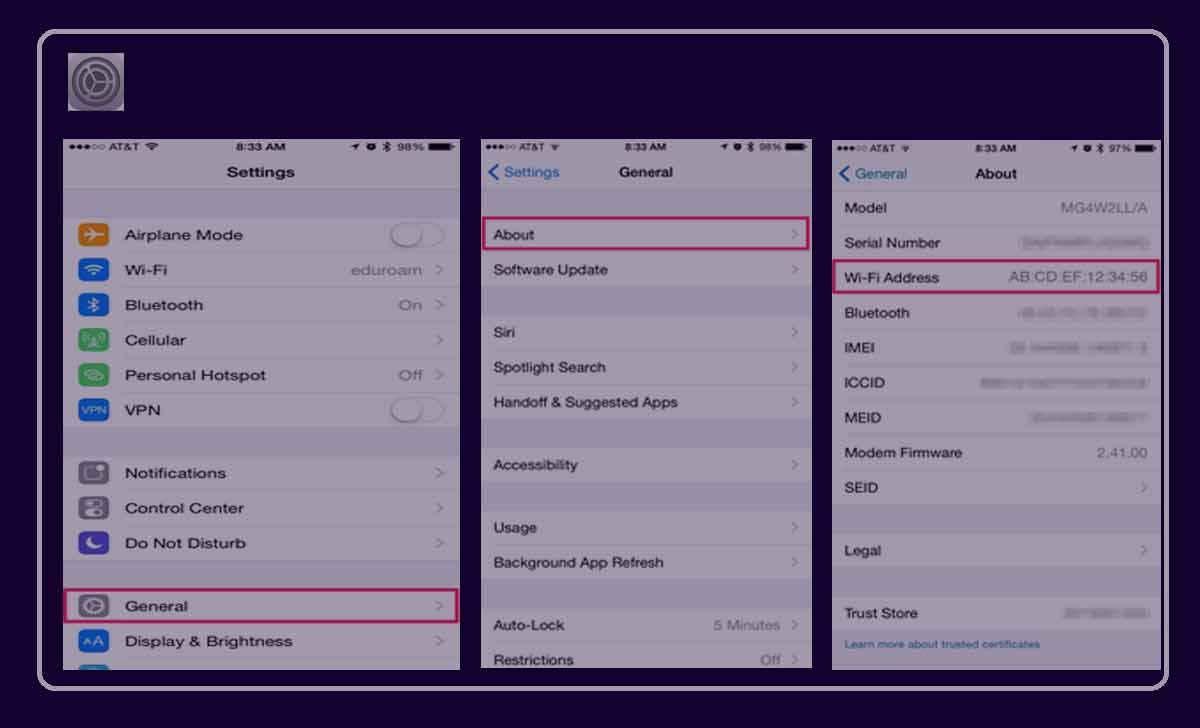 Find Mac Address on iPhone with WiFi
Follow the steps to find the Mac Address on when iPhone connected over Wi-Fi Network
Connect iPhone to Wi-Fi

Make sure to connect the iPhone on any Wifi network before we find the MAC address on iPhone device

Go to Settings

Open Settings once the iPhone connected to WiFi

Open Wi-Fi > WiFi Network info icon

Tap the Wi-Fi option from settings and open the WiFi Network info icon to view the details

View Wi-Fi details

Here you can find the Wi-Fi details is nothing but MAC address on iPhone
How to find Apple Phone MAC Address before setup

Some people might want to find out their MAC Address before the device is set up but in fact this is not a possible case, and it means that you will only be able to have a specific MAC Address generated once your phone is connected to WiFi once.

How to Change MAC Address on iPhone

No, you will not be able to change your MAC Address on any other Apple related device because this is an auto-generated address that cannot be changed otherwise.

Can't see full MAC Address on iPhone, What to do?

In order to see the full MAC Address on your apple phone you have to follow the above guide and the address you see under the Wi-Fi Address is your full address.

Is the WiFi Address the same as the MAC Address on the iPhone?

No, both the WiFi and MAC Address are different not just on iPhone but on any other device as well.

What is the iPhone's Actual Mac Address?

The Mac Address under the General Setting section is your actual Mac Address of your iPhone. This may the genuine, if not connected to the Wi-Fi network, which also refer to as Actual iPhone Mac Address.

Why is Mac address and IP both required?

The IP address of a device handles the logical routable connection from computer to network whereas the Mac address handles the physical connection from computer to computer, thus both work alongside for better privacy.

Can I turn on the iPhone Private Mac Address?

The iPhone Mac address generally required for better privacy. This enables and ensure to have a smooth screen yet protects your device from tracked across different Wi-Fi networks.

Can iPhone Mac used to track you?

Yes, Mac Address may used to trace directly during your travel. The only error is it won't trusted for travel and traced through an address. Every computer or device does have an unique Mac Address and if this may used by the cloud, it would be better in tracing the lost products.

Can we find a unique iPhone Mac Address?

The iPhone Mac Address for every device is unique and there is no type of secondary type address. The address found in settings option is only one Mac Address associated with your device.

Does Mac Address for iPhone Changes Automatically?

No, the Mac Address is a fixed code that set for your device and will not change at any point of communication. The only way the Mac address for iPhone changes how nether software package changed or the internet provider does change their Mac address.