Find the Grammarly alternative tools available in online at open source, Check each free tool supported for mac, and as an extension for word, chrome and firefox, Also find the supported version for Linux and free or premium softwares…
Let me ask you a question, do you believe that working knowledge of semantics of grammar is necessary for proper functioning of anything? Well, to be precise it is very important for anything to run properly such as a business creative which is grammar perfect or else a news outlet or a blog article which is properly checked for any grammar mistakes.
At the same time, people love to believe that working knowledge of grammar better resides with humans but it is true that the modern softwares, tools and plugins like Grammarly has been a great help to anyone who is looking to ensure that their words make sense.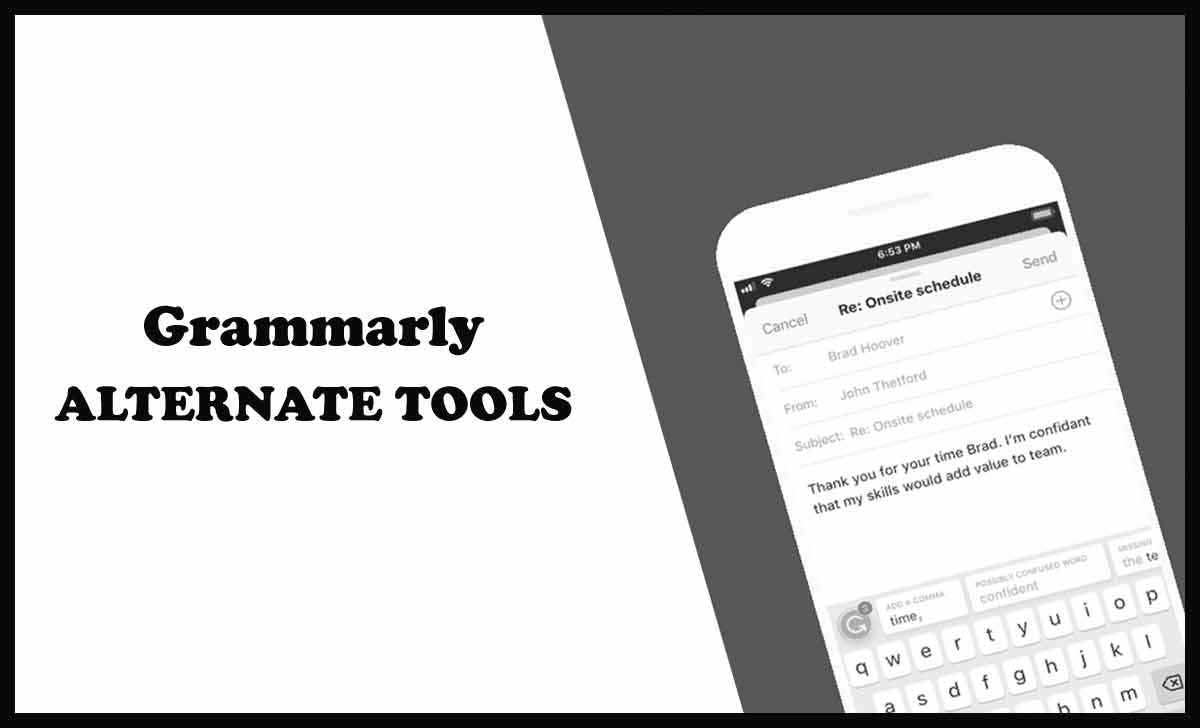 You might already know that Grammarly is one of the best grammar checking and correction tools out there in the market and with so many advanced features and cross application usage, it has become a much easier way to correct your English and be a pro.
Grammarly Alternative Tools
On the other hand, there are many other tools out there on the Internet and market that are exceptional in comparison with regards to Grammarly that you might have heard about before as well as an alternative, where in this article, we will be going over some of those paid and free grammarly alternative tools that you can start using right away.
Ginger
Unlike any other software, Ginger is mostly famous for its online website based Grammar checker tool which has great dialect skills allows anyone to insert anything and it brings out the mistakes that will render your sentence, article or words with a new meaning in grammar English, and all these for free of cost which makes it a top competitor for Grammarly as an alternative tool.
They also have desktop software that you can download or else even get it on your mobile devices to correct english mistakes in no time, and one of the latest trends of being available as plugins has hit the market and Ginger is also available for Chrome, Safari, Android keyboard and Apple Pages to be added as an addon or plugin.
ProWriting Aid
They self claim to be one of the best grammar checker tools in the world and if it wasn't for Grammarly or Ginger, then this tool would have been the first place indeed because it comes with a complete style editor, and it is not only available for online use, but it can be downloaded for desktop, mobile, cloud browsers and other softwares like outlook, word and many.
It comes with all the basic to professionals needs or style editor features that can help someone make their english enlightening as best as it could but it comes with a price and the free version is only until you complete the trial period.
WhiteSmoke
Well, we have seen tools that already have great grammar checkers that will give you a high level of english proficiency and grammar mistakes pointed out and corrected in seconds or minutes, but WhiteSmoke comes with a Plagiarism checker which is a great tool if you want to check if the words are taken from somewhere else.
WhiteSmoke also has a translator that helps to translate all your words or sentences to any other languages as per your preference without losing the meaning from it, and they do have a free version but if you are looking to get all their features and keep the best english checking along with all other features then you should be looking into their paid plans as well.
PaperRater
One of alternative tool for grammarly is PaperRater, and this is something more of a student level grammar checker and is used by students all across the world to make sure that their assignment papers or thesis papers are well written and it might not be your choice for a grammar checking tool, but for free you can get a lot of features such as 50 submissions per month to check grammar on and per submission there can be 5 pages, where you also get 10 plagiarism checkers per month which is great for a free tool, and there is also their paid plan which has more features that you can always look into.
Is there a need to have a grammar checking tool?

To be precise, if you want to have a proper correction of the present words or sentences you have written for either assignment, business or anything then it is always a wise choice to get it properly checked.

Are all the tools on the Alternate list free to use?

Well all the tools we have mentioned above are free to use but they also have paid plans while some tools only offer you a trial period and then you might need to select a paid plan according to your requirement.

Do I really have to go for a grammarly alternative?

Well for instance if you think you have proper knowledge in English then you can go with Google Words or Microsoft Office Word which will be suffice to help you with the grammar mistakes you might make but if you want to be ensure you have the best english written with proper grammar then I would suggest you to take grammarly or any of its alternative we have mentioned above.