How to fix the error your PC ran into a problem and needs to Restart without getting any affect on local files in windows 10 or in other versions, Find whether it is an registry error or not and collect the error info about how to fix on if keeps rebooting…
The Windows Error your pc ran into a problem and needs to restart on blue screen is a normal error message and there are different approaches to tackle it.
This error on windows is due to various issues and we have got step wise tutorial to get them fixed using different methods.
Any changes in system files, malware infection, lose hard drive connection and more issue's will lead to this Windows Error. Most of the times a force restart by long pressing the Windows Start button has solved the error, if still you see same error then proceeding with below given method is only solution.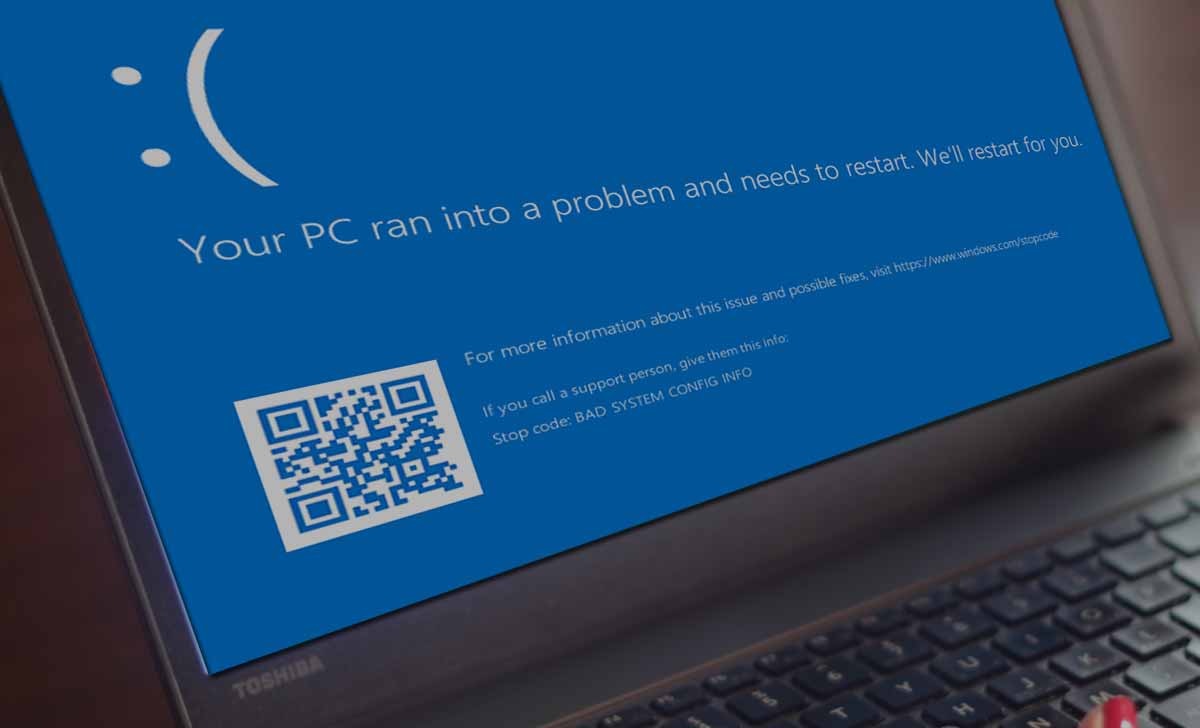 How to Fix Your PC Ran into a Problem and Needs to Restart
There are three different ways of approach which depends on your present Windows situation. Accordingly, the steps need to be performed to fix error. Based on the three situations, the fix approaches will apply which are clearly stated in tutorial below.
User able to boot Windows
User Can't boot Windows
User Stuck in Windows Loop
It is advised to not get confused with steps mentioned in different methods and if a normal restart or trouble shooting has not solved the error, then it is better to make a visit to expert to fix this error.
In many cases same error have corrupted the computer and important data on system will have high chance of corruption.
Also Check>>> Windows Defender Advanced Threat Protection
How to Fix Your PC Ran into a Problem with User Able to Boot Windows
If you have seen error "your pc ran into a problem and needs to restart" and later are able to boot your computer, then you need to perform some steps to completely fix this error. Follow few methods shown below which can be opted in this situation of error.
Method 1 – Boot in Safe Mode and Boot normally
Fix some system related issue by deleting problem files and updating driver. Do follow below steps to complete first method.
Click on Windows start button and open Settings
Go to Update & Security and select Recovery option from below
Here select to Restart Now and once Restart Recovery option are displayed
Select Troubleshoot and then advance Option to go to Strut setting
Now click on Restart button and select a Enable Safe Mode Form Start up settings
This will automatedly detect the Windows error and fix the problem once the computer has been fully restarted.
Method 2 – Checking Disk
This is one normal problem which is caused to disk error like file system error bad sectors. If you find error like "inaccessible boot device" then this method will help be option to proceed.
Launch My computer and then Right click on This PC icon
Select properties from it and then go to Tools tab
Click Check and then Scan drive to detect if problems any
This will resolve if any bad sector issue with disk and probably fix it without manual InterVision.
Method 3 – Check system log in event viewer
Your windows errors are loaded din event viewer system logs which will let you exactly who has caused the error "your pc ran into a problem and needs to restart".
Go to Start butt and enter Event Viewer to search for
Right click on same and choose run as administrator
Next expand Windows Logs and then got System
Here check recent logs with errors of blue screen
This listed log will let you know which term has caused the error and simultaneously action can be taken further to fix it.
Fix Your Device Ran into a Problem and Needs to Restart with User Unable to Boot Windows
In this situation, you will be left on a page with two options as Restart or Advanced options. This will be case when your PC had tried to automatically update the error with a restart and let you stand at Automatic repair blue page.
Here Restart button will do the same process again and leaves you in same blue screen with no further proceedings.
The Advanced option shown on screen will take you to multiple options, select Troubleshoot and then advanced option here. You will land a page having six problems which need to opt as per your current error understandings.
System Restore: Select this if you have restored point in PC and sure to refresh the windows freshly with all new settings and configurations.
System Image Recover: This optioned to be selected if there is a system image created by you, which can be used to recover the current settings.
Start-up Repair : As system has tried to restart already, this option is of no use. You can even try to use this option which will try to auto restart and fix the error. If lucky you will be taken to windows page else to same page.
Command Prompt: need to pass some commands that will bring the registry backup file into picture and restore it for successfully start-up of windows.
Start-up Settings: here the Start-up menu settings need to change from automatically to manual to select safe mode to use the restart process.
Go back to Previous Build: As windows saves an image of its previous windows version, this option will revert all present Windows 10 settings and get back the Computer older windows version.
How to Fix Your PC Ran into a Problem with User Stuck in Windows Loop
This case leaves you with no option to select or consider and only installing the Windows back with CD/DVD will be an option here. Use below steps, if you have been stuck with no option to select in error "your pc ran into a problem and needs to restart".
Need to Create Windows Installation Media using the CD/DVD available
Connect this bootable media device and start the boot process form computer
Once the installation file is loaded, click on next button to proceed
Select Repair your Computer option and select Troubleshoot option
Here select advanced option and which will drop you to proceed from solution 2
Once your computer has left you in page of Advanced option, same steps as mentioned in solution 2 can be taken to fix the error your pc ran into a problem and needs to restart with possible solutions.