Now a days, people are mainly focusing on their physical activities to become physically as well as mentally stable and to do this learning How to track daily fitness activity is also essential. It is mandatory to perform physical activities on daily basis to lead a disciplinary and healthy life.
But tracking your daily fitness activity is very essential for body progress and health guidance and also to keep motivated. Now you no need to worry about it to track and note your physical activities daily.
Lot of simple ways are available to track it down by just using your mobile phones, fitness tracking watches, apple watch and lot more. You just need to wear it during performing any physical activities.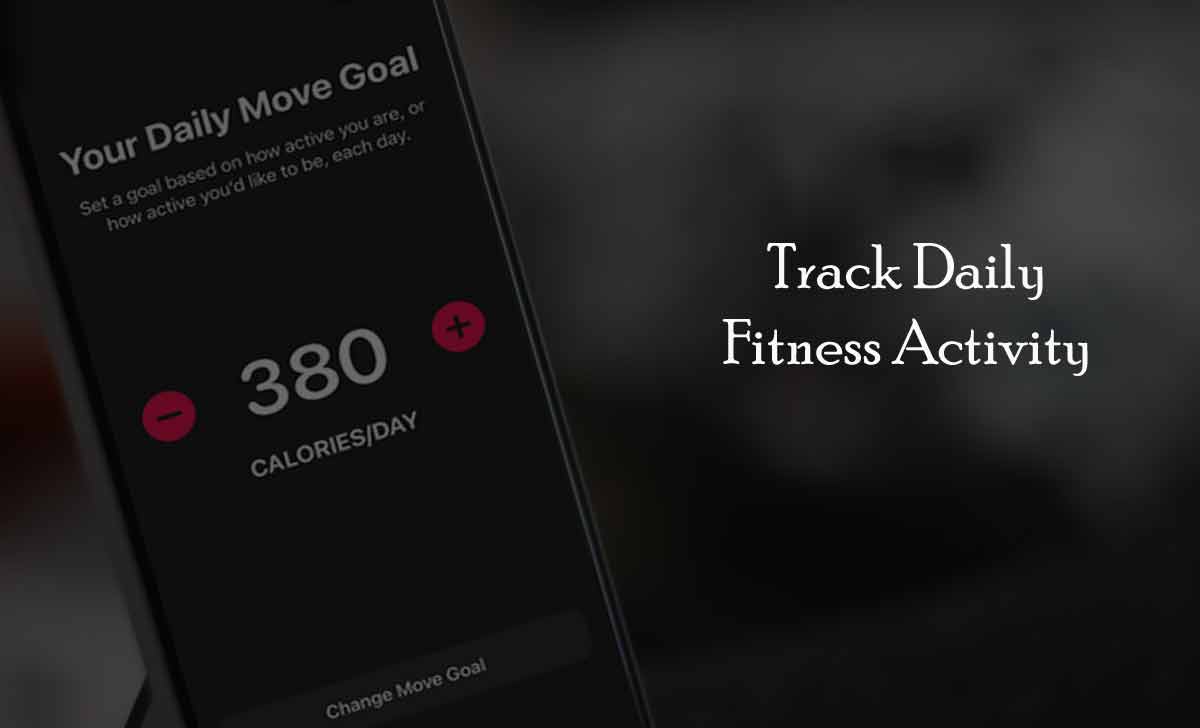 What is My Daily Fitness Activity
Daily Fitness activity means Performing physical activities on a daily basis to maintain and enhance your health physically and mentally good. Here fitness activities refers to any type of physical tasks that results in burning your calories, controlling your heart rate, blood pressure, breathing issues and many more.
To maintain this, you have to perform running, walking, cycling, Yoga or doing Gym and various activities involves in this. To maintaining daily fitness activity, one should be very healthy and active physically and mentally and there is no risk of health diseases mainly chronic diseases like heart attack, heart stroke, etc.
Ways to Track My Daily Fitness Activity
It is quite simple to track your daily fitness activity. There are lot of different and easy ways available to track your physical activities daily. Not only tracking, you can also analyze the daily data on physical activities and get the suggestions too. To track it down, you just carry a mobile or watch with you at the time of performing exercise.
You can use iPhone, Apple Watch, Android mobiles and also countless third party apps available to trace your physical activity daily. Now just check how to use them to track your daily fitness activity and the requirements needed.
Track your Daily Fitness Activity using iPhone
iPhone is famous for it's accurate tracking and monitoring of your daily fitness activity perfectly. Every iPhone user have access to track their physical activities by just using the in-built app or feature called Fitness app. By enabling this app, iPhone starts tracking your activities and you can view daily activity.
Also Fitness app suggests the minimum workout needed by you based on your physical measurements like height, weight, age and also gender. So get started to know how to use this fitness app to track it down.
**Note: Fitness App and Health app are same, it just based on the iPhone version that your using right now. In some iPhone, it will be Fitness app and in some iPhone, it will be Health app. But functioning of both are same.
How to Enable Fitness App on iPhone
To start tracking your physical activities on daily basis, you just enable the Fitness app on your iPhone. To do this, follow the simple steps given below.
Go to the settings and click on Privacy
Scroll down and select Motion & Fitness option
Toggle on the Fitness Tracking and Health features to track physical activity of user daily
Open Fitness App on your iPhone and click on Continue
Enter your personal details like height, weight, Date of Birth and Gender.
Tap on Continue and Fix your Daily Move Goal
App itself suggest the daily move goal according to you by lightly, moderately, highly options or yourself can fix it
Finally Click on Set move goal and enable fitness notifications by clicking on Allow.
How to enable Trends on Fitness App of iPhone
Fitness app also providing Trends feature to let you know the more details of your daily fitness activity to just follow the trend that you are performing. It makes you motivated daily by showing the notifications and daily goals that you are completing. To enable this feature, just follow the two steps shown :
Launch the Fitness app on your iPhone
Go to the Trends feature present on home page below the Activity section
Click on Get Started option
Tap on OK to keep a check on your daily fitness activity.
How to Check Daily fitness Activity on iPhone
It is necessary to take a look on the fitness activity done by you in regular intervals of time. So to keep an eye, just follow the simple steps to check daily fitness activity.
Go to Fitness app on your iPhone
Click on Activity section present on Summary page
There you will get rings of activity
From here, you will check the calories burned, steps you taken and the distance traveled.
Not only this, but you can also check heart rate, exercise data and many more.
How to Modify the Daily Activity goal on Fitness App of iPhone
If you feel that you have to increase or decrease the daily fitness activity goals based on your other regular life activities. Just follow the process to change the daily set move goal on fitness app :
Open Fitness app on your iPhone
Click on account section icon present at the top right corner
Select Change Move Goal option from menu
Provide personal details again
Set the daily move goal as per your wish
Finally click on Change move Goal.
How to Check your Rewards based on your Daily activity
To make users keep motivated on their daily fitness activity, Fitness app provides some Rewards based on the the goals that you are completed. To check the rewards that you have got,
just open the Fitness app and go to summary page.
Open Awards section
check the awards you got and also the requirement needed to get that award.
How to Share Activity Status through Fitness App
If you want to compete or share your Fitness activity status with your friends and family, here is the best feature available for you in Fitness App on iPhone to share your daily fitness activity. Just follow the simple steps to do this :
Launch Fitness app on your iPhone
Click on Sharing option present at bottom of the homepage
Tap on Get Started
Click on People add icon present on top right of the screen
Enter the name or mobile number of the person that you want to share with and click on Send
The Person has to accept your invitation from the sharing section of his Fitness app
Both of you will get the daily activity status of both of you and will compete each other.
How to add Fitness Widget to your Home Screen
To track your daily fitness activity by just seeing at home screen of your iPhone is possible by adding a widget of Fitness app to your home screen. To do this just follow the steps given below
On Home Screen
Tap and hold on the home screen of your iPhone
Click on + icon present at top left corner of the screen
Scroll down and select the Fitness app widget
Click on any two of the widgets shown to you
Finally Tap on the Add Widget option
Locate and resize the widget anywhere on the screen where you want to place it.
On Lock Screen
Press and hold on the lock screen of your iPhone
Click on Customize option present at the bottom of the page
Tap on the box contains + icon
Select Fitness app widget from the Add widgets Menu
Click any one of the widget or both from Ring like widget and data widget that will be shown.
Tap on Done to complete the process.
Track your Daily Fitness Activity using Apple Watch
Apple watch users will get a extraordinary feature called Activity App in your apple watch to track the daily fitness activity by just wearing it at the time of workouts. Through this app, you can track the steps, how many times you stand and how how much time you involved in exercise. So to use this app, just enable it first and make use of it.
How to enable Activity App in your Apple Watch
Go to activity app on your Apple Watch
Swipe left that shows the Move, Exercise and Stand descriptions
Click on Get Started
Provide personal details like age, height, weight, sex and if you using wheel chair or not with the help of digital crown
Select an activity level and start doing exercise
How to check your activity on Apple Watch
At any time of the day, you can check your physical activity done by just opening the activity app and then select activity tab. Here you come through three rings which shows you the different activities done by you. The three rings are :
Red ring : It shows the how much active calories you burnt on that day
Blue ring : It shows that how many time many times you stood in a day and walked minimum one minute per hour
Green ring : It shows the how much time you participated in brisk exercise
By turning digital crown, you can check your current status and progress of your activity as a graphs.
**Note : In case that you are using wheel chair, Blue stand ring will converts into Blue roll ring. It shows that how many time you roll wheels of wheel chair for minimum of one minute per hour. Also the overlapping rings indicates that you complete the goal.
How to check weekly summary on Activity app
You can check the total summary and activity information of entire week with the use of Activity app. Through this, you can check total calories burnt, steps you travel, average calories, distance and activity time.
Open Activity app on your Apple watch
Scroll down using Digital crown and select Weekly summary section
Check the entire activity details of current week
How to change activity goals through Activity app
If you want to increase or decrease your daily fitness activity levels, you can simply change them through Activity app on your Apple watch.
Launch Activity app on your Apple Watch
Scroll down to the bottom of the home screen using Digital crown
Click on Change goals option
Adjust the goal using arrow buttons
Finally tap on Next.
**Note : On every Monday, you will get the notification based on your weekly activity and Activity app itself suggests you any modification in your activity if needed. Then you can adjust activity goals by following above steps.
Check your Rewards on Activity App
For motivating users, they can earn rewards based on the goals completed, self records and maintaining streak in Activity app. To check your rewards follow this steps :
Go to activity app on your Apple Watch
Swipe left twice to view Awards section
Scroll down to check your awards and click on any award to know about it
How to Track your Fitness activity on Android
Android users can track their daily fitness activity using their mobiles with an application installed in it called Google Fit. By using this app, you can track steps, physical activities, bike rides and much more with it.
Google fit app also store the activity data and you can manage app through all your devices that contains your google account. This app already installed in many smart watches that runs on OS, if this is not available on your smart watch, you can simply download it from play store.
How the Apple Watch Tracks your Fitness Activity ?

You have to install and set up Activity app on your Apple Watch. This depends and counts on the arm motion and an accelerometer to trace your movements.

What are the Fitness tracker apps ?

Fitness trackers apps are used to track and store your daily fitness activities to maintain your health. Mainly, you just need to carry that device contains fitness tracker app during workouts to track your activity. iPhone users contain Fitness app and Apple watch contains activity app and Android devices contain Google fit app to track your daily fitness activity. There are lot of third party apps available in internet to track your activity.

Is there any charge required to use Fitness Tracker apps ?

Using Fitness tracking apps is absolutely free of cost. There is no charges require to use it. You just need to install app on your device and enable permissions to use it.

What is the main of tacking your Fitness activity ?

Tracking your fitness activity is keep you motivated daily to reach your activity goals of physical exercise. By storing activity data may help you to be healthy by maintaining proper exercise and also diet based on your choice. Also you can do easy modifications and become more efficient of your workouts daily.