Let's do find the different methods and simplified process to uninstall Skype for Business on Windows platform and on MAC device completely along with associated files which occupy huge resources…
Uninstall Skype for Business
Skype for Business is a platform created by Microsoft, which is under the suit of Microsoft Office 365, and Skype for Business has good benefits and despite having some disadvantages.
This Application does use high Ram which it gets launched and it becomes sometimes hard to close it from Task Manager, and therefore there are many users who want to get rid of this Application from their Windows or Mac Device.
Skype is obviously a great application that has many uses, but its business App has not done well, and the disadvantages are more and If you have got a great computer with Good RAM, only then this Skype for Business is best in use.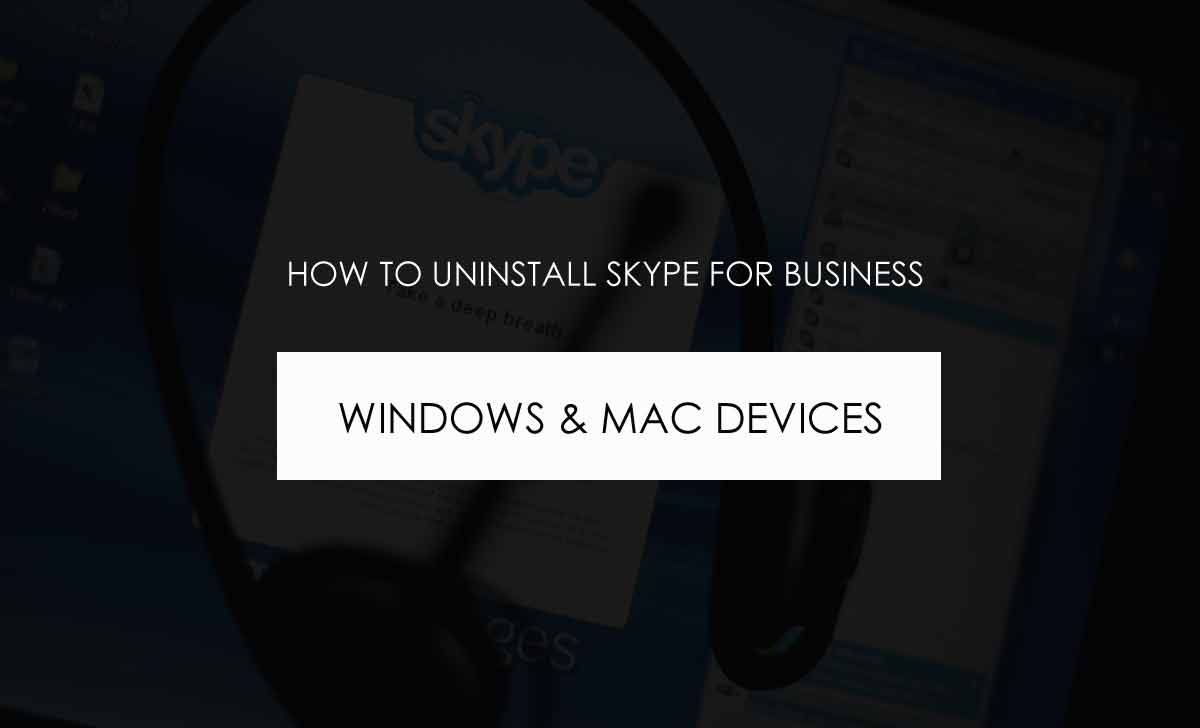 How to Uninstall Skype for Business on Windows
Here we go forward to see the process of Skype for Business uninstall in windows, which has got multiple methods. So try using any of this method and get your Skype App removed.
Method 1 – Uninstall Skype using Settings
Here we will use the process to uninstall Skype for Business using the windows settings option. Make sure you follow these steps correctly and get the App uninstalled.
Launch the Start Menu and click on Setting option from the list
Now Click on Apps in Settings and search for Skype for Business
Right Click on Same and then select Uninstall button from it
Click on Install to confirm to get the App uninstalled
That's it, Skype for Business is now uninstalled from your Windows device and its settings will be removed from your device completely. To affect the changes, it is always recommended to restart the windows once.
Method 2 – Uninstall Skype Using Control Panel
In this process we will use an option from the control panel to get Skype for Business installed, and it is recommended to follow these steps, if you know little about the setting. Else you will end up removing any other useful features from your devices.
Click on Windows button to get the Start menu launched
Here search for Control Panel and click on it to open in new windows
Click on Uninstall or Change a program from the option provided
In the windows, scroll down and search for Skype for Business in list
Tap on Skype, so that it becomes greyed as selected
Now click on Uninstall from top menu option provided
The uninstall process of Skype for Business will begin
Finally, Skype for Business has been uninstalled from your windows device and windows is now clear with the Skype software. The older files will be removed, once you get your windows restarted any time after removing Skype for Business.
Method 3 – Uninstall Skype Using Registry
As we said, there are numerous ways that we can use to uninstall Skype for Business form Windows. Here is one more which uses Registry to get the Application removed completely.
Launch your Windows device and open the Windows menu
Search for Regedit or registry editor to launch on screen
Right click on it and open it to run with administrator
Now browser for the Skype folder under Uninstall path
Now click on it and confirm it to run to uninstall the Skype
Finally Skype for Business has now been removed from Windows using the Regedit application. From now you will not be able to use Skype on your system.
How to Uninstall Business Skype in Mac Device
Are you using a Mac device, then you must use this below given process to get Skype for Business software removed? This process is the same for all Mac devices and can be opted to completely remove this application.
Launch your Mac device and click on Apple menu to launch
Here search for Skype for Business form the Dock to list
Click on it and sign-out from the application to move out
Now click on Control along with Skype at similar time
Choose to quit the application to comped move out of it
Now go to Finder and then click on Applications
Find the Skype for Business from list of Apps installed in your device
Drag and drop the same to Trash, to remove it from Mac
That's it, Skype for Business is now removed from your Mac device, as you have thrown it to Trash. Making the same will remove the App from the device and will Mac free from Skype Application.
Can I increase RAM, to support Skype for Business Software?

The Skype for Business has been seen utilizing a good amount of RAM while the system gets started. This is not in all computers, but increasing the RAM is not a good preference for just one application. Users are asked to get the website skype to use for their purpose, rather getting the Skype for Business Software installed.

Can Skype for Business be installed again?

Yes, Skype for Business is a part of Microsoft Office Suite and thus you can anytime get it installed. Windows and Mac devices do have different Skype for Business that can be installed from their respective store for use further.

Will Skype for Business uninstall remove associated Files?

Yes, the Skype for Business when uninstalled from the Windows or Mac will completely remove its files from the system. The media and documents are still on your system, which will not be removed even after completely removing the Skype for Business.

Will uninstalling Skype for Business, will remove my Account?

No, the Skype for Business is only the application that is installed in your device. The removal of Skype for Business Application will not affect your Skype account, as the same account can be used to access skype from a web application or from another device.

Why Can't I Uninstall Skype for Business from Windows?

There are multiple ways that are provided to remove the Skype for Business in Windows device. It is recommended to restart the windows and try any of the above given methods to remove Skype for Business completely.