Fix the error this site can't provide a secure connection. Know the reasons why the error this site can't provide a secure connection occurred and check the possible solutions…
Errors while using webpage are more often when you don't have required security or even proper device settings. One common error "Site Can't Provide a Secure Connection" can be experience while you're trying with the latest technology to load your Chrome or Firefox browser.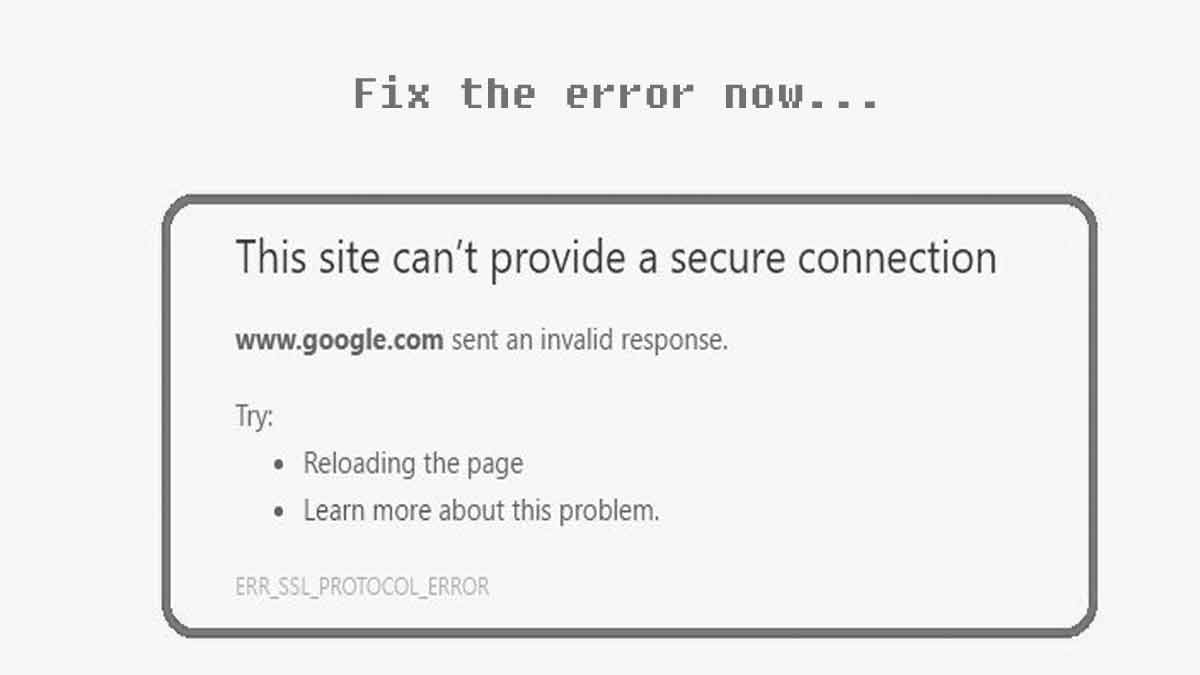 There are often miss correct date and time in your laptop or computer, which does brings the error This Site Can't Provide a Secure Connection on screen.
Web Pages does always seek for proper security before loading and thus with these types of errors, you won't be able to load any web page. In this article we will show you how to fix these errors in your Windows laptop.
Also Read: ERR_SSL_PROTOCOL_ERROR
This Site Can't Provide A Secure Connection
The error doesn't only mean that your site is insecure there are plenty of other reasons which bring these errors. It is mostly due to the confirmation of your laptop or computer or even with your web browser. Let us discuss each of these error causing reasons in detail.
Local Environment SSL Certificate: in case if you're using the local environment like MAMP, then you will probably not have an SSL certificate. There are options through which you have to allow them to automatically detect the SSL certificate for your string local tool. Thus having a proper SSL certificate will clear the error.
Outdated SSL certificate: web browsers like Chrome, Firefox and others store the SSL certificate of your recently visited site in the cache data. They don't verify the certificate every time you visit the site and make your access even faster. Thus if you have an older SSL certificate then it is probably the main reason.
Date and time Incorrect: If you see Site Can't Provide A Secure Connection error then you might give a look at your device time and date. The security pattern of the web pages doesn't allow loading screens if the device time and date are wrong. Thus by updating the device time and date, these errors may resolved.
Browser Extensions: check if you have installed or added any mis configured browser extension which might bring bugs in your security. These could be due to coding mistakes from the extension which causes the error.
Also Read: How to Discourage Search Engines Indexing of Website
How to Fix This Site Can't Provide A Secure Connection
We bring you multiple options through which you can fix the error in your device and start using the web pages.
Fix Date and Time
The first point is to get the fix the date and time from Laptop or Computer. Right click on the right Corner of the screen at time and then tap on Adjust Date & Time. Now window will pop-up, here click on automatically set time or chose your local time zone form drop down. Once updated, launch your browser and load the web page. The error will be fixed and you will be allowed to access the web page smoothly.
Disable Antivirus
In most cases, the Antivirus which you have installed might stop you from using the Browser. Thus you have to either disable the entire Antivirus to avoid "Site Can't Provide A Secure Connection' error. Or just exclude your browser from the Anti Virus list. These can be done through accessing the Anti Virus application and chose the options to exclude your mostly used browser.
Cert8.db File
In most cases when your cert8.db file is corrupted the error as Site Can't Provide A Secure Connection can be seen. Thus you have to delete these files completely if they are corrupted and fix the error.
Close the Firefox browser completely
Now press "Windows Key + R" and then enter %appdata%
Click on Ok button to move to cert8.db file containing folder
Here delete this file and then restart your Firefox browser
Restart Router
In some rare cases, the issue with the router can lead to error. Thus you can restart your router by power off to get the values set to default. Wait for treat 30 seconds to restart the router and check if the problem still exists after the reboot. Even you can try to long press the "reset" button form router to clear and make the default settings applied.
Fix SSL Certificate
In the chrome browser there are options which may update to get installed the latest SSL certificate. Thus by changing the SSL protocol setting using below steps you can fix this error.
Launch your Chrome browser and click on Setting from Top right option
Here scroll down to advanced settings and then select Proxy form list
Here click on Advanced and then move down to the find Security option
Now check on all SSL certificate and click on Apply button
Wait for few seconds and try to reload your browser with URL
For reference: please visit support.google.com
Why does Google pop-up with Site Can't Provide a secure connection Error?

The error Site Can't Provide A Secure Connection seen when HTTPS protein or HTTPS scanning form your antivirus enabled. Thus this antivirus does prevent the Chrome or Firefox browser from loading any URL which not added in their secured list. This error fixed if you turn on Antivirus or add the page in secure networks.

How the SSL cache in Chrome cleaned?

Go to the content tab form the internet option of Start menu to select the 'Clear SSL State' option. These will clear all older SSL certificates and make way for new certificates to remember.

Does Site Can't Provide A Secure Connection a warning?

This error is not a warning from web pages, as this fully linked with your browser and device settings options. There is no risk with the web pages which try to load, instead your device has to go through some minimal changes to allow the web pages to load properly.