Find the shortcut keys in MAC, Android, or Windows and the direct format option for Strikethrough text in Gmail when composing in GSuite services…
Gmail has become one of the world's best email clients and has the most users for any email client out there, and it is so common and best that even large scale companies use their G Suite service in order to build their company mailing & communication system.
But if you use G Mail for personal reasons or for business purposes then you might have sometimes come across the need to use a Strikethrough. So, in this technology guide, we already inform you about the Google Docs strikethrough option, now we will be helping you understand and learn the methods to apply or use the Strikethrough option in google's email.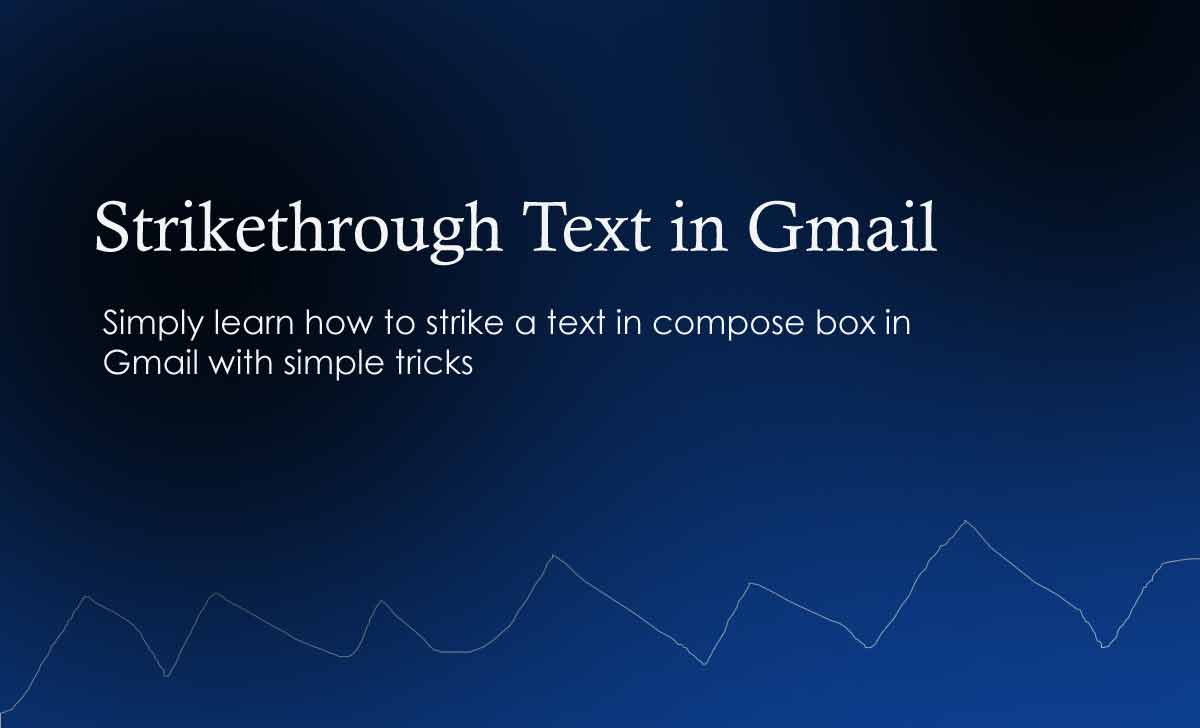 Gmail Strikethrough
Well if you want to make Strikethrough to a text in G Mail client then simply follow the below available three methods which will help you to do it.
Method 1
Strikethrough on Gmail from Format
So in this method let us assume that you already have text variation on the email box and now you can go to the next steps to make the Strikethrough easily.
Open Compose and then select the text that you want to Strikethrough
Then click on the format settings and click on the drop-down button More Formatting Options
Select the Strikethrough icon and then the settings will be applied to the selected text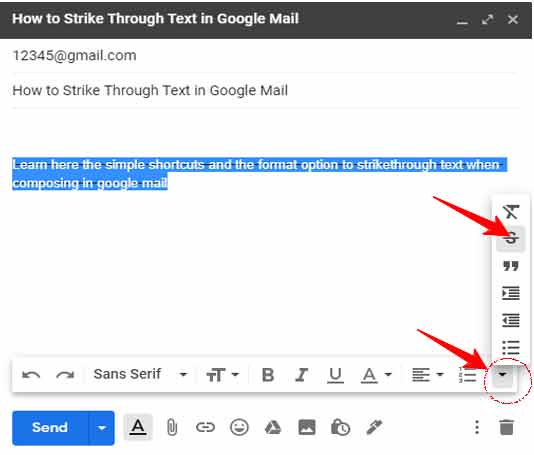 Method 2
Strikethrough for Gmail with Shortcut
In case you do not have the time to go through the settings and formatting options then you do not have to worry because the Strikethrough shortcut still works on G Mail as well.
Select the text and then apply the below Strikethrough shortcut based on the OS tool you are on

Windows: Alt + Shift + Number 5
MAC: T⌘ + Shift + X

Then you would have simply applied the Strikethrough with shortcuts on Gmail!
Method 3
Copy Text with Strikethrough Directly
In case if the above two methods are uncanny and you cannot proceed with them, then simply copy any text with Strikethrough directly into your Gmail compose client and you will be able to still see the Strikethrough applied on the text you copied, and this seems like a far stretched method but works like charm all the time.
How to apply Strikethrough in Gmail Subject Line?

No, any email client like Google mail or any other has MMI code in their subject lines which do not allow such characters to be passed on. So, therefore you cannot use the Strikethrough option in the G Mail into your subject lines.

How to get Strikethrough in Gmail app?

In case if you are using the Gmail app for Android, iOS or any other OS then it would be much easier to use the formatting options under "Other Formatting Options" then select the Strikethrough feature just as shown in the method 2 of this guide.

Do I need a Chrome extension to apply Gmail Strikethrough?

No, there is no need to have a third party or any party chrome extension to simply apply the Gmail Strikethrough. In rare cases when the methods do not work, you can just follow the method 3 where you can copy the Strikethrough text into your Google mail compose directly.

How can I use Gmail crossout?

Sometimes people get confused between the words Strikethrough and cross out which literally are the same but are different words, So, you can follow the said three methods we have shown in order for you to use the Gmail cross out feature.