Are you facing issues with Facetime Not Working on Mac devices, as if you're getting Mac activation error, Poor Connection regularly, No Sound during Calls, Camera isn't responding, unable to log in for Facetime poor connection which unable to receive calls.
These are the same regular issues that have been observed in Facetime Not Working on Mac, you just not to worry about them, as they can be resolved by yourself if you can just follow any of the method processes shown here, Most of the time you face this Facetime Not Working issue, when you have a hard connection due to internet issues.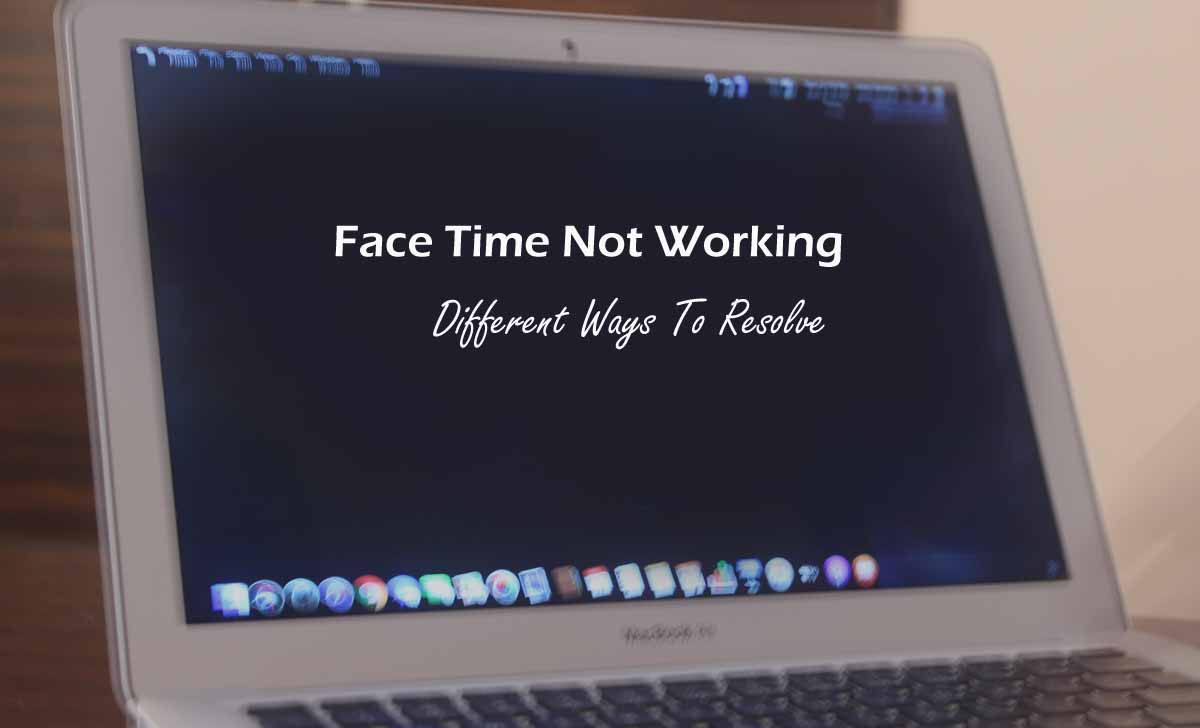 Facetime Not Working on Mac
Method 1: Quit Facetime and Restart It
If you have started Facetime and after a quiet time it started to hang, then these are some steps that need to be followed, as this is some random glitch which affects the Facetime Application.
Here we will try to resolve the Facetime Not Working on Mac error using some most common methods. Thus it is required you to follow the instruction correctly and don't use any other step except the which is method here.
Press Option, Command and Escape button at all once
When the Facetime is On, but it is not responding on Mac Screen
Then and Force Quit pop-up box will appear on screen
Click on Force Quit and wait for Facetime App to close completely
Now Go to Finder and search for Facetime to Open
Hope this quick restart of Facetime App, has resolved the Facetime Not Working on Mac error. If you still have the issue, then you can refer to the other methods shown below.
Method 2: Facetime Poor Connection to be Properly Setup
Many a times, the Facetime poor connection is observed if the Mac device isn't receiving proper internet connection. So check the connection setting and try to resolve if there is any issue.
Click on Apple Menu and open the System preference option
Now Open Network Control Panel and Select Wi-Fi form list options
Choose the Wi-Fi network your connected to get disconnect
Reboot your Mac Device once the Wi-Fi is disconnected
Once back, go to Wi-Fi and check if Wi-Fi successfully connected
That's it, Facetime Not Working on Mac having WiFi issues with internet connection will be resolved as restart of Mac will clear any minor system error.
Method 3: Manage FaceTime Phone Number or Email Address
Setting up FaceTime on a Mac device is done through properly setting the Email Address or Phone number to it. If your fan issues while making calls or getting errors, then it is something with this ID to be resolved.
Click on Apple Menu and Search for FaceTime App in Applications
Launch it and then open Menu bar of FaceTime
Select the Preference and look for your contact details
Verify your Mobile number or Email Address is properly set
Else you need to re-verify your contact details to resolve this
This will probably get an error fixed that FaceTime is not working on a Mac device.
Also Read>>> Anydesk for Mac
Method 4: Configure System Date and Time
It has happened that if your Mac device has some irregular Date or Time, FaceTime App doesn't read them and thus won't allow you to make calls. Thus getting your system into your time zone to set is also a main error.
Open System preference form search it in Apple Menu
Now click on Date & Time to open on screen
Here enable "Set Automatically" to configure correct timing
Make sure your area is properly set and time is correctly showing
This will let FaceTime App work properly, or you need to contact your Apple System Support to fix the Date & Time error in the Mac device.
Also Read>>> Create Sticky Notes for Mac
Method 5: Edit DNS Setting in Mac
There are issues from the DNS server as well, so getting it corrected might also fix the FaceTime not working on Mac errors. Follow these steps to change the DNS server settings and try to fix the FaceTime error.
Launch the Apple menu and then go to System preference
Open the Network Control Panel on screen
Now select your network on left hand side as Wi-Fi or Ethernet
Tap on DNS tab and click on Plus button beside IPv4 or IPv6 address label
To edit this DNS server, double click on DNS IP that needs to be changed
Or to delete the DNS IP, click on minus button to remove the IP entry
Once the DNS IP is set, click on OK button to confirm it
Then click on Apply to save the recent changes made on DNS
Reset your Mac device and try connecting to FaceTime on Mac. This will mostly get your issue fixed and you will be able to use FaceTime without error.
How to Fix, as My FaceTime on Mac is running very Slow?

This is quite a normal error which everyone faces while using FaceTime, and you need to get a good speed internet connection to your Mac device to make FaceTime run smoothly without any interruption, where low data connection and weak signals will not allow you to make calls.

Can I Use two numbers on Mac to run FaceTime App?

FaceTime does accept only one authorized number to set up on a Mac device and thus you won't be able to add two numbers on Mac to use double FaceTime, and if you want to make calls from the second number then the first number needs to be removed from FaceTime settings and the next number to be verified to make calls.

Why am I unable to call one person on FaceTime?

If you're able to make calls and receive calls from FaceTime to everyone except one, then it is not your problem, and you need to ask them to get their FaceTime App reset or check their network connection as well, and there might be any software problem in their iPhone or Mac, so it is not accepting your Facetime incoming calls.