Are you getting yourself a new WiFi router, then you might be happy because now you are able to set up your best WiFi names to your liking which is a funny act but a please to do indeed.
Well as you already know that the reason why people be objective about finding the best WiFi names for their new connections or routers is that they want some cool or funny names that make them feel nice and at the same time when your friends, family, or someone comes over to your place don't you think a nice name would make the charm of the house as well?
Moreover, you can not just add cool names to your Network SSID but have some Puns or Jokes intended through the WiFi name that can bring a nice laugh out of anyone who comes across your connection in their WiFi settings finder. Also sometimes you want to hide WiFi SSID for security reasons.
And that is why in this article, we thought it would be nice to collect a lot of great names for your WiFi connection among different categories that you can choose from and get the pride you want to own.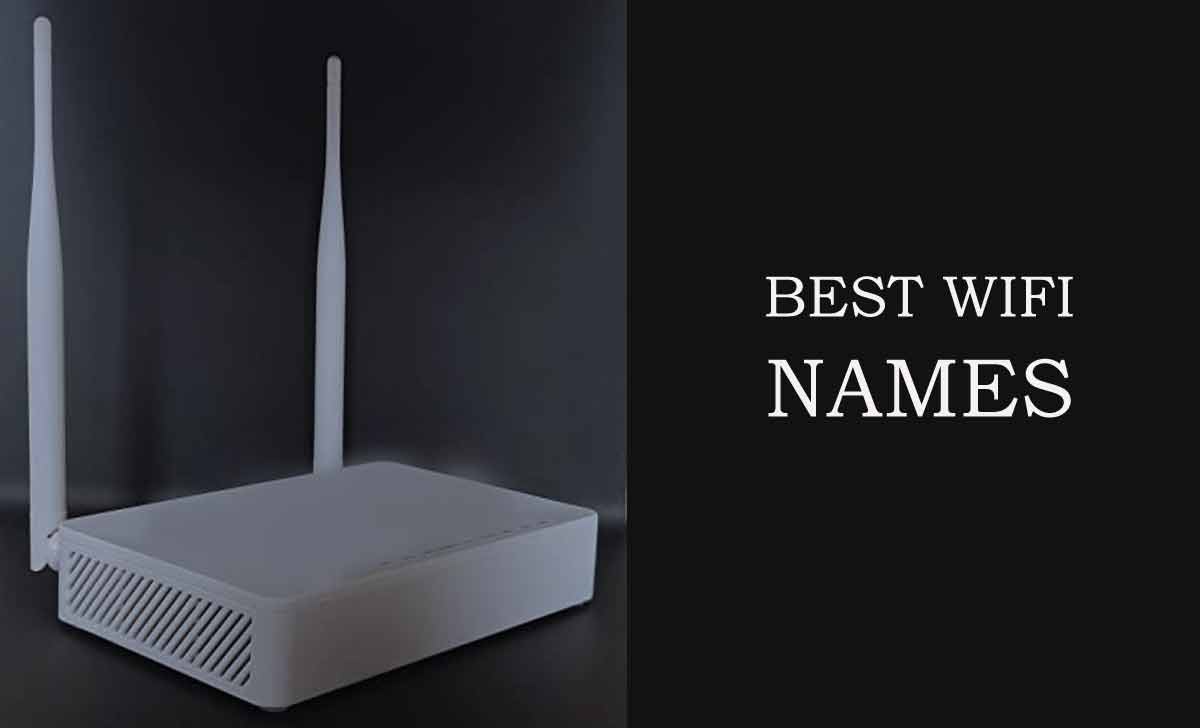 The first dose of names that you or anyone would love to have on their network SSID is a joke or a pun that can make people smile and laugh which brings a rare sense of self-satisfaction because you already know that the jokes are too good for someone to not laugh out.
Funny WiFi Names
Making Wifi Great Again
FBI Surveillance Van
Abraham Linksys
John Wilkes Bluetooth
Stop Being A Mooch
The LAN Before Time
Nacho WiFi
It Burns When IP
It Hurts When IP
Bill Wi, the Science Fi
Girls Gone Wireless
Funny Wifi Name
New England Clam Router
Clever Wi-Fi Network Names
Please Connect for Identity Theft
Mom, Click Here for Internet
This is Not Free Either
Pretty Fly for a Wi-Fi
LAN of Milk and Honey
LAN Solo
Wi believe I can Fi
LAN Down Under
Password is 1234
Cut your lawn
Spying On You
Hogwarts Great Hall WiFi
Lord Voldemodem
Hide Yo Kids, Hide Yo Wi-Fi!
TellYourWifiNeedMyPantsBack
Friendly Neighborhood Spider-Lan
OhMyLordItsaWiFire
Definitely Not An FBI Surveillance Van
Virus Infected WiFi
Best WiFi Names
Are you always afraid that people might join your WiFi connection or want to ask for the password then the best thing would be to use any of the WiFi names listed below that would surely do the job of keeping people away even from asking you for the password in the first place.
Keep it on the Download
Wu Tang LAN
Trust in God but Protect Your WiFi
The Password is…
Open Sesame
Everyday I'm buffering
Girls Gone Wireless
Lag Out Loud
Hit the Road Jack Input
And Don't You Come Back
No Mo No Mo No Mo No Mo
Blind Sight
Keep it on the download
Wifi Fever
Now you see me…
Sweet Victory
Life on the Line
Cut the Wire
Wi-Fi, do you love me?
Since 1997
AA Meeting
Scooby-Doo, Where Are You?
Final Fantasy Finally Finishes
Pokemon Slo
Saved a Bunch of Money by Switching to GEICO
Modem Pole
Chicken Crossed the Road to Steal Our Wifi
Wi-Fry Chicken
Lifeblood
Living on the Wire
We all know that mens and boys have the attitude and the sprak they want to gitter all the time they go across and even with the below listed wifi names for boys and men can now show their attitude and message of being the hard core guys right through their WiFi SSID.
SSID Names for Boys & Mens
Don't even try it
Get your Own Wi-Fi Fuck Head
No Free Wifi for you
My Own Damn Internet
TellMyWifiLoveHer
Virus Infected WiFi
GetOffMyLawn
You Pay Now
WillUmarryMe?
Mom Use This One
Go Home Tourists
BuyAnotherCupYouCheapSkate
For Porn Use Only
Feel Like Flying
Bring Beer and Women to 40.2
Your grammar is more annoying
Your music is annoying
Best WiFi Names for Girls
Being girly is something every girl dreams of and how awesome would it be for you to showcase your girly nature through your WiFi name. And in order to do that you can go over all the list of WiFi names for girls, ladies and women from below that anyone would love to see.
GirlsGoneWireless
The Girl Next Door
A sweetheart's wifi
He he he…
Sugar Lips
Tangled
Calming Melody
Sparkle Eyes
Pink World
Summer breeze
Hell's Angel
Autumn Bliss
blue_eyed_babe
Rainbow Girl
Cute Curls
PrettyinPink
doll_face
moon_shine
FruityandCandy
miss_buttercup
tickling_butterfly
sweetMunchkin
secret_Giggle
CrazyCupCake
I'mMagical
messy_bun
always_on_the_move
mysteriously_magnificent
Sleepy Thinker
theShimmer
mango_showers
me_mauve
Red_Velvet
You may check the complete WiFi guide on the noted page, https://en.wikipedia.org/wiki/Wi-Fi
Well, these were just the combination of some of the best WiFi names that you can choose from depending on your preference. We would like to hear from your which one did you select for your WiFi SSID name.