PayTM is a popular online digital platform allows the customers to buy any product and to pay BSNL bills directly, so you can complete BSNL bill payment for postpaid mobile, landline, using credit card and other services quickly from PayTM home page in online or through mobile application.
Bharat Sanchar Nigam Limited has allowed PayTM to direct their customers for payments of bills, and with this BSNL customer now have a chance for BSNL Bill Payment through portal or UPI app.
A quick process of getting the dues cleared is always preferred, delay in payment will get your involved disconnection of BSNL service, so start using the Paytm digital platform to pay your BSNL payments in zero time.
BSNL Bill Payment at PayTM Online Portal
Bharat Sanchar Nigam Limited customers can get their bills paid with PayTM website, here are the detailed steps for you to proceed and get the bill payments through online portal.
Open your browser and open paytm.com
Select Landline or Broadband (for which service you want to pay)
Select the operator from drop down > Enter your account number > Enter Landline Number with STD Code without Zero
Click on Get Bill to list the BSNL bill due on screen
Verify the details > Click on Pay button
Confirm the Payment

Once the payment is done, the PayTM will forward the BSNL and wait for the operator to confirm the payment.
The process of payment will be instant, once the amount gets deducted from your account.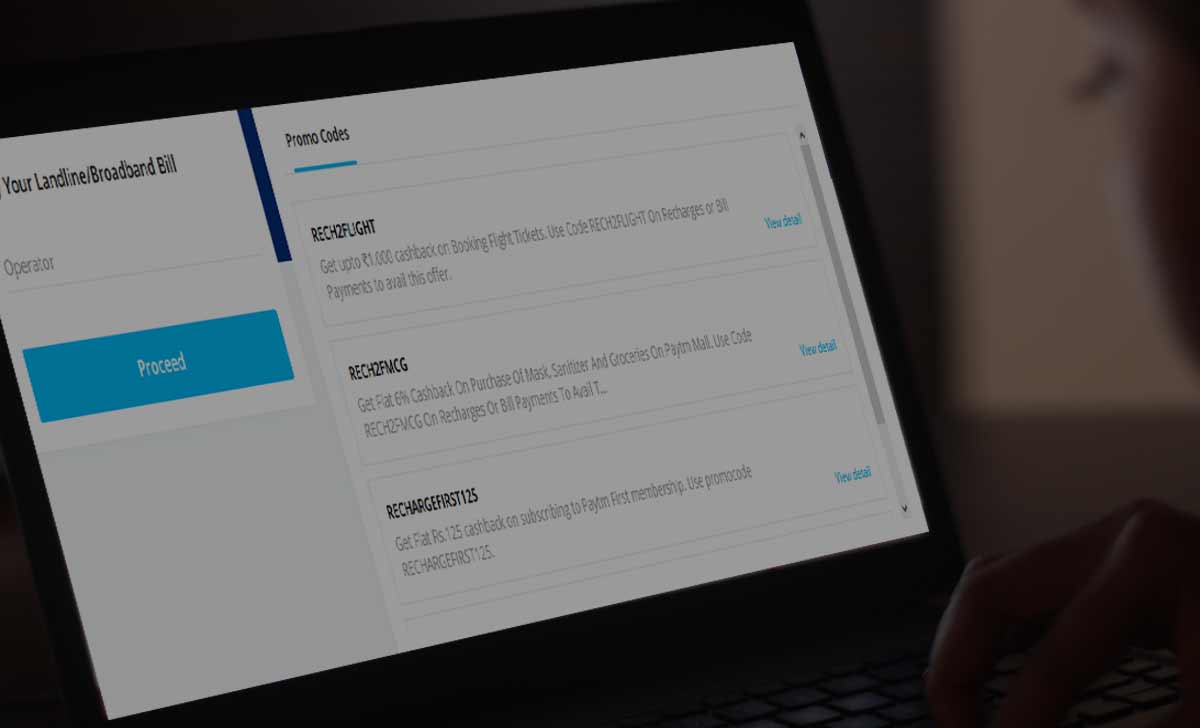 Pay BSNL Bill with PayTM App
Here we will come across the process to get your BSNL Bill payment paid using the Paytm application, and this application is available for android and iOS devices for free from their respective App store.
Get the Paytm App installed in your device and connect with internet
Now launching the Paytm App and get registered with your number
Once in the Application, select the service for which you want to pay Bill
Enter your details in respective columns and fetch the details
Click on Pay button and select the promo code available for your transactions
Select the payment methods as wallet or online banking or card

Once you confirm the payment, the BSNL bill due will be accepted and PayTM will proceed with your transaction to make it successful.
In very quick time the page will show you the status of payment and confirmation that BSNL received your payment.
Can use PayTM promo codes while paying BSNL bill?

Yes, while going to pay the BSNL bill due using the Paytm application or website, you can select the promo code before payment confirmation, and there will be different codes available and you need to select to apply them for your transaction.

How soon will cashback add to PayTM wallet?

If your transaction with Paytm for any bill payment, does have a cashback offer applicable, and the amount of cashback will be processed once the truncation shows as successful and will be added to your Paytm wallet account within 3 working days.

BSNL bill payment failed using Paytm App?

Any transaction payment failed for BSNL bill using Paytm, need to relate to Paytm customer service to know the status of applicable, and the transaction will proceed if the server is reachable or the amount deducted from the account will be refunded back to the same account of the customer, where the transaction status can be seen in my Order for detailed information.