Bharat Sanchar Nigam Limited is a leading telecom industry in India which has got its services spread across all parts, and view your BSNL bill, to make sure that your details are correct and the proper plan details are being written.
BSNL does provide Bills for the customer who have their existing account with their running package and as well will show the Bill in case if the BSNL connection has been disconnected or connected.
The BSNL invoicing does contain the fees, dates and major information which always ensure that you are using the correct plan and the same can be used if you have any concern or want to raise any grievance towards the BSNL service.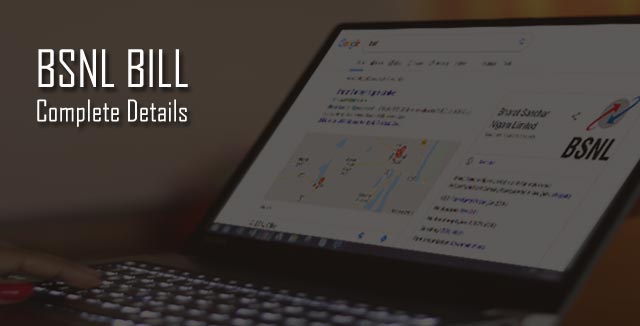 BSNL Bill View
Having any connection from BSNL does bring you a Bill which can be viewed when you want to renew or check your connection, here are the details that will be highlighted in the BSNL Bill.
Customer Information with their Connection type
New Connection Billing Date
Bill Issue and payment dates
Fees as per the landline or broadband plan selected
Late Fees if any applicable on connection
Previous and Last Payment details for clarity
Summary of Current Bill
Adjustment Description
Tax Details
BSNL Bill Cycle Date
To view the BSNL Bill, customers need to come across each information which will be considered in the bill.
The billing cycle of the BSNL Fibre internet connection is for one month and whereas the Billing cycle for BSNL landline customers is for two months, and these cycle dates will be the same for every customer and falls in every first week of the month and monthly bill for landline can also be requested, which will be sent by official separately with a due date of 15 days from the bill issue date.
Previous Balance and Last Payments
In the BSNL Bill for any service, the payment balance left if it has been paid in excess will be shown in the very first box, then it will be followed with the payment to be made from last month.
Account Balance
In these the total balance that needs to be paid will be shown that will be the amount which customer has paid and has left in their BSNL Account. Details will clearly show how much the amount has been adjusted and has been paid by the customer.
Customer Information
At the top right side of the BSNL Bill, the entire communication address of the customer will be written. These will include their name, address, Pin code along with the BSNL register mobile number. there must be verified every time, to ensure you have received the correct bill as per your details.
BSNL customer details
These will be at the right side of the BSNL which does consist of the account number, customer ID and other information which customers have saved in the BSNL site, and this column does also show you the date of invoice generated along with the total payment date which is being referred to in these BSNL Bill.
Summary of Current Charges
As the customer has made their BSNL payment online or offline, the details will be calculated as per the shown columns, where the total tax applied will be clouted and will show the total charges which have been paid by the customer, and the description shows how much percent of taxes are being applied in the Bill.
BSNL Adjustment Bill
Here the breakup of your BSNL Bill will be shown which also shows how the Bill amount has been segregated for that month which company makes their official bill.
How can BSNL Bill be paid by customers?

There are multiple ways that an BSNL customer can make their payment for their respective landline, broadband or fiber Bills, and customers can use the BSNL wallet powered by Mobikwik or PayTM Wallet or Google Pay or Phone Pe.

What is the late fee charges on BSNL Bill?

The late fees charges will be added on the next month bill by BSNL, such that it will be added with a particular month bill and will be summed up with your additional late fee charges, and amount will be laid, as per your connection and if internet service, after the due date the service will be kept on hold automatically.

Will BSNL Disconnect connection if not paid Bill?

Yes, BSNL do have all authority to disconnect their connection if Bill has not been paid, and in this view the internet service or telecom cellular service will be put on hold once their respective deadline has been met and for postpaid users, third additional bill charges which must be paid compulsory by the customer.