Get MTNL online recharge in your hands to activate your Delhi or Mumbai MTNL prepaid mobile with new plans and offers specially allowed on discounts…
Mahanagar Telecom Nigam Limited is a state-owned telecom service provided in the zone of Mumbai and Delhi, and the customers who are experiencing the MTNL service can not also enjoy the portal recharge facility.
MTNL bill dues online payment for your Landline, Broadband, FTTH and other online services are amazing, where MTNL Mumbai and MTNL Delhi do have an exclusive portals for each so that customers can get their dues cleared instantly.
Once the bill is paid, the customer gets instant confirmation for their payment which makes them sure to enjoy the service, so enjoy the services online, so that your work to walk to the customer office does get reduced, Let's check
MTNL Online Recharge for Delhi
The customer of MTNL Delhi can complete the recharge in 3 steps with the following through MTNL quick recharge portal
Visit MTNL Delhi Trump Recharge directly at online.billdesk.com/eTopUp/mtnldel/
Enter your MTNL prepaid mobile number to recharge
Click on Recharge
Select the required option (Top-Up / STV / Data STV / All / Unlimited Plans)
Choose the right pack from right side list
Click Continue
Verify the amount and the pack details shown
Click Continue to make the payment using various online options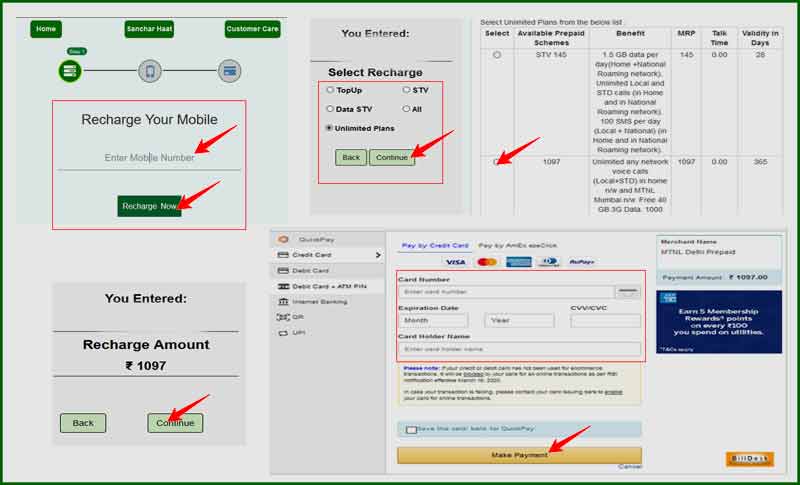 MTNL Mumbai Online Recharge
The customer who is experiencing the MTNL service for the Mumbai region, can experience the service from its exclusive portal, use the below steps to make MTNL Recharge payment for the Mumbai zone.
Open mtnlmumbai.in
Click on Recharge to open direct link payments.billdesk.com/eTopUp/mtnl/
Click Appropriate Type (Topup / Plan Vouchers / STV / Data STV / All
Select Recharge Value Pack and Click Continue
Verify the details of the pack and Click Pay Now
Provide the Payment Details and Click Make Payment
That's it, once the payment confirmation done, MTNL Mumbai page will give you a successful message with a transaction number.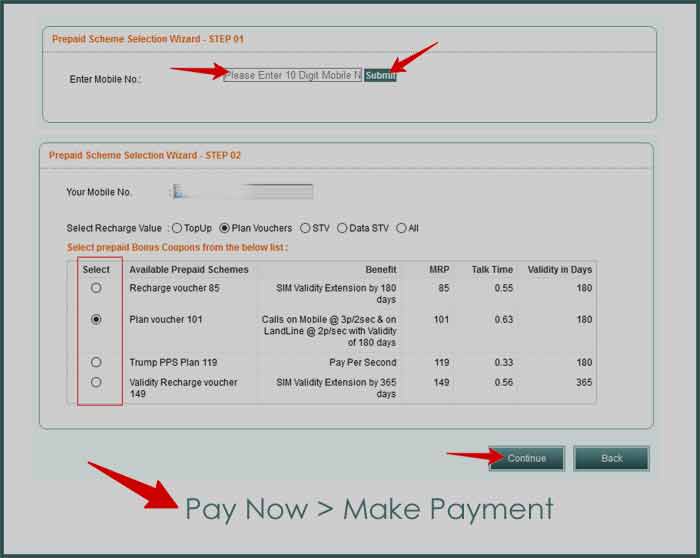 Can we pay another service provider bill from MTNL Online Recharge Portal?
No, the bill or recharge for other services will not be accepted from MTNL Online portal, where the customers need to choose the correct option to search for details and use their online mode to make the payment.
Will paying MTNL recharge from another source be acceptable?
All the other sources are acceptable, and the customers can use the MTNL Recharge service for Mumbai or Delhi region separately using an online payment method, where a confirmation receipt of payment is received.
What to do if my MTNL Recharge Failed?
If your recharged failed with connection error or any such issues, don't try to recharge again after deducting account, where the issues need to register with online service so that your transaction will be tracked, and the failed recharge will be processed.