BSNL bill payment online at quick pay portal with discount coupons and promo codes of 2023 without user login on portal2.bsnl.in, Find discount offers on different payment channels for online bill pay…
The new online web source portal2.bsnl.in provided by Bharat Sanchar Nigam Limited allows loyalty rewards for each online transaction towards landline, mobile, broadband, fiber optic internet (FTTH) before or after the due date and even after disconnection.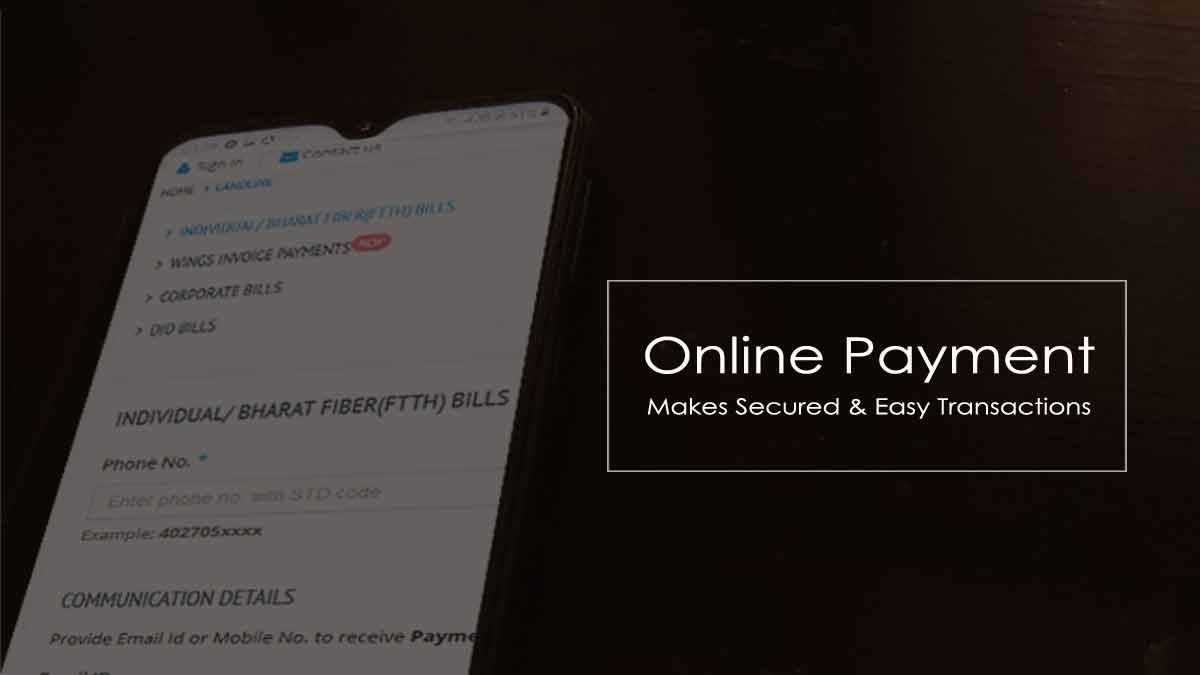 | | |
| --- | --- |
| BSNL Bill Payment allowed for | Individual Landline, Broadband, Bharat Fiber, Corporate Bills, DID bills, Closed Accounts, BSNL Wings Payment |
| Payment Channel | Internet Banking, Credit card, Debit card, Cash card, Wallet, UPI |
| Receipt provided on | Digital receipts for successful payments |
| Payment Portal URL | portal2.bsnl.in/myportal/cfa.do |
| Complaints at | [email protected] |
| Discounts | As per the latest announcements |
BSNL Bill Payment
Check the new process in step by step to pay BSNL bill quickly in online without login using credit card or debit card or internet banking payment
Open quick pay portal

Log on to BSNL quick pay at portal2.bsnl.in/myportal/cfa.do

Select Service

Click Individual Bills / FTTH Bills / Corporate Bills / DID Bills as per your service

Provide BSNL Number

Enter Telephone Number with STD code (Ignore Zero on STD Code)

Provide Contact details

Enter Email ID > Contact Mobile No

Security

Enter Captcha code is shown (Refresh the captcha code if operation gets late to enter again)

Submit

Click Submit to to go to payment channel

Click Pay Now

Check the customer, bill details (You may check Name, Invoice Amount, Pay By Date, Date of Bill) and Click on Pay Now

Select Payment Gateway

Choose Tech Process or Bill Desk among the array of online payments service

Complete the payment

Click Continue for Payment for selection of payment gateway

View Receipt

View the digital receipt and print if required for the paid bill having all the details (Receipt Number, Transaction No, Bill Number, Bill Date, Unique ID, Telephone Number, Bank Transaction ID, Bill Paid Amount, Paid Date.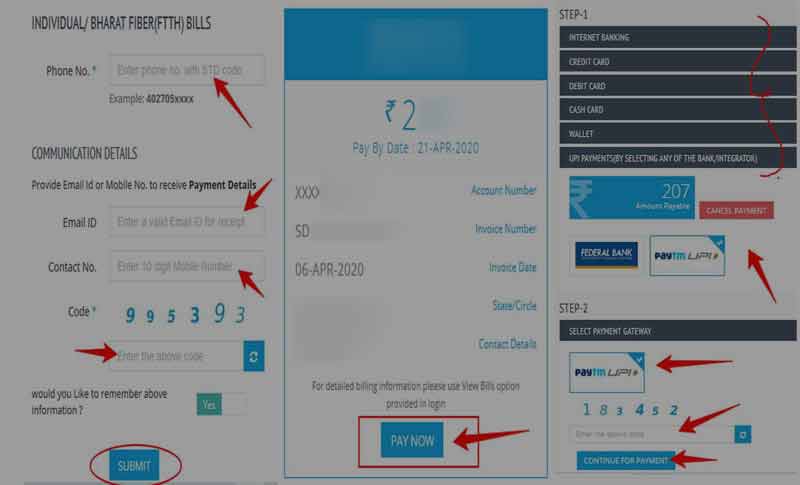 Portion of utility bill is made difficult every month, but BSNL glad to announce the launch of multiple bills payment option through its portal login and made easy to customers to pay many bills at a time.
Even after the expiry of the due date, you can pay the bills at a time, the only thing is you must have to add all the related numbers well in advance to the registered portal before payment. Just check the process how to pay multiple bills payment after checking the outstanding.
BSNL Multiple Bill Payment Process
Login to BSNL payment portal portal2.bsnl.in using your registered username and password
Click Landline
Click Multiple Landline Bills
Select all the telephone numbers (shown with Name & due) which you want to pay
Click on Pay Now
Select Payment Mode (Internet Banking, Credit Card, Debitor UPI Payment)
Select Payment Gateway
Type Captcha Code
Click on Continue for Payment and complete the transaction
View the Consolidated Receipt for the multiple bills paid
This new online service for instant action calls as BSNL quick payment portal and this portal2.bsnl.in is the need of the hour being a push to a cashless transaction. It is the most secure website with eCommerce SSL certificate and malware scan details.
So Pay BSNL bill online through a secured portal in simple steps by selecting your gateway as mentioned above, and you may also check the below for different services you require.
Also Check>>> Download BSNL Paid Receipt Online
BSNL Bill Payment Online with Other Apps
The following third party mobile apps or applications allows to pay BSNL bill on demand, but make sure to pay the bills within due date only with the following
PhonePe
Freecharge
HDFC Bank Online
Amazon Pay
Google Pay
OxigenUSA
Mobikwik
Recharge1
Airel Payments Bank
PayTM
XPay.Life
Talkcharge
SBI Net Banking
Cubber App
Consider Notes for BSNL Online Payment
Recommended to open BSNL bill payment portal in New Incognito Window in any browser. Check for the security seal for e-Commerce. Click the secure seal check whether the certificate issued by the company or not. If possible try to install an antivirus engine.
At any time, you can do your BSNL bill payment transactions on the authorized quick payments portal (vendor portal). Check HTTPS enabled and having a green label for the site as shown below
Telecom Customers of all the circles (Andhra Pradesh, Telangana, Chennai, Karnataka, Kerala, Tamilnadu, Haryana, Punjab, UP(West), UP(East), Himachal Pradesh, Jammu & Kashmir Maharashtra, Madhya Pradesh, Chattisgarh, Gujarat, Rajasthan, Kolkata, Orissa, Bihar, West Bengal, Adman Nicobar, Assam, Jharkhand, North East) can avail this BSNL Bill Payment facility for Landline, Broadband, Bharat Fiber (FTTH) & Cellone Services
Find >>> Lodge Complaint for BSNL Failed Payments if Deducted Amount
BSNL online portal shows excess amount even after bill payment, What to do?

In the case of previous bills, the amount had already paid in online and not updated in BSNL portal system, please visit the nearest cash counters to pay the current bill or else pay the total outstanding amount as shown at quick payment portal, where the excess paid amount would automatically adjust in next coming bill.

What to do if not getting reconnection even after payment of due bill in BSNL portal?

Just provide the payment receipt details to concerned AO TRA (Telecom Revenue Accounts) or nearest concerned commercial officer for updation and to provide the reconnection immediately.

Can I receive BSNL SMS or Email receipt, when payment done?

All India BSNL payment portal will send an SMS and email receipt on submitted or registered contact for each transaction made at the quick payments portal or through a login.

Can i pay again if not generated the receipt for BSNL bill paid?

PLEASE DO NOT ATTEMPT to pay the bill again, during the process if link disconnected from bank after successful payment, and the user will not be able to see the BSNL quick pay receipt for the transaction made.

When will online failed payment of BSNL updated if deducts amount from bank?

BSNL bill payment portal system will shortly receive the confirmation from the BANK, through the alternative backup channel for online acceptance, and and the receipt will send to registered email id within a short time (2-7 days).

Can i check the present bill due in BSNL online bill payment portal?

Yes, you have more options to check your postpaid bill for landline, broadband, FTTH and mobile in online i.e. BSNL Selfcare portal, Online payment portal, My BSNL App.

Is there any hidden charges for BSNL online payment?

There are no hidden or extra charges, and Moreover, it is straightforward and hassle free, If anything found as abnormal, then you may approach concerned Accounts Officer to regularize the excess paid.

Can I make BSNL Broadband Bill Payment from other Apps?

Yes, there are numerous applications of payment that allow the users to make their payment due cleared, where BSNL Broadband Bill Payment can be done through Paytm, Google Pay, Phonepe, and more such applications. BSNL has collaborated with many online payment apps, so customers can utilize them at any time for clearing the dues.

How to Activate disconnected BSNL Broadband after payment?

BSNL will disconnect your connection by viewing your no payment since the due date of 21 days of the billing date. To get it reactivated back, customers need to pay their BSNL Broadband due cleared up to date, and once the payment is done, in less than an hour the connection will be reset, and the customer will be able to use their service.

Why is it important to make BSNL Broadband Bill Payment Before Due Date?

The due date is the last date of your payment for your BSNL Broadband connection, any due that are on your account must be cleared before the due date only, and any failure in payment will firstly get your account on hold and later will be disconnected from a connection.

Whether the single generated receipt is same for all multiple bills paid?

A consolidated single receipt is generated for single payment, but each outstanding bill will be cleared as per the credit in individual billing account of the particular telephone number.

How many modes are available for BSNL multiple bills payment?

The only option is BSNL payment portal and also it is available only through registered login, where My BSNL App and other any third party payment portal are not allowed multiple payments at a time.

Is there any separate charges for the multiple payment facility?

This is a free facility provided by Bharat Sanchar Nigam Limited, but it can be accessed only on login to to portal2.bsnl.in with registered details.

Is this multiple bill payment option has auto mode activation?

At present the required facility is not available, and auto debit payment may be intimated immediately on your mail or SMS as and when launched by BSNL.

Can we pay mobile and landline using this option?

Yes, you can pay both postpaid mobile and landline, broadband or fiber net outstanding bills at a time on login with single payment.

Whether the Selfcare portal and payment portal logins are same?

No, both the logins are separate and the customer have to register separately in both the web portals.