Check the different source of BSNL payment options available through online or offline before or after the due date for BSNL customers to view or inquire about the bill related to the landline, broadband, postpaid mobile, and enterprise to pay through cash, cheque/ demand draft, or debit and credit cards and also UPI payments.
Here we present the different types of authorized sources for BSNL bill payment related to Broadband, FTTH, Landline, Mobile and Enterprise/DID services through various payment gateway as follows, Let us check the complete options.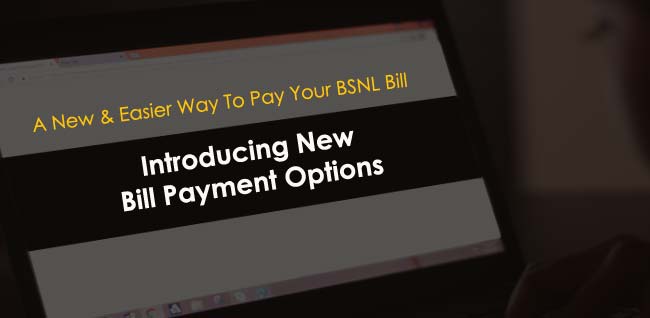 1. Payments Through Online
Individual / Wings / Corporate / DID Customers of BSNL can make the payment of bills by visiting secured authorized online portal portal.bsnl.in/myportal/cfa.do with sign in or without login through Quick Payment by getting the successful payment details to mobile number as well as to email id.
2. Cash / Cheque / DD Payment at Cash Counter
Any authorized postpaid customer of BSNL can submit their personal cheques at authorized bill collection counters at CSC's & CTO's / DTO's without any corrections on cheques drawn in the name of AO CASH BSNL _______(SSA), and Demand Drafts or Bankers Cheques can also be drawn in the same name for submission at the same location.
Also can make the Cash payments for any type of service and get the bill receipt instantly for cash/cheque payments
3. With Retailer
Approach any retailer outlet who is supported with BSNL CTOPUP (Channel Top Up) operations and pay your telephone bill related to any kind of services (Landline / Broadband / FTTH/ Mobile) related to individual.
4. At Post Office
You can pay you bill at your concerned post office, but accepted only within due date.
5. Though ECS
Any BSNL customer having postpaid service can pay your bill through ECS options by submitting ECS mandate form to concerned AO Cash BSNL, then the outstanding amount when raised will automatically debited from your bank account for payment.
6. Through My BSNL App
The most secure available payments portal on hands is My BSNL App, so make your bill payment from anywhere by downloading and installing the application on your Android / IOS / Windows / Blackberry based mobiles or wireless devices and by adding your number once.
7. UPI Payments
Today's most required payment mode is UPI, and it is available with different modes like PAYTM, Google Pay, Amazon Pay, PhonePe and more which allows you to pay only the current bills from their UPI balance and with credit, debit card or from Net Banking.
Payment Options in Online / Offline & Accepting Types
Payment Mode
Allowed at
Type of Bill allowed to Pay
BSNL Quick Pay
Online Portal
Individual Landline / Broadband / FTTH, Wings, Corporate Bills, DID Bills
Cash / Cheque/DD
BSNL Cash Counters
Any Payments (Individual / Enterprise)
Retailer Outlet
BSNL CTOPUP POS
Landline / Broadband / FTTH
Cash Payment
Post Office
Any type of payments, but within Due Date
ECS
Through Banks
Individual Payments on submission of ECS Mandate form to concerned AO Cash BSNL
Mobile App
Only on MY BSNL App
Payments related to Landline / Bharat Fiber / DID / Corporate / GSM Postpaid / CDMA / WiMAX
UPI Payments
Google Pay
PhonePe
Amazon Pay
PAYTM
All Postpaid Bills related to all services
BSNL Payment Options List
Other than the above seven, Third Party UPI payments and net banking options are ready to serve you towards BSNL bill payment, but there is no responsibility of BSNL until it credit to the operator's billing account made through third party payment source.
So pay your BSNL bill in time through any of the above payment options with in due date and save the late fee charges of 2% of billed amount which is minimum of Rs.10 to be charged in next coming bill.