If you are a tax payer and want to claim GST, then update your Goods and Service Tax details online at BSNL Bill GSTIN updation portal for your telecom services offered by BSNL…
BSNL telephone bill GST rate will be collected as per Central Government directives at present rate of 18% on each telephone bill, and Bharat Sanchar Nigam Limited has brought the Goods and Service Tax in the accounting System from 1st July 2017, thus any business entity which is linked with the BSNL with respective any kind of its services, can avail the tax benefit options.
As GST has been made mandatory in day to day for busing any commodities irrespective of the type, and the telecom services like BSNL Broadband / FTTH, Landline and BSNL Mobile does come with an excuse offer for its business, so that they can directly use this service and avail the Input Tax Credit.
The service user does need to provide their customer details along with various options to properly get the GSTIN registration and which will be then processed for the Tax Benefit as per the GST Laws.
BSNL Bill GST Update Online
Open BSNL GSTIN updation portal at http://gstin-update.wdc.bsnl.co.in/GSTUPDATE/
Scroll down and Select the service which you want to update GSTIN

Landline, Broadband, FTTH Customers
GSM Customers (Postpaid Mobile Users)

Select Zone > State
Provide Telephone with STD Code
Enter your BSNL Billing Account Number
Enter Customer Name

Both Telephone Customer and GST Registration Name should be Same

Enter PAN Number > GST Number
Provide Mobile Number > Email ID
Click Submit.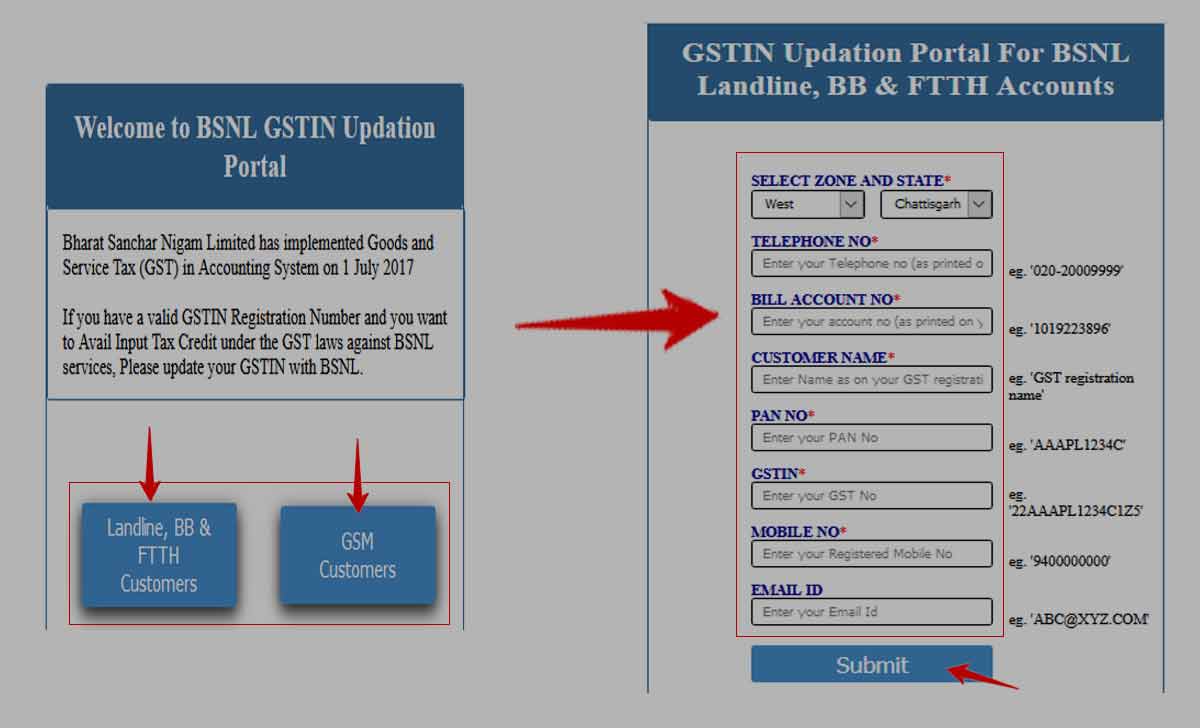 By following the above simple steps, you may register and update your all BSNL billing accounts with your GSTIN and the customer should remember that, each account should submit GSTIN separately.
Anyone who has got their GST registration number, can register themselves from the BSNL GSTIN Updation portal to update and link your number in the records of telephone bill account number, and according to the GST laws against BSNL services, you can directly use Landline & FTTH Customer or GSM customer link to get your GSTIN number registered and then avail the Tax benefit.