Pay BSNL bill at HDFC Bank online with a new postpaid payment process illustrated with new steps to clear outstanding BSNL broadband / landline / fibernet bills…
Bharat Sanchar Nigam Limited is a state-owned telecom company that is still an option for many customers, thus HDFC bank has included the BSNL Bill Payment option in its HDFC Bank PayNow page, which allows BSNL customers to make their due cleared by visiting the Online service as well their nearest branch.
The bill payment for BSNL due is must if you're using any service, as delay in payment will disconnect the connection and the service to your BSNL device will be stopped, and the payment can be done by any mode including through HDFC mobile app, which gives much relief to customers by allowing them access to the Bill pay page.
A connection to the internet is enough to make the BSNL Bill from HDFC from anywhere with the required details.
How to Pay BSNL Bill from HDFC Bank
There are two ways of getting your BSNL Bill paid from HDFC, either by visiting the branch or directly using its online service, so choose any of the methods and get your bill paid before the due date.
Here we will come across the process to pay BSNL telephone or broadband bill from HDFC official website, Make sure you follow these steps correctly.
HDFC Online Process for BSNL Bill Payment
Open HDFC Bank bill payments page on your browser
Select Bill Payment or Mobile Payment as per your service with BSNL
Available from list of online bill payments
HDFC BANK BSNL Bill Payment
Select Payment Mode
Select Internet banking, Debit Card, Credit card or any from list
Click on Initiate Payment, which takes you to HDFC Bank PayNow page
Select Utility of Payment from the Types of Payment
Click on Submit button and then choose appropriate plan in next page
Click on Pay Button to move for payment option
Enter your credentials or card number to make payment successful
Once the amount has been received, the selected bill will be done on BSNL number, and the confirmation message will be sent to your mobile number along with giving you a reference number on screen.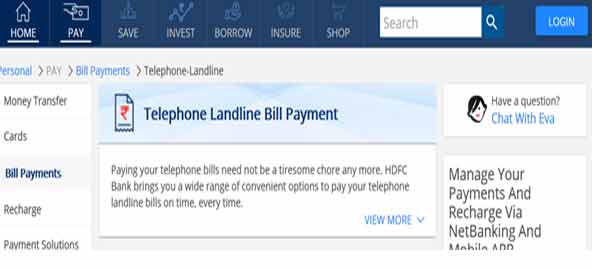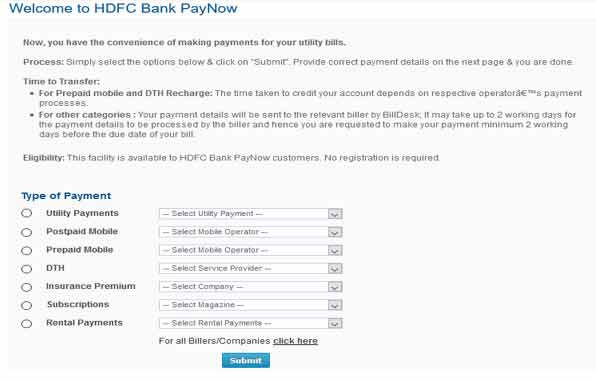 Offline Process to Make BSNL Bill Payment with HDFC Bank
In this process, you can directly visit any of the HDFC branches nearest to you and ask for your BSNL Bill payment, Based on your receipt provided to the customer service desk, they will initiate your payment due to BSNL.
An official stamped slip will be handed to you as proof of bill payment from the HDFC Bank.
Whom do I contact if my BSNL Bill from HDFC is failed?

The failure message of Bill payment while making payment to BSNL number through HDFC, will be due to internet connection or server not reachable. Thus if your amount has been deducted from HDFC account and it was not recharged to BSNL, then you will get the refund to the same account within 3 working days, where customers can raise a request to HDFC customer service and let them know your concern due to failure of payment.

What happens if BSNL Bill is paid late from HDFC Bank PayNow?

HDFC will not be leaving any charges on your payment for BSNL Bill, thus if you're having a delay in Bill payment. The extra charge applicable for your delay in payment or any such, will be levied by BSNL and that will be shown during your payment.

Can I Multiple BSNL Bill Payment from HDFC?

Yes, HDFC bank does allow its customers to flexibly use their service to pay any number of bill payments. Thus there is no limitation on payment from HDFC for multiple BSNL Bill payments.