Avoid disconnection or get reconnection immediately for your BSNL bill payment after due date, find the new online sources to pay the outstanding bill amount towards landline, broadband or fiber to home (FTTH) service to pay after pay by date…
Are you a customer of Bharat Sanchar Nigam Limited and using any kind of telecom service like Landline, DSL / WiFi Broadband, FTTH (Bharat Fiber) or Postpaid Mobile, If yes, then you might also know that you have to pay your monthly charges related to each service and if not paid on time, your connection may be disabled or disconnected after a few days of not paying the bill.
But in case, you have already forgotten to pay your bill by your last due date of the service, then do not worry because you can still make the payment for the service, through two new online options to pay BSNL bill even after due date through official source of ISP.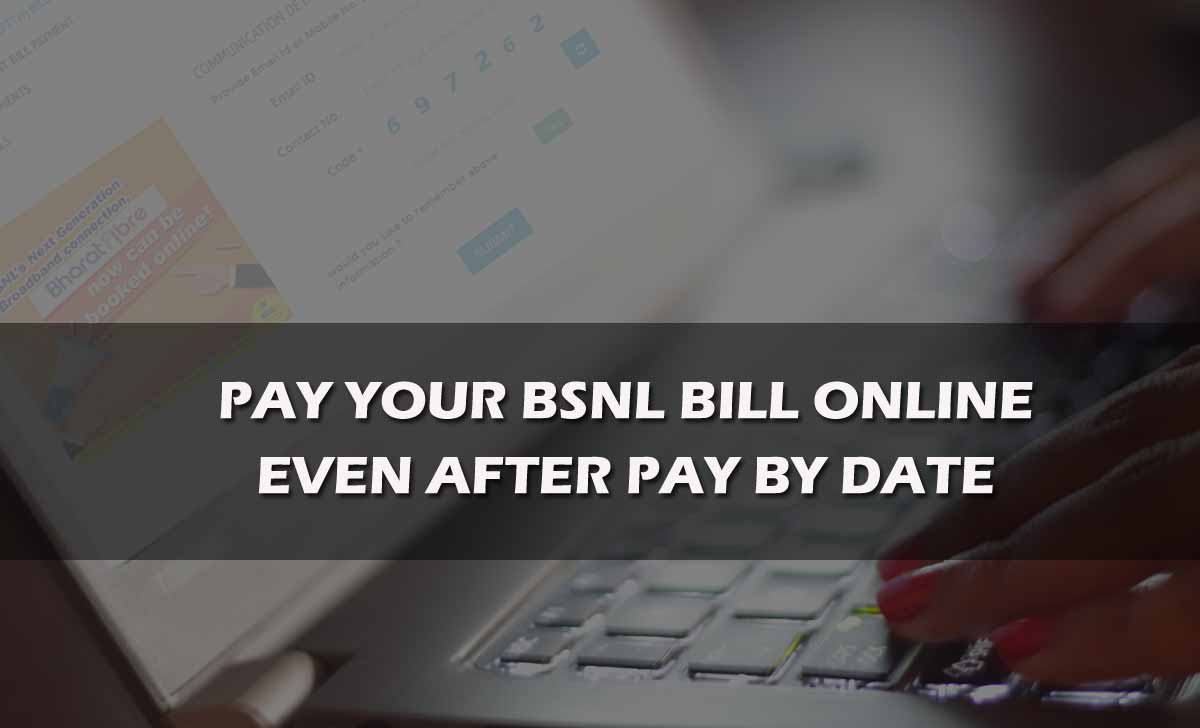 We will glance over the high overview of the payment options and ways that you can use in order to pay your bills after the due date is over as mentioned below.
Previously, the customer allows to pay the outstanding bills through online or My BSNL app only with in date, but after expanding the product services, now allows to pay the due through the same sources even after due date, but from third party sources, these are not recommended after due date even if allowed due to the reason mentioned in FAQ. Let's explain the process of each in detail steps
BSNL Online Bill Payment After Due Date
Go to BSNL Portal https://portal.bsnl.in/myportal/cfa.do
Click Individual / Bharat Fiber (FTTH) bills
Enter Phone No with STD Code without Zero
Provide Email, Contact Mobile Number
Enter Captcha Code
Click Submit
Check the outstanding details and Click Pay Now
Continue for Payment using your source and pay your bill.
At second source, you must download the BSNL official app My BSNL on your mobile device and then install it, Next you will have to login to the app with your mobile number and once logged into the app, follow the below steps.
My BSNL App Bill Payment After Due Date
Open My BSNL App
Click Bill Pay
Hover and Press on Landline Number (Already Added) and Check the details
Click PAY
Enter Mobile Number (for SMS alerts)
Enter E-mail ID (for mail alerts)
Select Payment Gateway and Continue for Payment to pay the bill.
Late Fees on BSNL Bill payment after due date
According to BSNL, late fee charge of 2% of the outstanding amount pending from your bill is collected if not paid before the due date, So, in case if you have a landline monthly bill pending for Rupees 5000 then the late fee will be Rupees 100 and added in the next month coming bill, and the late fee will keep on accumulating for each month if the bill not paid on time.
How to get active the disconnected BSNL service for non payment of bill within due date?

If your service already in deactive status due to non payment even after due date, then the recommended source is Pay your bill at BSNL cash counter directly, which in result activates your connection with in 4 hours of time.

Why it is not recommended to pay from third party sources after due date?

If your connection already disconnected and If third party payment source allows even after payment date, it may leads very late in getting re connection of the service, because the service will activate only after realizing the payment (in some case, it may takes too many days also).

I have not paid my BSNL Broadband connection bill before the due date, Can I still make the payment?

Yes, in case if you have not paid for your Internet WiFi broadband / Bharat Fiber connection bill on time then you do not have to worry because your service is cancelled / disconnected as of right now on the 7th day of due date, which means you can always pay for your service invoice amount for the previous month and then your service will be up and running in less than 24 hours.

I have paid my BSNL bill after the due date but the service is not live till now?

This happens in some of the cases such as Broadband or telephone connection, where even after payment is made after the due date, you have to wait till 24 hours for the service to be live again, if it pay through official source, and if this does not work, then you can simply reach out to the customer care for further help.

Will BSNL Cancel my subscription and stop it, If I don't make the payment before the due date?

Yes, BSNL has the right to cancel your subscription if the payment is not made on time as per the given due date for the service, but this will only cancel the subscription, which you can activate again after making the correct bill payment as per the invoice.

What is the timeline to pay a Bill from BSNL?

BSNL has a strict timeline that after the invoice is generated, the subscriber has to pay the bill within 21 days or else the late will be charged, and in case if the payment is not made before 7th day of due date leads to disconnection and if crosses 3months, certain service permanently cancelled and goes to inactive.

What payment methods can I use to make the BSNL bill payment after the due date?

You can use all the payment options that allow you to make the BSNL bill payment which might include Internet banking, credit, card, debit card and Wallet payment options such as PayTM, Freecharge and more, While you can now also use Google Pay, Phone Pe or any other UPI payment options for your BSNL due bill payment as well.