Do you want to get back the refund of broadband deposit paid by you to BSNL, just follow the process and get your internet security deposit back even if your landline is in working condition?
Up to the mid of 2018, the ISP has collected landline and broadband security deposits separately from their customers at Rs 500 for landline and one month plan rental charges for BSNL broadband subscription, but after 2019, the pattern of collecting the BSNL Security deposit is changed and collecting only deposit.
As we all know, Landline is mandatory for broadband service, and there are no charges for landline if availing broadband internet, and due to any reason, if the customer withdrawn the broadband facility, but continuing the landline facility, he/she is having two type of deposits against their telephone number (If old customer before 2018).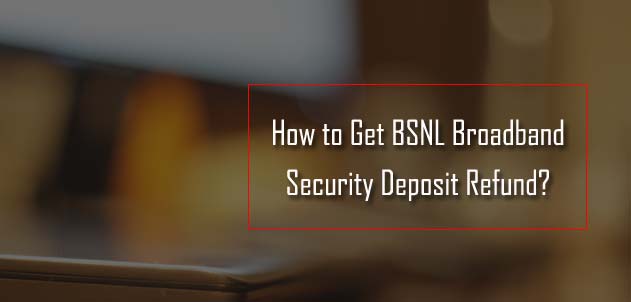 To provide the best service to customers, BSNL allows to withdraw the security deposit paid by them for broadband if they discontinue the internet service and continuing the landline, but the refund will be issued in the form of coming telephone bill adjustment.
Process to get refund of broadband security deposit
Refund required customers may approach to concerned BSNL commercial officer and submit your written request for refund of broadband security deposit in the next coming telephone bills, then the authority can raise a deposit adjustment request to concerned Accounts Officer in their CDR module.
After keen verification of services and outstanding dues, the Accounts Officer of BSNL may approve the request for adjustment of broadband deposit in present/future bills.
In how many bills, the broadband deposit may adjusted?
As per the outstanding amount of the telephone, the security deposit may adjust in the bills
Ex: If having 675 as Security deposit, but having an outstanding only 500, then the deposit may adjust in two bills.
Is there any prescribed application form for security deposit refund?
No, just submit a written request to commercial officer.
At the time of adjustment, the total security deposit may adjust or only broadband fees?
If the customer is continuing the landline service and disconnected only broadband service, then the landline deposit may continue as earlier.
When the security deposit to be paid, If disconnected landline/ broadband services ?
If withdrawn the total telecom services, BSNL security deposit refund will be processed initiated immediately after completing the closure of landline / broadband service work orders, and to be paid to the bank account of the customer through NEFT with in short time.