Find the new charges and latest guidelines for BSNL external shifting, Name Transfer and New or Used Telephone Instrument applicable for new and existing landline / broadband / FTTH customer on PAN India basis.
The largest Landline subscriber base telecom service provider of India, Bharat Sanchar Nigam Limited has reintroduced the BSNL shifting charges for external shifting of landline connection including broadband and Fiber to home services and Name transfer charges of telephone connection for all the Rural and Urban areas across the country on Pan India basis.
In earlier ISP has charged Rs.600 per BSNL shifting, in view of more services to customer, BSNL has not charged any kind of charges for Shifting of Landline / Broadband / FTTH connection and Name Transfer, at anywhere across the country during the time of promotional offer, but at regular interval of time ISP has charged for Name Transfer, Shifting of Landline connection and Push button telephone instrument charges, due to huge increase in operational cost.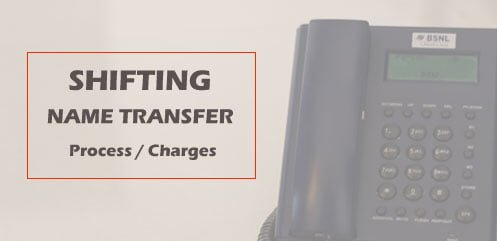 BSNL Landline / Broadband Shifting process
External Shifting : BSNL customer is required to submit an application form in the prescribed format available in local BSNL office to the Customer Service Centre of the area, where the customer can also download BSNL shifting form from BSNL website at bsnl.co.in for submission.
Eligibility for shifts: The telephone should have worked for one and a half years or registration date of telephone falls within release period of general or special category in the exchange to which it is required to be shifted, and the charges are applicable for all external shift types (with in exchange / Multi exchange and All India Shift).
BSNL Name Transfer
Transfer of telephone: Transfer of BSNL telephone is permitted after issue of first bill without any pre condition, where the customer should submit the duly filled prescribed application form indicated the acceptance of transferee and transferor to the concerned authorities for transfer of telephone along with submission of necessary Proof of Identity and Proof of Address and the charges are
BSNL Telephone Instrument
BSNL provides the new telephone instruments and internal wiring at the premises of the new customer and for existing customers in respect of replacement of faulty service, where the customers are charged for provision of telephone instrument if required
The following are the charges to be paid by the customer for different types of services as mentioned below
BSNL Name Transfer, Shifting and Telephone Charges
| Particulars | Type of Service | Charges for each occasion |
| --- | --- | --- |
| External Shifting | E/S of BSNL Landline / Broadband under Copper lines | Rs. 250 |
| Shifting | E/S of Bharat Fiber (FTTH) | Rs. 500 |
| | Shifting of BBoWiFi, Bharat Air Fibre category | Rs. 500 |
| Name Transfer | Name Transfer under Cu / Fibre / BBoWiFi / Bharat Air Fibre connection category | Rs. 250 |
| New Landline Instrument | New Caller ID (CLIP) Push Button Telephone Instrument Charges for new / existing customers | Rs. 625 per unit |
| Used LL Instrument | Used Telephone Instrument Charges for All existing and New customers | Rs. 100 per unit |
Note: For shifting of standalone connections i.e. for Landline and Broadband, shifting charges will be applicable separately for Landline and Broadband, and the above tariff instruction comes into effect from 09.12.2020.
Also check : New Application Forms for BSNL Services
BSNL has not revised the charges for any change of Landline and latest broadband plans, where the service is free for all provisioned through online customer care (BSNL Selfcare Portal) or through Customer Service Center of BSNL.