What is Security Deposit, Why we have to pay to BSNL, Will all the services collected with deposit, Is the collected amount refundable or not, Can we pay the deposit in online, Why BSNL collects security charges separately for Landline, Bharat Fiber, DSL Broadband and Postpaid Mobile.
BSNL Security deposit is an amount collected in advance from the customer towards a particular service (Landline, Bharat Fiber, DSL Broadband and Postpaid Mobile) as per the predefined rates as a part of security, and to be adjusted when the customer hasn't paid the future outstanding bills, but all the charges collected towards security deposit is refundable.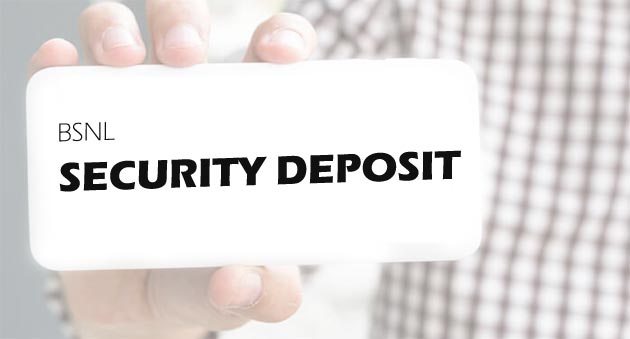 These deposits are collected only once, when application submitted for new installation of a new service, and the balance deposit amount if any will be charged to every customer as per the scheduled rates in next bill, when he/she upgrades to higher plan in already subscribed BSNL service, let's have a look at the fees.
BSNL Security Deposit Charges
Service
Security Deposit Amount
BSNL Landline (LL)
Local + STD = Rs. 500
Local + STD + ISD = Rs. 2000
Bharat Fiber
&
DSL Broadband
>> Rs.500 for monthly rental plans below Rs.500
>> One Month Rental Charges for Plans above Rs.500 (Plan Monthly Rent)
>> Minimum Hire Period = One Month
Postpaid Mobile
Local+STD = Rs.500,
Local+STD+ISD = Rs.2000,
Local + STD + ISD + International Roaming = Rs 5000
Broadband Temporary Connection
1. Installation Charges Rs.500
2. Security Deposit for Modem = Rs.1000
3. Modem Charges = Rs.200
4. Plan Charges = Double for Normal Rental Charges
5. Additional Usage Charges = As per Subscribed Plan
6. Minimum charges collected for 15 days.
DSL Modem if taken on Rent
Rs. 500
Bharat Fiber ONT Box/CPE
Rs. 500
Bharat Fiber ONT + ADSL WiFi modem
Rs. 1500
When we have to pay the BSNL security deposit
Local security deposit for Broadband (DSL / Fibre / Air Fibre) will continue as per existing policy Rs. 500/- or one month FMC, whichever is higher. However, the same will be billed and collected for all customers in 5 installments of Rs. 100/- each (or FMC/5) per month, so that customer's 1st bill is not too high.
If any customer changes to a higher plan after the first month, then the additional security deposit as per new plan will be collected as 6th installment.
How to pay BSNL Bharat Fiber deposit in first bill
It is premium service, and the service does not allow the security to be paid in first bill, only after payment of necessary deposit to BSNL, the service order will be released.
How should we pay BSNL deposit in online ?
At the time of new joining in BSNL, the customer must have to pay the deposit at department cash counters only, but after the activation of service, if any deposit charged in bill can pay through BSNL online payment gateway.
Why BSNL Security deposit is not same for all the services (Landline / FTTH / Mobile)?
Every service (Mobile, Landline Bharat Fiber) is different from one to one, and cost of installation / maintenance for each also differ, so the deposits are varied.
When the deposits are refundable to the customer?
If the customer closed the service voluntarily, then the deposit are refunded.
For a plan change / service closure scenario, refund is to be given only for non-OTT plans by Credit Note (NW Architecture) or in next bill as adjustment (SE Architecture). New plan charges will be collected as prorate + current month in the next bill.
If a user having landline and broadband, but closed the BB service and continues Landline, whether the deposit is refundable against BB service?
Yes, if required by the customer, then he/she has to submit the written request to concerned commercial officer for refund of BSNL security deposit collected against Broadband service, then the BB deposit will refund and adjusted in coming landline bills.
What happened if customer not paid the deposit amount?
After submission of new application, but not paid security deposit charges, the work order leads to cancellation, and if not paid which issued in the next bill, leads to disconnection and issued a legal notice after 3 months which in result to be paid with interest and other fees.
BSNL International Roaming deposit for Postpaid Mobile is high, Why it is?
International roaming charges for postpaid mobile charged as per the the landed network of the country visited across the world, and the outgoing / incoming call charges are high when used in International Roaming, So the deposits were also collected as Rs.5000.
How many days it will take for BSNL security deposit refund against a closed service of BSNL
For any service closed by the customer voluntarily, the refund process will starts immediately by the ISP and completes with 2-3 months after adjusting of all the pending dues.