A Virtual landline connection BSNL ASEEM referred to as the local or geographical number of fixed line customer by diverting all incoming calls to your mobile number, and this RENT FREE ASEEM is applicable to existing landline customers, It is very cost efficient and accessible without any physical connection and also without landline instruments or wiring in your premises.
BSNL Aseem provides you a virtual landline number without copper wire or FTTH or Jumper in BSNL exchange MDF. In this globalization, everyone is going to connect with their mobile or wireless devices, but many of the individuals, business professionals are using landline services till today due to connecting of their landline number with near and dear or business customers.
For all of them who are paying only rental charges without using landline outgoing calls, this BSNL Aseem plan is the best solution and for those customers who require unlimited calls even on the GO at abroad can avail the Wings.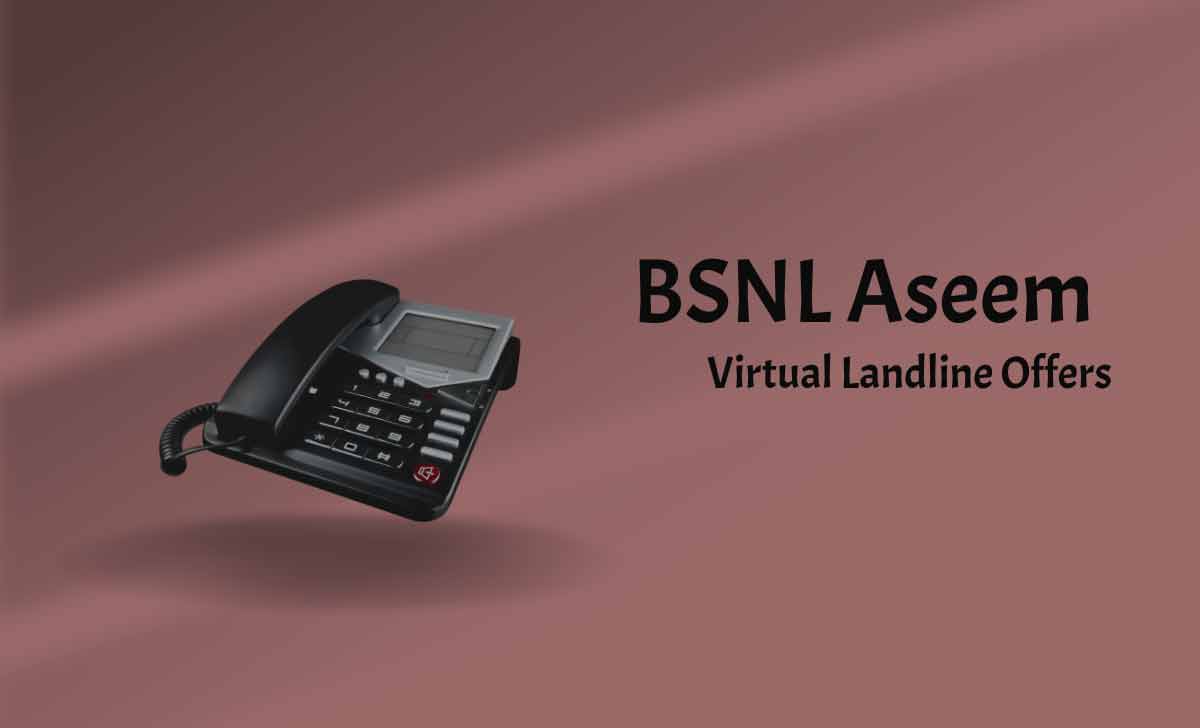 PAN India Bharat Sanchar Nigam Limited has introduced this new and affordable virtual landline service with 6month rental charges. It is also at just 55 paise per day which we can't get a single service in entire India in the present market.
This virtual landline plan ASEEM from BSNL enables you to connect your home or business calls on the GO. Let's have a look at all in detail and who will get rent free Aseem landline connection from Bharat Sanchar Nigam Limited.
BSNL Aseem Landline Plan Tariff
| Plan | Tariff for 4 Months | Annual Charges |
| --- | --- | --- |
| Virtual Landline connections under ASEEM Plan – call diversion from Virtual landline number to anyone BSNL number / other network's number of subscriber choice | Rs. 199 | Rs. 599 |
Advantages of BSNL Aseem Virtual Landline
The following are so many advantages of new Virtual landline service BSNL Aseem, Have a look at all of them.
Not imperative feasibility to provide BSNL virtual landline number at any remote location also.
There are no monthly bills for payment.
With this BSNL Aseem Virtual landline number, many of the companies or small business owners can come closer to their customers.
Never miss a call due to the fault.
Cheapest plan in the entire industry.
No copper wire or FTTH or Landline instrument or any type physical connection connected in the provision of landline service.
Anyone can dial from anywhere in the world as a standard number without extra charges and gets the call on your mobile.
BSNL telephone bill may use as address proof.
If you are a new customer, having a choice to choose Landline indicator of your choice (except Landline Vanity indicator).
On shifting of residence in a TNF area, the existing landline customers may offer the same landline number under BSNL ASEEM Plan as a Virtual landline number.
All the incoming calls coming to this landline number shall automatically forward to your mobile number of any network as per the choice without any additional cost implication.
BSNL Virtual Landline Plan Availing Trick
Assume that a customer of BSNL urban area (greater than 30000 line exchange) can shift the landline to the other required place. But due to the nonfeasible area, he/she will provide with BSNL Virtual landline connection Aseem.
So that, he/she diverts his calls to his BSNL mobile number which subscribes to BSNL recharge plan. Take a look how he/she will get a benefit?
Actually, in an urban area, the rental charges per month are Rs.349. After subscription to this, he will benefit like this.
He pays Rs.199 for 4months Rs.49.75 per month. Also, Rs.485 for three months to prepaid mobile means Rs.161 per month. The total charges for Landline and Mobile are Rs.161+49=210 per month.
It means a customer is availing incoming calls on landline and mobile at any anywhere in the country and total free outgoing calls from home circle through mobile at just Rs.210 only per month.
No Rental charges for providing BSNL virtual landline connection.
For subsequent year BSNL telephone bill may generate and send to the customer's address after 4 months / 1 Year.
Not going to pay any security deposits for new BSNL virtual landline number connection.
This new BSNL Virtual Landline Connection "ASEEM" plan is available from 01.09.2017 on PAN India basis. The above mentioned tariff is applicable with effect from 10.09.2021. So, apply this unique and affordable Virtual Landline Connection "BSNL ASEEM." Enjoy the landline service at cheapest rates never available in history, and also get a free ASEEM connection if shifted to FTTH.
>>>> BSNL Wings
How many days this BSNL Aseem plan is available?
It is not a promotional scheme, available as a regular tariff. So you can opt for this virtual landline number service at any time at anywhere in India.
>>>> BSNL Landline Plans
Whom can avail this BSNL virtual landline connection offer?
Any customers who want to join in BSNL family can avail this landline offer. Customers who are voluntarily closed the service already can also allow reconnecting the same number (if not allotted to others).
Disconnected customers for three months due to nonpayment also can avail this BSNL Virtual Landline Plan Aseem.
>>>> BSNL FTTH Plans
How can we get this BSNL Aseem Virtual Landline Number?
Getting a BSNL virtual landline number is very very easy, Just approach your area CSC and ask them to provide BSNL Aseem by submitting the necessary Identity and Address proof along with Customer Application Forme.
>>>> BSNL Recharge Plans
Are there any Extra charges for call diversion?
There are no additional charges for call diversion. BSNL provides free Virtual Landline number service and collects only call diversion charges per every 4 months.
If I subscribe to this BSNL Aseem Landline Plan, Can I migrate to other General Plan?
Yes, you can avail any reasonable Landline plans of BSNL at any time as per your requirement. Just submit your plan change request at the concerned commercial section and avail your new plan.
Can I change the diversion number in BSNL Aseem Plan?
At present, BSNL ASEEM didn't allow to change diversion number.
Any Installation charges are available?
Aseem service is available at Free of cost.
What are the charges if disconnects the virtual landline before 6months?
The charges have to pay in advance only. When you ask diversion for BSNL/Other network mobile or landlinenumber, it is Rs.199 for 4months and 599 for 1year.
Will BSNL broadband customer can avail this Aseem plan?
No, It is not applicable for any combo or Non combo Customers of BSNL broadband services, because it doesn't provide any wired line.
Is there any change in tariff in Future?
Shortly, there is no change in Virtual landline plan charges. If there are any changes means, the modification can do as per the TRAI guidelines only.
To which number the call can divert when my mobile is switched off?
At this situation, when your friend/relative call to your landline can get a Switch Off message. If you activate call diversion or Missed call alert service on your mobile, it will redirect to that automatically.