Find the best deals on BSNL WiFi Modem to access high speed internet through Bharat Fiber (OFC Internet) and DSL broadband connections and the tips to secure wireless internet on WiFi enabled modems.
BSNL offered the modems at discount price to their customers of Bharat Fiber and DSL broadband with new enabled customer premises equipment by allowing to purchase it from outside market or from BSNL.
BSNL Modem is one of the best WiFi device designs for their customers. The telecom operator is offering three types of BSNL broadband modems (Basic, WiFi, and VDSL WiFi) for the sake of the client convenience.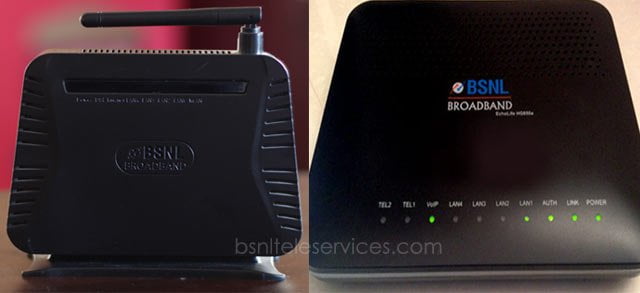 For different technologies of connection, various types of modems may accept, BSNL Modem (DSL & Bharat Fiber WiFi CPE) designed for ADSL services and VDSL WiFi CPE for VDSL technology. All these BSNL modems are available with Ethernet, USB, and terminal adapter ports.
These modems ADSL and VDSL (Very-high-speed digital subscriber line) modems can use for all types of usages, whether it is for home or office purposes for desktop, laptop, tablet or even smartphones and much more.
You can browse the high-speed internet from these BSNL New WiFi modems, which allows high-speed BSNL broadband plans up to 24Mbps download speed. BSNL VDSL modems are used up to a distance of 1 kilometer from connected telephone exchange and will get internet access at a positively assured rate.
There are two types of Modems available from BSNL, One with WiFi and the other is without WiFi. We suggest opting with WiFi as you can connect your mobile phones, tablets, and laptops on WiFi. In modem without WiFi one model is available but there are two models in models with WiFi option. These models are available for purchase/ on rent by BSNL across India.
ISP offers two options for getting the ADSL and VDSL BSNL modem or Customer Premises Equipment (CPE), As a client, you have to opt the below-mentioned options along with the plan you chose under prepaid and postpaid broadband services.
BSNL Modem on Outright Purchase (Purchase from BSNL)
Modem (Customer Premises Equipment) on Rent.
This option of having new broadband WiFi BSNL modem at the lowest price is also applicable to all their existing customers for outright purchase as and when they required, and these CPEs supplied to new or existing broadband customers, as Basic / WiFi CPE on rental charges or for outright purchase.
These modems are under AMC benefit for five years (including one-year warranty period). The ADSL and VDSL technology supplied BSNL modems with cheapest installation charges shall be as follows.
BSNL Modem Price List
Two different options for BSNL Modem price
1. BSNL Modem (CPE) for Outright Purchase
Type
ADSL Basic Modem
ADSL WiFi / Wireless Modem
VDSL WiFi Modem
Ethernet Ports
One
Four
Four
Wi-Fi
Not Applicable
One
One
USB
One
Not Applicable
MRP Charges
Rs. 1400
Rs. 1250
Rs. 3250
*Get Free Modem on subscribing broadband monthly rental plan >1000
*Avail 100% cash back offer on subscribing broadband monthly rental plan >700
2. BSNL Modem on Rent
(a) Security Deposit (refundable) : Rs 500
(b) Fixed Monthly Rental Charges for ADSL Modem (CPE)
Monthly Rental
Rs. 70 per month
Rs. 110 per month
Rs. 150 per month
3. Installation fees for Normal / WiFi Modem (CPE)
Rs.250 charged in next coming telephone bill, if BSNL modem purchased/rental from PSU or customer owned (Now it is free with new BSNL installation free offers)
BSNL Bharat Fiber Optical Network Termination (ONT) Price
The customers can opt their choice in the application form for the requirement of BSNL modem (CPE), and these CPE's are conventional modems at the lowest price to provide broadband services with limited or unlimited BSNL internet plans.
With strong support and availability of a sufficient number of BSNL WiFi modems at every CSC. There is one more option, 'customer owned BSNL modem' option under DSL broadband services for new customers across PAN India from 01.09.2015.
BSNL 50% discount for modem
The Competent Authority has decided "to offer ADSL WiFi Modem at 50% of the prevailing above sale price to the existing/new broadband customers who are interested to buy already recovered old ADSL WiFi Modem. This 50% discount offer on ADSL modem is available on PAN India basis from 10.07.2018.
Thus BSNL is leaving no stone unturned in the broadband space by launching various schemes reducing the initial fixed cost and making them part of the BSNL family.
Also Check : BSNL Wireless Modem Configuration for Secured WiFi and Malware Protection
However, when compared to other telecom operators, BSNL mainly stands for the principle of linking up India with its innovative plans with best Quality Of Service, So this WiFi /regular BSNL modem is available at affordable and at lowest prices with a simple process for configuration.