Login to BSNL Selfcare account and check your Broadband or Bharat Fibre or landline data usage in online instantly with three steps at any time related to all your BSNL services at anywhere in India.
BSNL customers in many are searching for a live BSNL Portal to check BSNL broadband / Bharat Fibre data usage online, and also the process for how to Check in online at free of cost from anywhere on the go.
For this, here we present the process of facility which have for internet users provided by ISP to check the data usage online for Broadband / BSNL Bharat Fibre at any time through BSNL Selfcare Portal.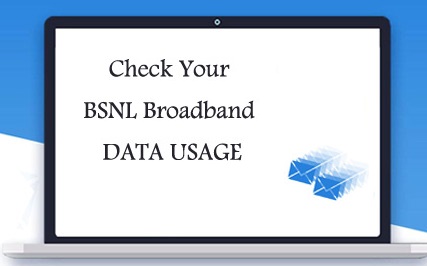 Many BSNL broadband internet customers are worrying like this also
How much BSNL broadband / Bharat Broadband data usage takes place in my number for this month as on date and when our free limit crossed even for our unlimited plan and how much excess bills are coming from our internet data usage up to now?
What are the steps involved in online BSNL Portal Selfcare account to know and avoid unauthorized use of my broadband connection?
Is there any new software available to install on our PC to check data usage for BSNL Broadband Services?
BSNL Broadband Usage Check Online
For all these queries, Now there is no need to worry and for about excess data takes place in a particular period, To make a full stop for all these concerns, our PSU comes out with three best options as follows to check broadband /Bharat Fibre / landline data usage online on a daily basis at any time in a simple way.
BSNL Portal (BSNL Selfcare Account) data usage check on Login.
Internet Data Usage Check through simple SMS.
It is always good for regular broadband data usage check online at portal or with SMS, To know the consumption pattern, keeping a routine observation on internet usage will helps the subscriber to ensure that nobody is abusing and making unauthorized use of the internet account.
This BSNL data usage check online portal can help you to keep control of downloads, Also, you can have a chance to avoid the reach of fair usage policy limit of the subscribed plan, So, here is a fully illustrated process guide to check the internet consumption in above mentioned two ways with below simple process.
How to Check BSNL Broadband Data Usage at Portal
On the first step, you have to register on BSNL Selfcare portal, and as a registered user, you can check BSNL broadband / Bharat Fiber data usage and landline customer details as on date.
In this Selfcare portal, you are not required to input the BSNL broadband user id to know the data usage, and this is one of BSNL broadband customer care which you maintain on your own hands, So follow this step by step process to get your data usage.
Login to your BSNL Portal (BSNL Selfcare Account) with your user id and password which already available.
My Usage
Broadband Usage
Cumulative Billed Usage ( To Check for already billed usage)
The Cumulative Unbilled Usage (Present month usage)
Session Billed Usage (Gets your every session usage for already charging complete invoices)
Session Unbilled Usage ( You will get session usage for unbilled usage)
Select any appropriate for your requirement in above. Assuming that, you are choosing Cumulative Unbilled Usage, and then your right side page opens with date option.
Select your Landline number from the drop-down menu
Enter your dates there as from and to for BSNL broadband data usage check.
Immediately your BSNL broadband data usage which is unbilled will display as consumed bytes.
If you require downloading the data usage in Excel or PDF format, then click on the link.
With this above simple illustrated steps of portal login, internet customers can check broadband / Bharat Fiber or even Landline data usage online, So just log in to most advantageous BSNL Selfcare portal account and follow the above process.
How many times does a user can check the usage in BSNL portal login in a day?

Every registered BSNL user of the SelfCare portal account can check broadband / Bharat Fiber / Landline usage at any time without any limit, but it updates only on completion of each login and logout session.

Is there any separate login to check data usage bypassing Selfcare portal?

No, at present it is not available, only one portal is open for broadband usage check, i.e., BSNL Selfcare portal, but the second one is data usage checking in My BSNL App.