Industry payments bank Airtel provides bill payment facility for BSNL and other operators to pay their landline, broadband and fiber to home bills for individual and corporate customer through online and UPI app, let's have a look…
Airtel is a fastest growing telecom industry which is also a good competitor of BSNL India, Apart from their service competition, the collaboration of Bharat Sanchar Nigam Limited with Airtel does allow customers to get their BSNL bill payment through Airtel Payment Bank.
The initiative of Airtel Payment Bank is all to provide customers of every service to get their Bill payment with quick time, thus if you're holding an BSNL account for landline and an Airtel service, then you can pay their Bills directly using the Payments Bank, and the process is quite easier if you get your account created in Payments Bank from Airtel.
The Airtel UPI can be accessed from its official website, where customers can choose the operator or biller for which they want to pay Bills. Below is a detailed guide to pay BSNL Bills from Airtel.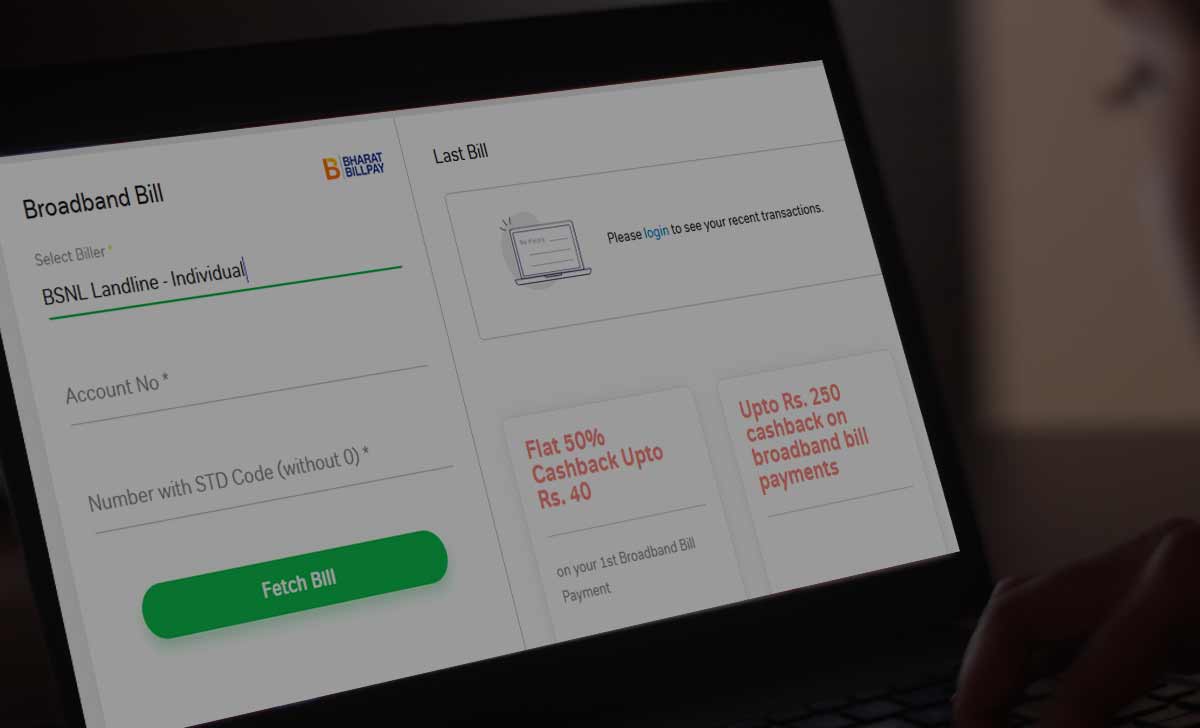 Pay BSNL Bill with Airtel Payments Bank
Launch your browser and search for Airtel UPI Bank
Use the link airtel.in to directly reach to Airtel Payments Bank
Click on login button from top right corner or use Register button
Login with your credentials to use the services from Airtel UPI
Now select the Service for which the BSNL Bill payment is due
Select the Biller as BSNL or provider your number to proceed
Click on Fetch Bill or Proceed button to proceed for payment
Now you will be directed to payment page to select mode
Select the mode of payment as net banking or card payment service
Once the payment is confirmed, Airtel will process the payment to BSNL which will be directed within a quick time. The BSNL Bill payment status can be seen on the same page after payment confirmation.
Airtel App BSNL Bill Payment
The BSNL bill payment due can also be made using your smartphone devices by getting the Airtel Payment Bank app installed in them, use the below steps if you have an Airtel App on your mobile for Bill payments.
Launch the Airtel UPI app and login with your mobile number
Once the App is launched, scroll down to select the service
Select Mobile Prepaid/ Postpaid / Landline or any bills from list
Provide your details and click on Proceed button to move further
Verify the package or bill shown to be paid with your Bill payment
once you have chosen the Bill payment mode for confirmation
The Airtel App page will be updated with the transaction status, which will forward your request for Bill Payment to BSNL. In very quick time your payment will proceed and your BSNL account will be updated with the same.
Do we get cashback for BSNL bill payment from Airtel App?
Yes, Airtel Payment bank does provide exclusive offers to the customer to make their Bill Payment, and if you're using the Airtel UPI app for BSNL Bill due, then the applicable cashback offer will be proceeded and added to your Airtel account.
Does Airtel allow multiple BSNL bill payments?
The Airtel UPI is launched to serve the customers of every order to make their Bill payments easier, and thus customers of BSNL if having access to the Airtel UPI app, can at any time use the service to make numerous payments.
Whom to contact if Airtel UPI Payment failed for BSNL bill?
As you have used the Airtel UPI to make the BSNL Bill payment, then any failure in the payment process can be checked from transactions, and thus you can contact Airtel customer service to enquire about payment service and get the latest updated information about your failed transaction.