Do you know what happens if we recharge twice for prepaid mobile voice / data or SMS BSNL for a prepaid mobile number, check the result now and what to do if recharged wrongly and how to initiate a refund or reversal for BSNL recharge?
At any time you can recharge your prepaid mobile in online or offline for extension or migration to one another, but if same BSNL voucher done twice means, the number will activates with only one, i.e. the voucher of BSNL which is activated finally may comes into effect for activation.
Ex:- If a BSNL customer mobile number successfully recharged with Rs.1699 plan at 10.50AM through a retailer CTOPUP, but at 10.51AM, his son activates BSNL 666 plan through online portal, then the latest activated plan sixer will comes into effect.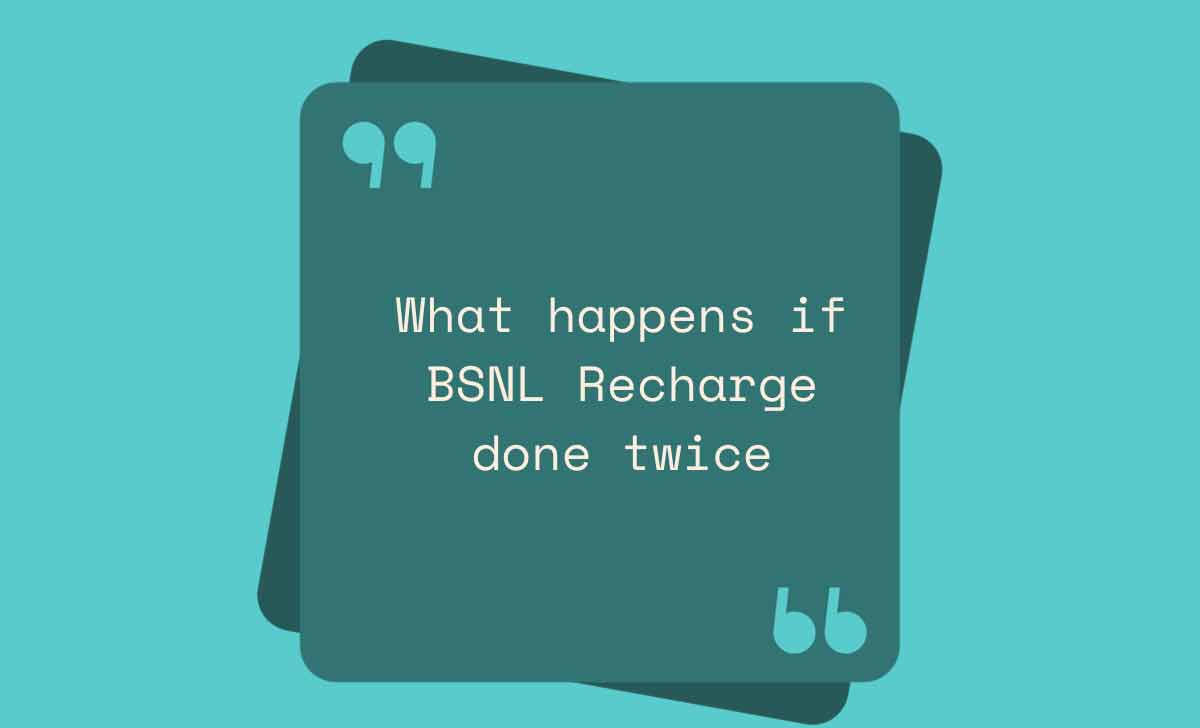 How to Save Extra Money on BSNL Mobile Recharge with Top Up
It's the time to save your extra money on every BSNL mobile recharge. For this many of us don't know the trick and the possibility to get the same, As on date, many of us knows about wallets and their offers in getting the cashback, but some one only know about BSNL special offer allowing huge amount as cashback offer on every mobile recharge.
Here, we are presenting a small one now available for BSNL mobile customers about how to save your money for recharge of any special tariff voucher or latest prepaid plans of BSNL activations for monthly, quarterly, 6months or yearly pack subscriptions.
Just see an example of Shri Bandhan Preet Singh JTO BSNL for subscribing newly introduced BSNL yearly mobile plan by saving your extra money on recharge.
Recharge with Top Up Rs. 550 and 1100 amount from any source like BSNL Online Recharge Portal or any online wallet services like Amazon Pay / Pay TM / Google Pay or Phone Pe etc…

Note:- By recharging with any portal, you will get some other benefits also on each recharge in the form of extra cashback.

Now just use your existing prepaid mobile balance to subscribe for BSNL yearly mobile plan using the new BSNL Selfcare activation code >>> *444*<Amount>#.
With this simple trick, you are going to save a huge amount for yearly subscription and gets the following facilities to enjoy BSNL mobile services in PAN India even in MTNL area for a year.
Unlimited combo pack providing Local and STD Unlimited Voice calls to any network with in India with unlimited mobile data
Every day 100 SMS for all networks.
Unlimited Song Change with Free caller tunes of BSNL.
So just follow the above procedure with any kind of extra top up offers and save your extra money on your BSNL mobile recharge before subscription to any packs.
Why BSNL didn't take higher denomination into effect for activation if two recharges done on same day?
Due to technical limitations, the latest voucher only will comes into effective for BSNL prepaid mobile number.
What about BSNL freebies available in recharge vouchers, if done twice?
If done twice, then the available freebies of both BSNL vouchers will continue upto their expiry.
Will the freebies of any type will adds to the plan if done twice?
Yes, all the free usage available as per the STV / Plan may activates upon their expiry.
What will happen If i recharge one type of data STV to my number and with in 1 hour my brother activated another combo plan?
The freebies will credit as per the data STV plan and validity, at the same time extra freebies as per the BSNL combo plan may also credits to the account with another validity.
Can i go for BSNL wrong recharge reversal process if done twice?
BSNL wrong recharge reversal process allows only for TOP UP Value Amount in multiples of 10 only.