Find BSNL Online recharge today offers, Check how to reload 4G validity packs, STV and Top Up. Get BSNL recharge and lifetime plan benefits of November 2023 in the online portal.
The best facility for every prepaid mobile customer is online recharge to feel proud for managing recharges from own hands with new offers provided by Bharat Sanchar Nigam Limited. This may possible through a new website call as BSNL Quick Recharge Portal or with My BSNL App.
This is one of the best service to avail Full Talktime Top Up, STV's or any latest prepaid mobile plan recharges online. It is like an instant service, but from anywhere on just log in to BSNL Recharge Portal.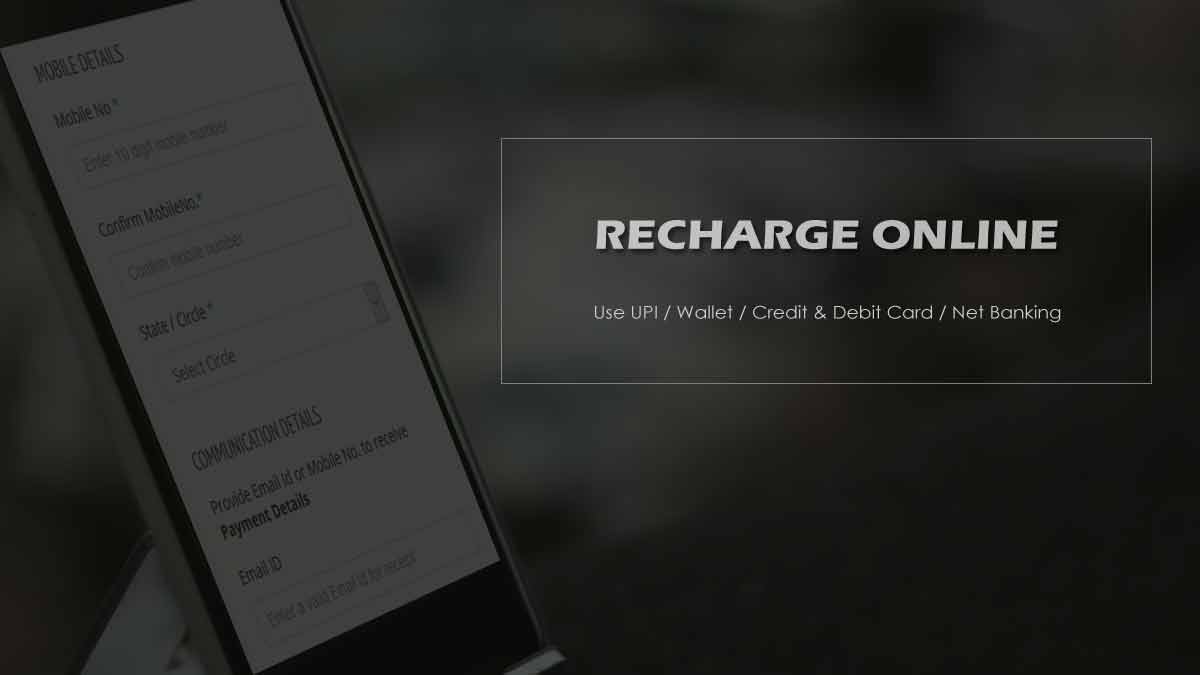 A mobile phone for which credit purchases in advance for using the mobile services to access with their operator is Prepaid Recharge. Nowadays, nobody is free, if yet all free, we want to spend time with our family members.
BSNL Recharge Online
Active your BSNL Top Up/STV/Plan voucher with step by step guide for BSNL Online Recharge and get reward/discount on applicable transaction.
Login to your browser with BSNL Recharge portal

Open BSNL Recharge Portal at portal.bsnl.in/myportal/quickrecharge.do

Provide your mobile number

Enter Mobile Number and Confirm the same ten-digit number

Select State

Select your mobile number service circle/state

Contact details

Enter Email ID and Contact number

Captcha and Submit

Provide captcha code and Click Submit

Select Recharge or enter denomination

Enter Amount if Known or select from the list of BSNL recharge plan vouchers shown (Plan Extension, Migration, Top Up or STV)

Proceed

Click Proceed

Payment mode and Gateway

Select Payment mode (UPI / Internet Banking, Credit Card, Debit card) and Continue with Gateway

Provide Verification

Enter Verification Code and Continue for Payment

Complete Payment

Proceed and Authorize to pay for recharge
BSNL Quick Recharge portal is the best option for every mobile user to recharge BSNL prepaid cell phones. So all prepaid customers, log in to BSNL online recharge portal and make your online transactions secure at any time.
In some cases, mobile users require instant activation of recharges to all their friends and family prepaid numbers. For that, the user can just register in online recharge portal on one-time basis. Add all own prepaid numbers in your login account.
If the customer already register for online bill payment, they will not register again for online recharge portal. The same portal account will continue to Add / Recharge mobile numbers.
So, you can recharge instantly at any time without entering mobile numbers and additional communication details for Online Recharge. It is for Talktime Top Up, Special Tariff Vouchers(STVs), Plan Vouchers or migration as follows.
BSNL Online Recharge for Multiple Mobile Numbers
Login to BSNL Online Recharge Portal user id and password at portal.bsnl.in/myportal/authorize.do
Select Recharge
Click on GSM Prepaid (You will display all numbers registered, if not click on New to register the mobile numbers)
Select the mobile number which you want to recharge
Continue the process as above from step 2 to activate required quick recharge portal.
This illustrated process of BSNL recharge in steps is very useful to know pattern of online portal. The mobile operator has also allowed the customers to lodge any complaints on recharge at this online portal.
If any error occurs for any online recharge transactions made, but not completes (debited amount from bank account/credit/debit card and not recharge) due to any reason will solve by Indian telecom brand.
To made us more convenient, the world class telecom operator Bharat Sanchar Nigam Limited is trying to be younger than its stature by implementing Online Portal and My BSNL App. This online facility will give more convenience for prepaid mobile customers with greater satisfaction.
GSM operator Bharat Sanchar Nigam Limited tries to make their mobile customers most secure for their valued money transactions. PSU allows BSNL online mode with their secure mechanism through Quick Pay Portal.
With this, every prepaid mobile customer will get their applicable Prepaid Plans, Voice STVs, 3G net packs including Full or Bonus Talk time offers instantly from anywhere in the world to any mobile number.
So, Prepaid customers can instantly recharge mobile numbers online with login to Portal, or without registration through Quick Recharge. After recharge, payment receipts will be sent to the registered mobile number and eMail ID instantly.
BSNL Talktime Online
Within Top Up option. You can go General Top Up. Here you will find unusual amounts like Rs 55/110/200 to select as per your requirement.
Flexi TopUp allows the customers for BSNL online activation with any denomination from Rs.50 in multiples of Rs 10. The user can recharge their mobile as per their requirement at that time for their mobile to avail Full or bonus talk time offers.
BSNL STV Recharge Online
In this BSNL Online Recharge Portal, the prepaid mobile customers allow at any time to activate 3G net packs (mobile internet) / voice / ISD / SMS / Other (like Blackberry Services). After that in this portal only, before recharge, you will display the special offers available at that time.
Special Tariff Recharge Vouchers are those, which allows you to activate plans like unlimited calling within network. These are all Special Tariff packs available at BSNL online portal also.
These vouchers can use for a particular type of requirements to reduce the voice call tariff. These are most suitable for our day to day requirements to avail the best on activation through Quick Recharge Portal.
BSNL Plan Voucher Recharge
Coming to Plan option at online recharge mode. Every mobile customer can have a choice to opt for the best range of prepaid mobile plans as per requirement.
This portal allows activating the recharge online at any time for best BSNL Prepaid Mobile Plan (All India / circle free plans). You have a choice to select the cheapest tariff plan for Voice, SMS and 2G 3G Data categories.
With this online portal, customers can activate their prepaid mobile plans within 1 minute time. The clients of abroad also able to do recharge to their friends/parents/relatives prepaid mobile numbers.
To avail cheapest mobile tariff plan vouchers, this BSNL online portal allows easy payment options like Internet Banking with more than 50 banks. Along with Credit Card (American Express), Debit Card and Cash cards having secured payment gateway.
After successful BSNL Online Recharge with required special voucher. Customer will get a message that "Your transaction was successful. Please check the balance in your mobile (dial *123#). You can test the balance or subscribed STVs instantly at Quick Recharge Portal.
How to Recharge BSNL Mobile with Google Pay
Now a days, Google Pay is one of the most used application for money transfer and for recharges, So, we submit the step by step guide for Google Pay Recharge to activate latest plans and special tariff vouchers by checking the New Process on Google Pay Recharge to activate BSNL 4G Plans.
Can we get BSNL cashback on recharge during offer time if done from other source
If announced by BSNL, then it is applicable only for online recharge done through BSNL portal or App, and not applicable for PAY TM, Phone Pe or another, but the offers are applicable of those other only.
What is the best online platform for BSNL recharge (FRC & Validity vouchers)
BSNL Online Recharge Portal and My BSNL App is the best online solution to take care about completion or to handle any complaints on BSNL recharges done through the two portals, but if complaints regarding the third party recharges (Pay TM, Google pay etc) are not responsible..
What is the Minimum Recharge for BSNL
Rs. 30 is the minimum recharge for online / CTOP UP, and Rs.10 for paper voucher recharge.
Can BSNL full talk time recharge offers available in portal?
During login to BSNL portal at the time of recharge, all the full talk time plans / offers with unlimited values and validity are shown applicable to your mobile number.
Will I get BSNL free recharge offers?
At present BSNL didn't offers any free recharge, at anytime when announced, we will update.
When are the UPI payments allowed in BSNL online recharge portal?
PAYTM and FEDERAL BANK UPI payments are allowed for payment on recharge.