Dial short code for BSNL balance check on 4G SIM card to get present balance with validity and expiry date related to free call, 4G data and free SMS, Know the different USSD codes available now and check your required BSNL balance in prepaid SIM card…
BSSNL Balance Check Code
Many of us can check the balance of visa debit card regularly to know whether it is safe or not, Like that only we have to perform BSNL balance check which is a facility for your BSNL mobile number to know every kind of balance and to check the validity, but many of us are searching about how to check BSNL balance on new number same under GSM services.
You can check BSNL 4G data balance, minute and SMS balance on your mobile screen by dialing simple USSD code or through SMS to perform a BSNL balance check of prepaid mobile, and in near future, Operator may release some USSD codes for broadband services also about how to check the balance in the subscribed internet plan.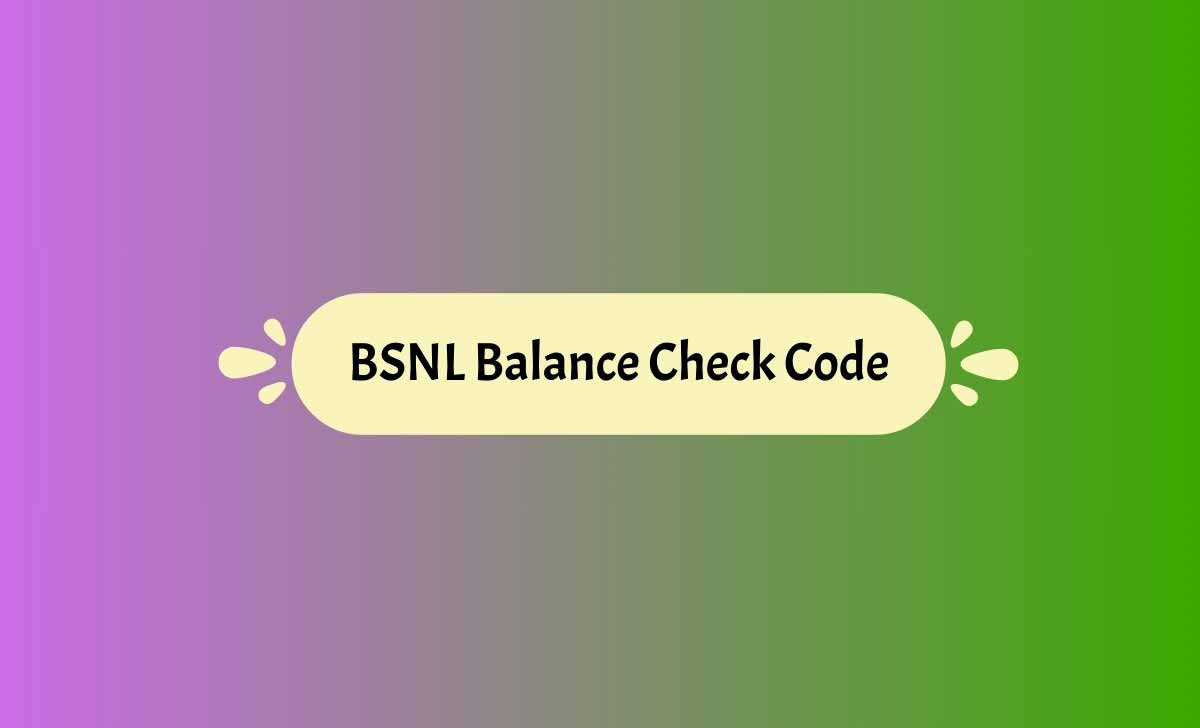 BSNL has a host of services and new 4G data plans available on it in comparison to Airtel and Reliance JIO and also, BSNL introduced many services to their customers which are not known by every customer. Here we provide the total info on BSNL balance checking for all prepaid mobile services in two ways.
As per the reports, the massive growth in the usage of BSNL USSD codes attributed to the dedicated subscriptions and deactivations are increasing. Each user using e-wallets such as PhonePe, Paytm for half of the transactions. Before using them, he/she requires knowing their subscription details. Let's do follow this balance checking for BSNL mobile using this two steps.
Text Message : First way is by sending the text message
USSD codes : The second way is to dial the USSD code and dial using your mobile keypad.
BSNL Balance Check Text Message
For all the activities like how to check BSNL prepaid voice and internet balance, STV help, scratch cards, BSNL call history and for many more, operator is having SMS codes which one can simply dial in and send the SMS.
Knowing the balance on your mobile one needs to type "BAL" on your mobile on SMS window and share the SMS and the checking number to send BSNL SMS is 123.
One can also check STV Balance using SMS code STVENQ to the same 123.
BSNL Balance Check USSD Code
USSD is a great feature for the mobile user that let's allow to access to new facilities handy and USSD codes save a lot of time and minimize the effort required to write the SMS and wait to receive the balance SMS.
One just needs to open the dial pad on your BSNL prepaid mobile and dial the USSD code number, based on the action to check balance 4G data or free minutes or SMS, you want to check
What is USSD? In a global system for mobile communication, a technology named Unstructured Supplementary Service Data. It is to access the details of the user's mobile and program of the mobile network.
Below are some of the popular BSNL balance check USSD codes to know various balances available on your account. These help you to get the exact info on your active subscriptions or plans, friends and family numbers, balance transfer and many more whatever you require
How to Check Balance in BSNL
To check BSNL balance in prepaid number, one simply needs to dial *123#
For checking BSNL net balance, FNF, STV etc.. on you the prepaid number, dial *124# and follow the steps given
To check subscribed STV balance (BSNL 4G net balance) on your mobile, dial *124*2#
Dial *543*99# for BSNL balance card transfer.
To Know SMS offer balance, dial code *124*3#
Minute balance check, simply dial *123*5#
USSD number to know BSNL Freebiz balance in GSM landline, dial *124*7#
Check video call balance by dialing *123*9#
For ISD STV BSNL USSD code is *124*6#
To check FRC on net balance dial USSD code *123*4#
In Assam, Northeast circle, Kolkata and West Bengal circle, USSD code is *123*10#. The night balance check code is *123*8#.
BSNL Balance Checking and Activation USSD Codes
There are separate USSD codes for each and every service and to check the net or voice balance in BSNL mobile, but however, in case one is not aware of the USSD code and can simply dial the customer care number to know the balance or the BSNL balance check code (USSD) of the particular service.
Here we provide the total suite of USSD codes introduced by BSNL for the sake of customers to know the balance of each GSM prepaid service?
The new check USSD codes and SMS codes on New Intelligent Network in BSNL are introduced with new support, All these for future growth to maintain its brand "BSNL the best Telecom Service provider in India".
Latest USSD codes of BSNL list is available here for your ready reference. Also, we will provide with all the necessary info and BSNL dialing codes indicating each activity and these are the common balance check codes in AP, Kerala, Gujarat and rest of India.
Details
Balance check number / Activation USSD Code
Check BSNL Main Balance
*123#
*124*1#
Check BSNL Net balance or Booster Balance (Voice, SMS, and for Internet)
*124*2#
Subscribed STVs (All types)
*124#3#1#
To know own mobile number
*1#
*2#
*888#
Find BSNL SIM Card Number
*999#
*100#
Find Prepaid Offers like BSNL net balance offers
*444#
To subscribe or activate rate cutters
*444*MRP of STV#
Top Up Recharge scratch card
*123* card pin no#
*124#2#1# press OK/Call.
Enter 18 digit scratch card number following by #
Top Up recharge to other's number with scratch card
*124#2#2# > Enter 10digit mobile number * 18 digit scret code #
BSNL Plan voucher (Current Plan / Plan Extension/Migration)
*124#5#
Prepaid Details
*102#
*124*8#
*124*5#
Friends and Family
*124#4#
FnF View
* 124#4#1#
Friends & Family Addition
*124#4#2#
FnF Modification
*124#4#3#
BSNL Balance Transfer
*543*99#
Know Balance Credit from friends
*543*88#
Check Balance Credit from BSNL
*518#
Prepaid FTTH bill payment
*666#
BSNL USSD Codes for Retailer
The below-mentioned each balance check code, which are accessible only for the CTop Up of authorized retailers of the operator. All these BSNL USSD codes and SMS keywords represent how to find and perform the operations of different retail services of BSNL, It is related to any kind of Recharges, Bill payment, and check the balance of BSNL retailer mobile and much more as below.
| Details | USSD Code to Dial |
| --- | --- |
| CTOP UP Code | *222*Pin No# (Default Pin : 123456) |
| Recharge/Topup | *222* Pin no *1# |
| Bill Payment | *222* Pin no *2# |
| Telephone Bill Enquiry | *222* Pin no *3# |
| Stock Details | *222* Pin no *4# |
| Pin Change | *222* Pin no *5# |
| Latest Offer | Send an SMS as OFFER to 53733 |
BSNL Balance Check SMS Codes
Here we present the total SMS keywords for prepaid mobile users, where each code is treated as balance check code number or BSNL USSD code in text format. Check for all the handy operations with updated SMS SelfCare keywords introduced by Bharat Sanchar Nigam Limited.
| Activity | Send SMS Keyword to 123 |
| --- | --- |
| For FNF Registration | FFE 10 Digit Number |
| FNF Modification | FFM Old Number New Number |
| For FNF View | FNFLIST |
| Pyari Jodi Add | FFL LL Number (11 Digit) |
| Paramilitary/Jai Jawan | PMF 10Digit Number |
| Inquiry of Subscribed STV | STVENQ |
| For STV LIST | STVLIST for SMS / VOICE / COMBO / GPRS / ROAM / ISD |
| STV Subscription | STV <STV Keyword> |
| Balance Enquiry | BAL |
| Top Up Voucher Recharge | RC 18 Digit Secret Code |
| Last Call Details | LAST |
| Last 5 Calls | LAST5 |
| To list the eligible mobile plans for migration | PLANLIST |
BSNL USSD checking USSD codes helps to continue the service and also to have uninterrupted services, and the mobile operator provides effective and easy checking facilities to manage the balance air on your mobile.
The friendly services of the operator help to keep a tab on the mobile balance in air, and in case of any inconvenience can simply call BSNL customer care and clarify the issues on the new USSD codes to check balance 4G Data / Call and SMS services of BSNL prepaid mobile.
How to check BSNL balance online?
Just log in to the mobile Selfcare portal using OTP and check all your prepaid balances.
Is there any specific data check code for BSNL 4G
The common code to display for all STV / Freebie balances is 1242#, you may check any type of available balance with this short code.