Post your complaint online regarding MTNL Triband (Broadband), Landline, FTTH service on any telecom service provided in Mumbai zone, and check the status and fault history…
The MTNL Mumbai Selfcare portal is different for the customers and any grievance register online from this region needs to attend on a priority basis. Through this portal, any MTNL Mumbai broadband or landline customer who faces issues may raise Grievance online. So find the below-given process.
MTNL Complaint Mumbai
Open MTNL Mumbai Selfcare complaint portal at https://billcare.mtnl.net.in/frs/info/book
Enter LandLine / Triband / FTTH Number by ignoring STD code
Check the details to find the customer details (Customer Name)
Select Complaint for Landline or Broadband
Enter Mobile Number
Select Complaint Type (Instrument Fault / Deadline / Miscellaneous)
Click Register Complaint
Note down the complaint number

That's it, MTNL Mumbai broadband grievance raised now and the team will look at earliest to resolve your query, and the service request number kept safely. So you can use it in the future to track your complaint records.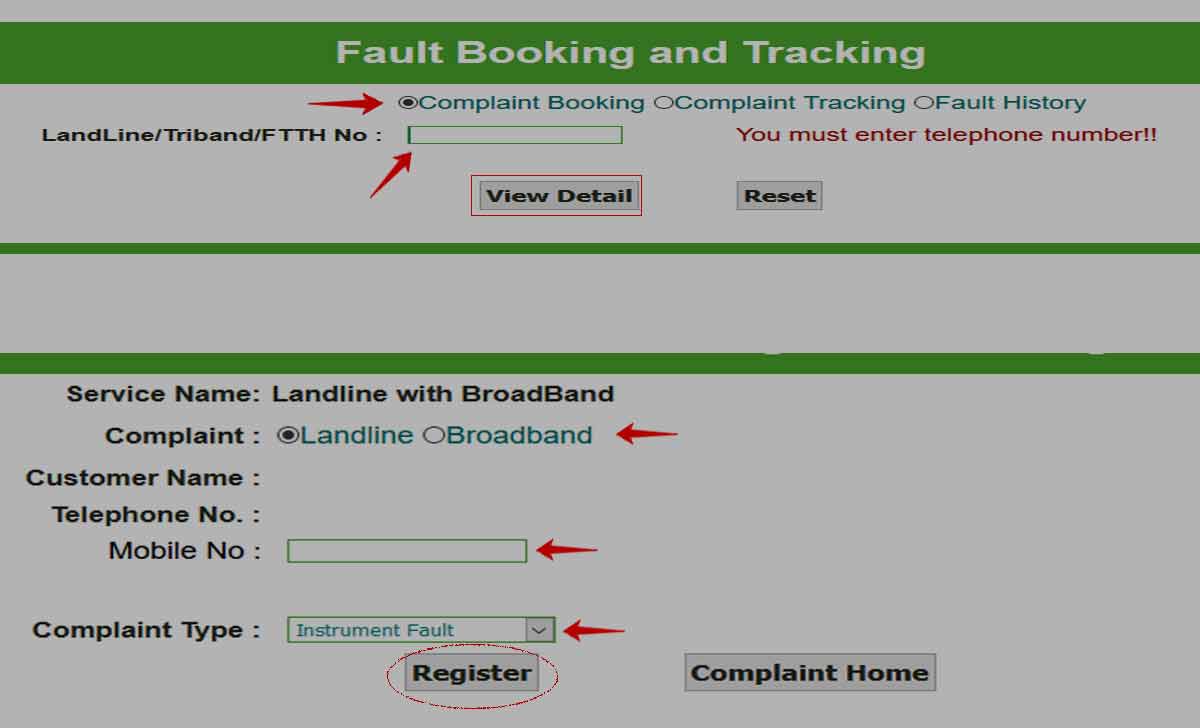 | Service Type | Customer Care Number |
| --- | --- |
| Only related to online bill payment | 022-22035017 |
| issues of selfcare portal | 022-22074800 |
| Email | selfcare@ mtnl.net.in |
MTNL Grievance Tracking Online
Browse https://billcare.mtnl.net.in/
Click Manage
Go to Complaints
Click Track Complaints on Landline / Broadband
Enter telephone without STD code
Select Service Type
Click Submit
Find the status of the complaint number
Can a complaint on Over Usage of FUP limit raised?

Yes, customers can anytime use the option of MTNL Broadband customer service to make their issues to resolve if having any doubt in FUP usage or utilization may ask by raising appropriate complaints to MTNL.

My Download Speed reduced very soon, What to do?

This is a regular issue for customers who stream videos and movies continuously. Thus, in this case, the utilization of FUP does complete and speed of internet reduce to below threshold value. Thus customers need to recharge their account with an extra FUP limit to enjoy good speed internet.

Can I raise a complaint to deactivate my MTNL Account?

Customers can anytime call MTNL customer care number or raise an online complaint to resolve the service failure or for any billing. Also the deactivation request can submit to the authorities only.