BSNL WiFi hotspots of 4.5G based network launched in many cities, but we can avail that only in that location, but if you setup your BSNL mobile hotspot, you can make your BSNL 4G data plan connection as WiFi.
With this mobile hotspot, a user can share 4G data available with their subscribed BSNL unlimited plans to all their adjacent ones, whenever required, It means subscribing for one unlimited data plan, use the same connection in all laptops, smartphones, iPhones or any Android devices.
There is no requirement of BSNL WiFi dongle or any Wi-Fi devices, just make your BSNL mobile as a hotspot to connect all your wireless devices with unlimited 3G or 4G internet.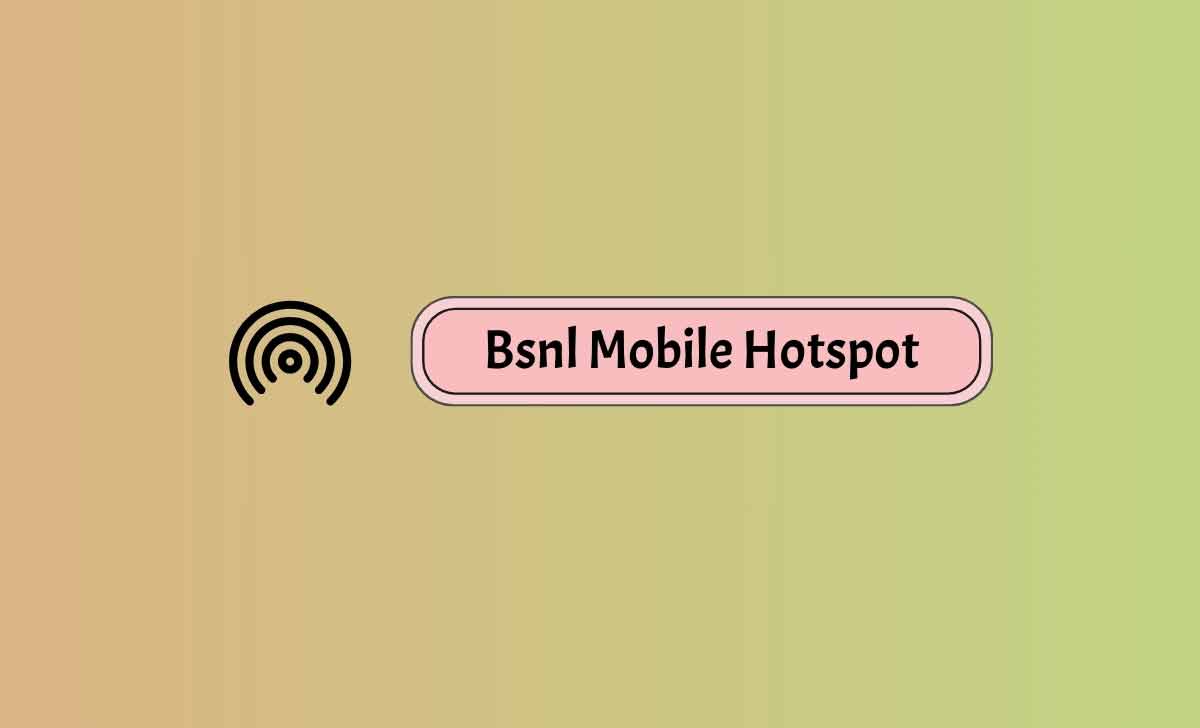 BSNL Mobile Hotspot
The major thing is you can use the BSNL 3G unlimited plan even in Desktops also, So lets us start how to activate this hot spot to use the unlimited mobile internet in all wireless devices, where the one wireless access point that creates a smartphone or wireless device to share the GSM or CDMA cellular data is hot spot. Let us see how to setup the hotspot in Android, Windows or iPhones
Also read>>>How to Increase BSNL Mobile Internet Speed
How to turn Android phone into BSNL Mobile WiFi hotspot
Creating BSNL mobile hotspot on an Android phone is very simple, After creation, you can use your Android device as an Internet access point to connect to it via Wi-Fi connected devices, and with that, all the wireless instruments will have access to the Internet via your mobile network only. So follow the steps.
Open your Settings
Tap on Mobile Hotspot and tethering
Click on Mobile Hotspot
Tap the circle button to Turn on hotspot, then it will displays like this with WiFi username and password.
Note down this to connect to the second device.
Click on More, if you want to change the BSNL mobile hotspot configuration in Android device(username and password change) and to enable timeout settings if there are no connected devices.
You can create an allowed devices profile also to set the connection mode for it using hotspot, and it is all to increase battery consumption and data usage.
Also read>>>BSNL WiFi Hotspot Plans
How to setup BSNL mobile hotspot in Apple iPhone
Many of the iPhone users searching for how to create a Wi-Fi hotspot for Apple iPhone 4, 5, 6, 6+, 7 and 7+. As a BSNL customer first, you must activate BSNL data settings in iPhone, then you can create iPhone mobile hotspot with this step by step process.
From the home screen, tap Settings.
If hotspot feature is available, follow the steps from 12.
If it is not currently available on your iPhone, follow the next prompts to add the Hotspot feature.
Tap mobile data
Tap mobile data options
Mobile data network
Scroll down to personal hotspot
Insert your mobile operator's Access Point Name in APN field (You must need to know about BSNL APN name before doing the same)
Go back to settings and wait for few seconds till it appears a new option.
Switch on the mobile data once.
Now Personal Hotspot option is enabled on the screen.
Click on Off to make the BSNL mobile hotspot ON
A new pop-up appears on the screen with two options

Turn On Wi-Fi and Bluetooth
USB Only

Click on the first choice to make your iPhone as BSNL Mobile hotspot.
Tap on ON button available at right side to turn on BSNL 3G mobile hotspot in iPhone.
Note down the Wi-Fi password as shown in the downside of that screen to connect to another device.
You can change WiFi hotspot password at any time with a single click on Wi-Fi password option.
Also read>>>Connect BSNL 4G Plus Hotspot
Set Up BSNL Hotspot In Windows Phone
Open Settings
Scroll down to Internet Sharing in system application page and Click on that to Turn On
Tap On to enable WiFI hotspot
Select WiFi or Bluetooth to share your mobile internet
Note down the password shown below (reset if required to change the username and password)
Also read>>>BSNL Broad Fi 4G Hotspot
How To Connect Newly Created BSNL Hotspot
In any of the Android, Windows, iPhone devices after creating the BSNL mobile hotspot, Get your BSNL 3G internet speed data on your wireless by doing the following steps.
Turn on WiFi on the second device to share your mobile network connection.
Select the WiFi user from the list of the available WiFi network.
Tap on that to connect to that WiFi user
Enter the WiFi password shown in the master mobile.
Connect to the high-speed data plan.
All the below queries applies to any of the Windows and iOS devices also. With all the above, now you can share your BSNL 3G unlimited data plans to all your near to access high-speed data on your presence.
If you require solving any of the queries on this BSNL 4G Mobile hotspot, please post us. Also, share the info with all our readers which you know than above.
How many users are connected to BSNL mobile hotspot at a time?
With the latest developments, a new 4G phone user can establish up to a maximum of 5 connections and 4G LTE smartphones can allow up to 10 connections with a single mobile hotspot.
What to do if Android hotspot has no internet access
Just check, whether your BSNL 3G mobile data turned on or not
Can all users has to pay some amount or free?
If master mobile connection subscribes with any one of the BSNL data pack, you can happily share the mobile data to all friends and family near by you, and it may be possible only by creating your smartphone as BSNL wireless device.
Is there any problem if Android Mobile hotspot becomes slow?
It means, you are connecting more devices to one BSNL mobile hotspot, it becomes slow. Try to disconnect some to increase the BSNL 3G speed.
How can I turn on Android hotspot not visible ?
Just switchoff the mobile once and restart the device, then all the settings will reset and most probably your WiFi will be shown on the screen.