Find BSNL 108 plan mobile tariff introduced in market as a new BSNL recharge plan having unlimited benefits on recharge for new customers under GSM 4G mobile services, Check how to subscribe and when you have to migrate for 108 recharge.
Introduced new prepaid recharge BSNL 108 plan which shall available on a PAN India basis, and Bharat Sanchar Nigam Limited has offered this new tariff for only new customers with effect from 24th October 2019 and revised tariff from 01.04.2022 by allowing the maximum benefits for Voice, 3G/4G Data and SMS services.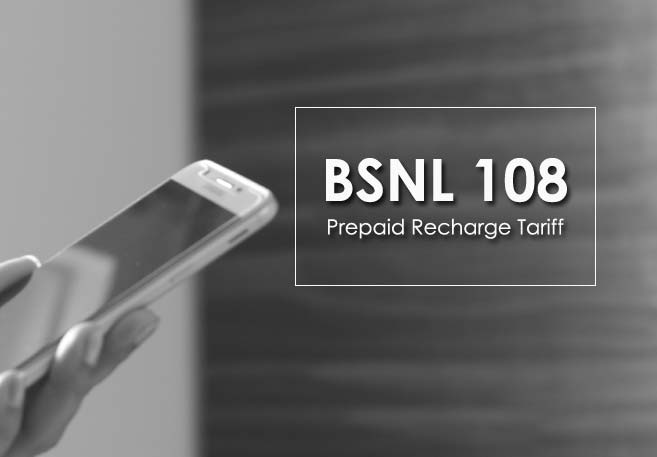 BSNL 108 Plan Details
Particulars
FRC 108 – Tariff
Price of FRC
RS. 108 is applicable only for new customers activated directly or with Mobile Number Porting
Free data usage
Unlimited data with speed reduced to 80 Kbps after 1GB/day
Voice calls
Truly Unlimited voice call facility including MTNL network in Mumbai and Delhi
Free SMS any network
500
Validity of above freebies after which base plan tariff will be applicable
28 days
General Plan validity in days
28 days
Local calls
STD calls
Rs.1/Min
Rs.1.3/Min
SMS cost after free usage
Local at 80Ps/SMS
STD at Rs. 1.2 per SMS
International at Rs 5 per SMS
Data Usage
25 paise per 10KB
Plan Extension
Rs. 108
Intra Circle Roaming in Delhi with Vodafone as VLMN
Local calls = Rs0.8/Min & SMS=Rs.0.25
STD Calls=Rs.1.15/Min & SMS=Rs 0.38
GPRS=Rs.0.25/KB
BSNL 108 Recharge Tariff Chart
This BSNL 108 recharge does not allow for migration on your existing mobile number, whereas the existing users of this BSNL prepaid recharge are allowed to migrate to any other required plan (153, Sixer, Plan 1999 and 2399, etc..) online or offline.