Do find the ultra speed fiber internet MTNL FTTH plans in Delhi under postpaid unlimited category providing 100Mbps to 1Gbps bandwidth for targeted customers, Check the best plans of faster internet and spend a considerable amount for your fiber broadband service…
MTNL Delhi Fiber Plans
Mahanagar Telephone Nigam Limited has got new FTTH plans in Delhi to service their customers in a better way which offers a quite better range with ultra speed internet connectivity on FTTH to spend long hours online, and also MTNL FTTH provides as a clean view on having Fibre to the Home service, which is termed as the best-unlimited broadband internet service ever.
This MTNL Fiber to Home (FTH) in Delhi doesn't delay the packets, which means you get a fixed speed limit in upload and as well download usage, in the wired network connection with free unlimited calls, whereas the speed and cap limit in MTNL Delhi FTTH plans does change while in fiber connection is always set to a fixed limit and the price varied as per the unlimited fiber internet plan opted.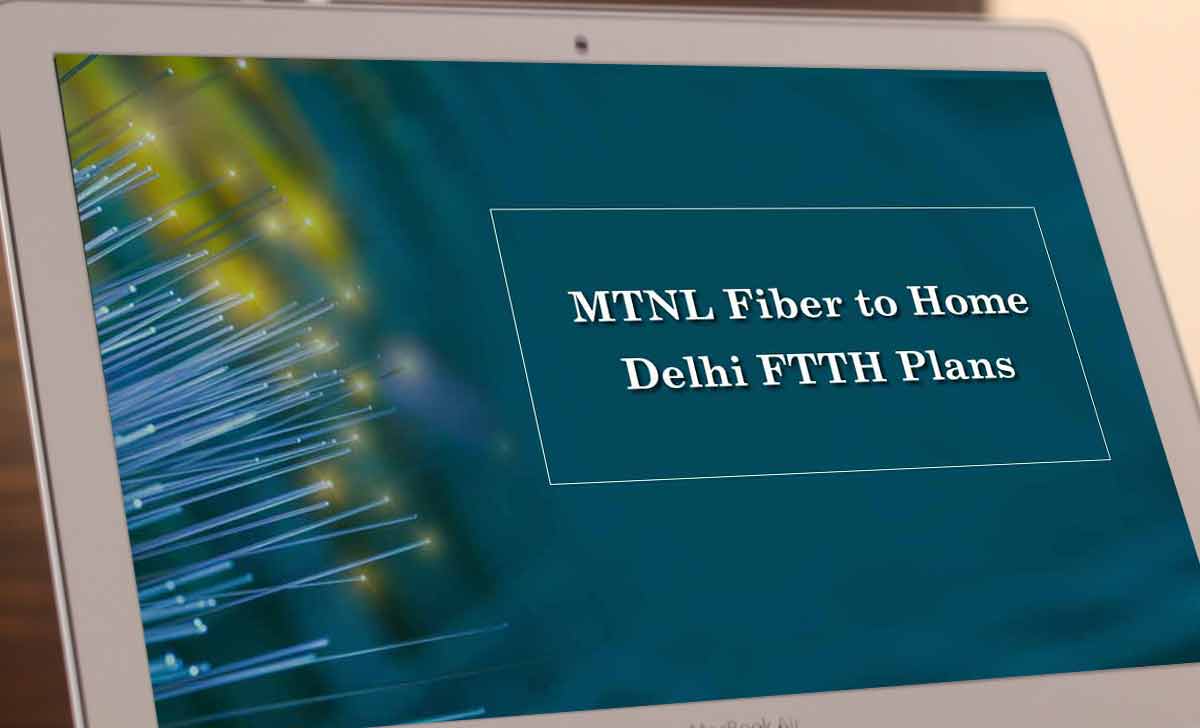 MTNL Delhi FTTH Plans (December 2022)
Plan Name
Speed
Rent in Rs
FTH777
100Mbps upto 800GB, then 1Mbps
Month=777
3Month=2070
1Year=7770
FTH1111
500Mbps upto 1500GB, then 5Mbps
Month=1111
3Month=2960
1Year=11000
FTH1500
(New Customers Only)
500 Mbps upto 2400GB, then 5Mbps
Month=1500
3Month=4000
1Year=15000
FTTHFire
500Mbps upto 3000GB, then 5Mbps
Month=2000
3Month=5400
1Year=20000
FTH2990
1Gbps upto 6000GB, then 5Mbps
Month=2900
3Month=7970
1Year=29900
FTH4990
1Gbps upto 12000GB, then 5Mbps
Month=4990
3Month=13300
1Year=49900
MTNL Delhi Fiber Plans List
Note: The customers who subscribe to the latest Delhi FTTH plans above 100 Mbps will provides ONT with GE LAN Port for ultra speed connectivity.
How to Increase the MTNL Delhi FTTH Speed?

To get an increase in MTNL FTTH speed in Delhi, customers need to visit the online website using their current customer ID, and the plans needs to be upgraded by selecting a better one from the current plan or you can call customer service to upgrade the plan, where this will be reflected from your next billing cycle to not get your current plan disturbed.

How to Cancel My MTNL FTTH connection?

Yes, you can proceed to get your connection disconnected from MTNL by anytime, and the customers should fill a form with a letter of cancellation by stating the reason, and the copies of the cancellation form need to be submitted to MTNL office offline and the device needs to be handed over to confirm the cancellation by paying the current due.

What is an FTTH Plan in detail?

Fibre to the Home is a technology that brings high speed internet to customers using fibre optics directly from the operator, and the internet is directly served from service providers through fibre thus giving a direct way of communication for constant upload and download speed.