Presenting BSNL ISDN PRI plans as per the new tariff structure referred by the high powered committee as per the requirement of customers, Find the security deposit and new primary rate interface (PRI) tariff structure…
Integrated Services Digital Network (ISDN) is Service which is a powerful tool across the world which provides digital transmission of various services like Voice, Video and Data through the telephone line network, and Primary Rate Interface (PRI) is a telecommunications standard used on Integrated Services Digital Network (ISDN) for carrying multiple DS0 voice and data transmissions between the network and a user.
There are several kinds of access interfaces to ISDN defined as Basic Rate Interface(BRI), Primary Rate Interface(PRI), Narrowband ISDN (N-ISDN) and Broadband ISDN (B-ISDN).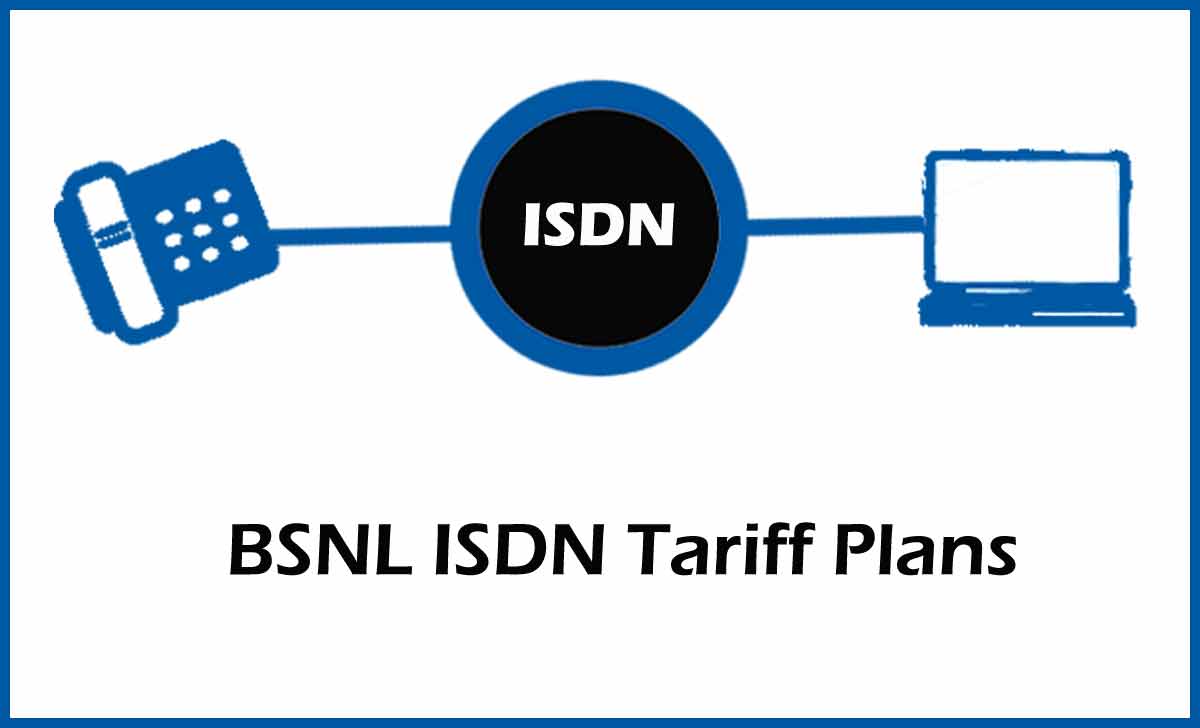 ISDN typically provides a maximum of 128 kbit/sec in both upstream and downstream directions, and here is the table for BSNL ISDN PRI Services with new tariff and special plan launched for PAN India with unlimited calls for Local / STD usage, Let's have a look.
BSNL ISDN PRI Tariff Plans
Particulars
Economy Plan
Special Plan
Super Plan
Mega Plan
Super Mega Plan
Deposit in Rs
10000
15000
15000
15000
15000
Monthly Charges
Rs. 1750 per month
Rs.100 on each additional KM or part
1750
1750
1750
1750
Plan Charges Rs
8250
18250
43250
88250
298250
Free Calls Rs
7500
18000
44000
90000
325000
Call Charges after Free in Rs
1.10
1
0.85
0.8
0.7
BSNL New ISDN PRI Plan with Unlimited Local & STD calls
| Particulars | Plan Details |
| --- | --- |
| Name of Plan | ISDN PRI Plan 25000 |
| Applicability | PAN India |
| Registration Charges | Nil |
| Advance Security Deposit (Refundable) | 25,000 |
| Installation Charges (Rs.) | 3,000 |
| Plan Charges per Month (Rs.) | 25,000/- + GST |
| Voice Local + STD Calls Within & other Networks | Unlimited |
| ISD Calls | Free ISD Calls worth Rs 5,000, afterwards billing as per MoU basis. |
| Call Pulse duration of ISD after Free Limit of Rs 5,000/- | As per existing BSNL Tariff |
The above plan shall not be provided to call centers/OBD service providers.
Security Deposit amount shall be reviewed on quarterly basis based on the ISD calling pattern.
Landline General plan rural/urban ISD tariff shall be charged for all ISD Calls
ISDN PRI merging & call Pooling Facility and On-NET unlimited free calling facility on ISDN PRIs
To provide facility of PRIs merging and call pooling to all eligible cases in all the circles on demand basis only, and this PRIs merging and call pooling facility shall be applicable on the ISDN PRI plans, where PRIs merging and call pooling facility shall be provided only for those locations where GST state is same.
To provide ON-NET unlimited free calling facility on all ISDN PRI Plans having plan charges of Rs 5,000/- or more, This ONNET unlimited free calling facility shall be in addition to already mentioned free local & STD calls in respective plans. This ON-NET unlimited free calling facility shall be applicable only to institutional customers and Not OBD service by call centers.