BSNL introduced Name Tune services through SMS for their customers to personalize the caller tune with their own name by sending simple SMS keywords, Activate or deactivate the Name tune subscription at any time through SMS only which is live now across India…
This new Name Tune service allows the BSNL mobile customers to personalize their caller tune (or) Hello Tune with their own name to make self caller tune, and subscribers can get their caller tune with their own name by following the simple SMS process which allows the mobile users to search for setting their caller tune by their own name as their Hello Tune.
Just follow the simple process as below, first of all any customer of BSNL Prepaid or Postpaid mobile GSM services who want to activate the Name Tune can just send the SMS in the below said format for activation of required name ringtone.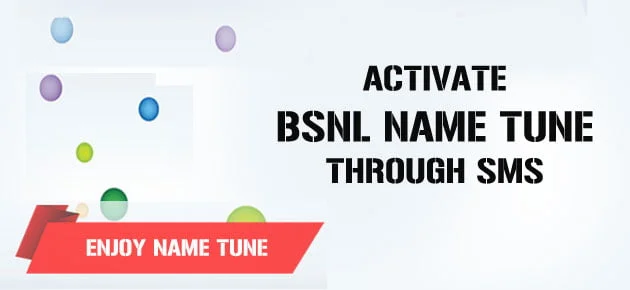 If you have already activated BSNL Caller Tune service, then just send the Name tune message code displayed in below table, otherwise first activate caller tune service and then activate BSNL name tune service as per your choice
Activate basic BSNL tunes service by sending an SMS as BT ACT to 56700 through which a default tune will be provided to the subscriber until he/she chooses a song of her/his choice, then after if to choose name tune, send an sms as follows for activation of Name Tune.
| BSNL Zone | SMS Keyword | Message Sent to |
| --- | --- | --- |
| South / East Zone | NT <Your Name> | 56799 |
| North / West Zone | NT <Your Name> | 56777 |
Example: NT NAME to 56799/56777
After sending the above said SMS, BSNL mobile customer can get a reply SMS from BTUNES as a result to choose from search results of particular name to set as Name Caller Tune, After confirming the name in the choice, customer can send the number in choice again to 56799 which results to present and activate the name as Own Hello Tune. for your mobile number.
What are the charges for BSNL Name tunes activated through SMS?

An amount of Rs.30 as subscription and Rs.12 as Name Tune charges will be charged every month for the service for all plans of prepaid and postpaid GSM services.

How to deactivate the Name Tune Service through SMS?

Just send BT DACT to 56700 to deactivate the Caller tune / Name tune services.

Whether this BSNL name tune service available at free of cost with any offer?

Yes, if you recharged with new latest plans offered in Prepaid or Postpaid, you will get Free Name tune services as per the subscription.

Is BSNL charges are same for normal and name tune services

Yes, the charges for premium ring bamsck tunes with latest and required name tunes are same., and there is no extra charges for name tune.