Now, BSNL helps you to identify the original data which links UIDAI as eKYC, you can know the status of how many Aadhaar linked mobile numbers complete the verification and links with your Aadhaar number…
BSNL cares deeply about connecting their subscribers with new launches in each aspect, Every new program commits to a better service on prepaid/postpaid mobile or Bharat Fiber /DSL broadband or any other required, and the operator who pioneers better service is now resulting lakhs of new mobile customers every month, this is the only pure example. Let's come to the topic.
We all know that any customer will get a maximum of nine mobile numbers in his/her name and it is also, with in India and with all operator's, After that, operator's database didn't allow to offer a new connection on that Aadhaar number.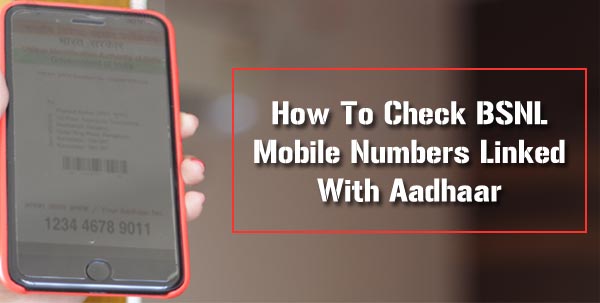 Many of the customers didn't know how many mobile number(s) including fancy have taken with BSNL or from other operators, and they will know which are using with latest mobile plans of BSNL or others, but you have to check all even completes eKYC.
As per the orders of GOI and Hon'ble Supreme Court, and to provide a facility to cross-check the existing numbers, BSNL introduced an SMS gateway to check the status of Aadhaar linked BSNL mobile numbers.
How to check Aadhaar Linked BSNL mobile numbers?
Here, you will know about the update on how to check the mobile numbers of BSNL, linked to your Aadhaar card? The process is straightforward, i.e., just send a text message and get your Aadhar Linked BSNL mobile numbers.
Keyword to send SMS and where we have to post this
To know the Aadhaar linked mobile number, one has to send an SMS to 53734 with the following text message code
ALIST <space> AADHAAR Number
Processing of digital KYC through BSNL CSC's and with retailers implemented very strictly, and the eKYC verification will completes only after receiving OTP and matching of biometrics, but after introducing the Aadhaar linking online process by the operator, some of the virals are misusing the linking of mobile numbers with others Aadhaar numbers.
So, this SMS checking process will help each mobile customer to know their Aadhar linked BSNL mobile numbers, and If anyone finds their unknown numbers linked with your Aadhaar can approach BSNL CSC for further action.
Can I send this message from any working mobile?
You must send this text SMS from your Aadhaar linked mobile number only, It means the mobile number which you provide in Aadhaar data of UIDAI.
What will happen If not sends with Aadhaar linked mobile number?
You don't get the desired result and receives a reply as Please try from "Mobile linked with this Aadhaar number".
Can I get this error as the standard for all the reasons related to Aadhaar Linked BSNL mobile?
There are some few reasons to get the above error, have a look at this
Your BSNL mobile number(s) not completed with eKYC
Sending SMS from other mobile numbers which not links with Aadhaar of UIDAI.
Will I get Aadhaar Linked mobile number in this process?
No, this process designs only to show the information of BSNL mobile numbers, confirmed with Aadhaar number as eKYC, but not for Aadhaar linked mobile number.
Shall we get the GSM and CDMA Aadhaar Linked BSNL mobile numbers separately or in a single reply?
You will get a single text message for Aadhaar linked mobile number, It contains the CDMA and GSM numbers with an indication separately.
What to do, If we find any unknown numbers on the reply list?
Approach nearest BSNL customer care center and submit your requisition for the immediate closure of that unknown mobile number.