What is ONT and the CPE charges for BSNL Bharat Fiber broadband connection at present, How to get Free ONT for BSNL FTTH connection, Can ISP provides WiFi equipment at special price to connect with Fiber Optic service.
ONT is a customer premises equipment stands for Optical Network Termination, and It is a media converter to enable IP based telephone, and internet connectivity which could be installed by BSNL, this ONT is also called as BSNL Fiber to the Home Modem.
This ONT delivers BSNL high speed internet up to 100 Mbps from 15.03.2014, BSNL introduced ONT (Optical Network Termination) equipment in two different types as Type A and B with different BSNL FTTH ONT Charges, where both the BSNL modems of Bharat Fiber offered to customers on Outright Purchase and on Rental.
Outright Purchase means the direct purchase of Optic Fiber modem (ONT) from BSNL on one time basis to get own equipment with Warranty/AMC up to 5 years, and the Outright purchase charges of ISP are standard 1st May 2017 only, and here, you want to be alert to note down all these in your mind.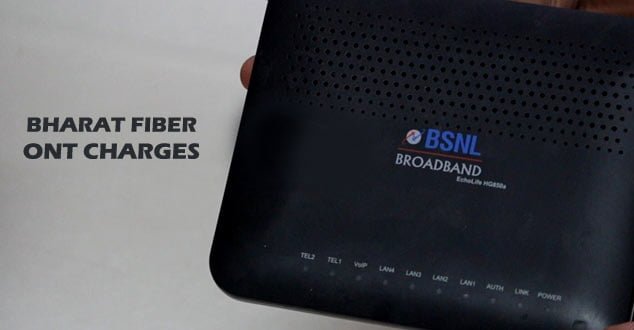 Due to various reasons, Optical Network Terminal price in India is extremely high, so BSNL offer these Bharat Fiber ONT on monthly rental to a customer, and it is also at a minimum cost never expect, that's what we can see it as below, and BSNL Bharat Fiber ONT charges are the additional fees includes to the client in the monthly FTTH broadband bill.
To avoid BSNL Bharat Fiber ONT charges or to get Free ONT, and to get the FTTH modem on rental, you have to pay some refundable deposit, and all these costs applicable to all Fibernet Plans of BSNL on PAN India basis, Let us see, which is most credible.
BSNL Bharat Fiber ONT Charges
Particulars
BSNL FTTH ONT Charges in Rs.
Activation / Installation charges for ONT
500
Security Deposit for BSNL ONT *
500 (Refundable) #
ONT Charges per month (when taken on Rent)
90
Yearly ONT Charges for Rent
1800
ADSL WiFi Modem along with ONT on Rent per month
200
Security deposit refundable for ADSL modem required
1500
ONT Charges (Outright Purchase)
BSNL FTTH Type A Equipment
12000
Type B ONT Equipment
14500
* Refundable Security Deposit is to be taken from FTTH customer for BSNL ONT Type A or Type B can be refunded to the customer on a return of BSNL ONT which is in good working condition only.
# The amount of Security Deposit for BSNL FTTH Modem shall completely waive off when the customer opts for annual payment of the subscription plan, and also waived the monthly rental charges for ONT when opted for any plan above Rs.600
Check : BSNL Bharat Fiber (FTTH) ONT Installation Charges
BSNL Bharat Fiber ONT charges are applicable for both existing and new customers of Fibernet broadband services in PAN India, and here everything we inform about customer point of view only, So take the advantage offered by the brand, and opt for rental to avoid massive BSNL FTTH ONT charges and enjoy ultra speed internet and IP based free calling telephone connectivity with new ONT.
Update: As per BSNL Corporate office letter dated 26.04.2021, the competent authority has decided to limit the cost of ONT to be recovered from customer is Rs.2000 only.