PAN India best mobile service operator provides BSNL Mobile Missed Call Alert (MCA) Service for mobile users, and it is a Value Added Service allows all BSNL prepaid and postpaid mobile customers to retrieve their BSNL Missed Call Alert details through a short message without any worry during many cases.
It works, if the mobile client is in out of coverage or service area or when users mobile runs out of battery and this BSNL MCA service is a solution for notifying the mobile customer about their missed calls.
Subsequently informing the availability of the subscriber to the caller along with the call timings, thereby to encourage the client to make the mobile calls.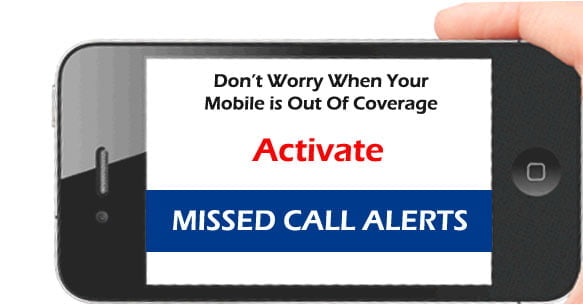 BSNL Missed Call Alert service in Mobile is a Free Service for all mobile customers except North Zone(Haryana, Himachal Pradesh, Jammu Kashmir, Punjab, Rajasthan, UP East, UP West, Uttaranchal) Mobile Customers at Rs.15/month.
Telecom brand makes the activation of this BSNL MCA Service in a straightforward manner by following a simple procedure to set up mobile for MCA, and the process is very very simple by just diverting all Voice Calls to the number +9117010 when Unavailable / Switch Off or Out of Coverage area / reach.
How to Activate BSNL Mobile Missed Call Alert
Just Switch On BSNL Mobile
Go to Settings > Call settings > More Settings > Call divert/Call Forward. (It may differ from phone to phone, but the steps are almost same).
Now Mobile will list conditions when to divert Voice Calls.
Select Voice Call
Click Forward when unreachable
Type the number +9117010
Save/Enable
In some BSNL Circles, the customer can activate the Mobile MCA Service by just dialing the shortcode (USSD code) **62*17010#
After the completion of BSNL Mobile MCA service with the above simple steps, Just switch off the mobile and check the status by dialing the MCA number. If any user calls to BSNL Missed Call Alert activated mobile number, the calls will automatically divert to 17010.
It works when mobile is Switched Off or Out of Coverage Area. After the customer reaches into coverage area or turns the phone on, BSNL sends the short messages of all the missed calls logged.
How to Deactivate BSNL Missed Call Alert
Switch on BSNL Mobile
Go to Settings > Call settings > Call divert/Call Forward
Select Divert/Forward ->When Unreachable
Delete the number +9117010 or Cancel All the call diverts in Divert option.
Save/Disable
Where the user can deactivate BSNL MCA service by just dialing the USSD code #62#
By activation of BSNL Missed Call Alert (MCA) Service, the user never loses any calls even in out of coverage / switch off / mobile runs out of battery.
The above is the standard process for all prepaid and postpaid BSNL Mobile clients of all BSNL circles across India, So, mobile users enjoy this facility, activate or deactivate BSNL Missed Call Alert (MCA) at any time on your mobile.