How to divert voice calls from my BSNL number to other number, and how to cancel the call forwarding in Android / iOS and Feature phone, Is the facilities provided at free of cost or chargeable, What is the process for activation of call diversion in my BSNL mobile…
BSNL Call Forwarding
Dial the hotkeys, activate BSNL call forwarding free to home facility launched on prepaid and postpaid mobile, and divert all mobile calls to receive on your required landline or mobile phones of Airtel, Reliance Jio, Idea Vodafone or any other network at anywhere within India.
From now, if you are at home or in office, as per convenience you can activate BSNL call forwarding on your mobile, As of now, call divert for voice calls will charge as subscribed tariff for all regular calls, but now this facility is made at free of cost.
BSNL call divert free to home services is a facility to forward any incoming call to receive 'Crystal Clear Voice Calls' on any network landline or mobile without worrying the quality and strength of Mobile Signals inside buildings.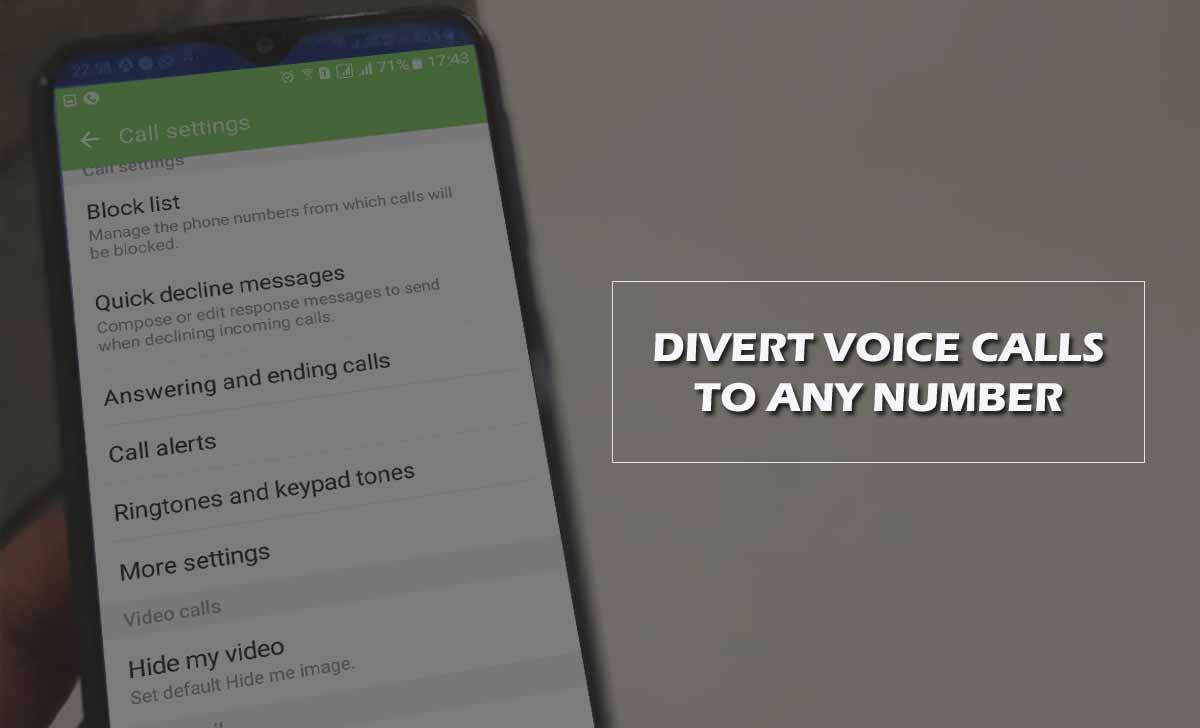 With this call forwarding facility, BSNL mobile customers cannot miss any single voice call in their day to day activities in their office or at home with easily enabled voice call divert short keys and options for activation or deactivation of call divert services, Let's have a look at all of the options to activate as per the requirement
Always Divert the calls from mobile.
Call diversion When Busy.
Diversion in case the BSNL Mobile handset is turned off or has not in coverage area.
Voice call diversion for not responding/answering.
BSNL Call Diversion Activation Process in Mobile
Click Call Settings

Go to Call Settings in your android mobile

More Settings

Click More Settings

Select your SIM (If it is dual SIM mobile)

Select the SIM in which SIM you want to enable call diversion

Select Call Forwarding

Click Call Forwarding

Select Voice Call

Select Voice Call

Select Option

Click the Suitable Option from displayed 4 Always Forward (forward all calls at any time without time delay)
Forward When Busy (divert calls when your phone is busy)
Forward when unanswered (divert when you are not answered)
Forward When Unreachable (divert the calls when your are not in coverage area)

Enter your destination number

Provide your Call diversion dstination number

Click Enable

Click Enable to activate the process
The above is the procedure to activate the call diversion manually on your BSNL prepaid or postpaid mobile at free of cost, and the following are the hot dial key codes to activate and disable the call forwarding facility if already activated.
BSNL Call Forwarding Dial Keys
Particulars
Dial for Activation
To Check Status
Dial for Deactivation
Forward All incoming calls (Any Situation)
*21*number#
*#21#
#21# (Deactivate)
##21# (Erase only)
Forward all voice calls, when you are speaking to others
Enter **67* number #
—
##67#
divert the calls, if not responding/answered the incoming calls
**61*number # (without time)
**61*number**x# (x=5/10/15/20 seconds)
*#61#
##61# (Erase Only)
#61# (Deactivate)
BSNL call divert, if your CellOne Mobile is Switched Off or Out of Reach / Out of coverage area
**62*number #
*#62#
#62# (Deactivate)
##62#(Erase)
To cancel all the above conditions
##002#
—
##002#
So BSNL mobile customers, it's time to have a chance to activate call forwarding free to home services and divert the calls as per your need.
How to get BSNL Missed Call Alerts on Mobile Phone
What are the charges for BSNL call forwarding facility and the billing pattern?

Free call forwarding facility with GSM mobile services to LL/ other BSNL mobile number/ other operator's Mobile number (i.e. without any activation fee for the call forwarding facility) with call charges applicable as per plan.

How to get free calls on any number?

Just recharge with any of the BSNL unlimited plan on your mobile number and activate call forwarding facility, then all divert calls are not charged due to unlimited calling plan.