Presenting the updated MTNL Mumbai broadband plans from 6Mbps to 16Mbps on DSL and 50Mbps to 100Mbps on FTTH network, Check the latest tariff and opt the best internet for home or business in Mumbai…
Mahanagar Telecom Nigam Limited has introduced double package broadband plans for its Mumbai Circle region, and their service center of MTNL Mumbai is referred to as Sanchar Haat which is also a regional office for customer solutions.
This exciting and new customer of MTNL Mumbai can get extra benefits with double FUP plans now, and this state-owned telecom company does give flexibility with Free Registration and Installation along with giving non-refundable Modem security charges.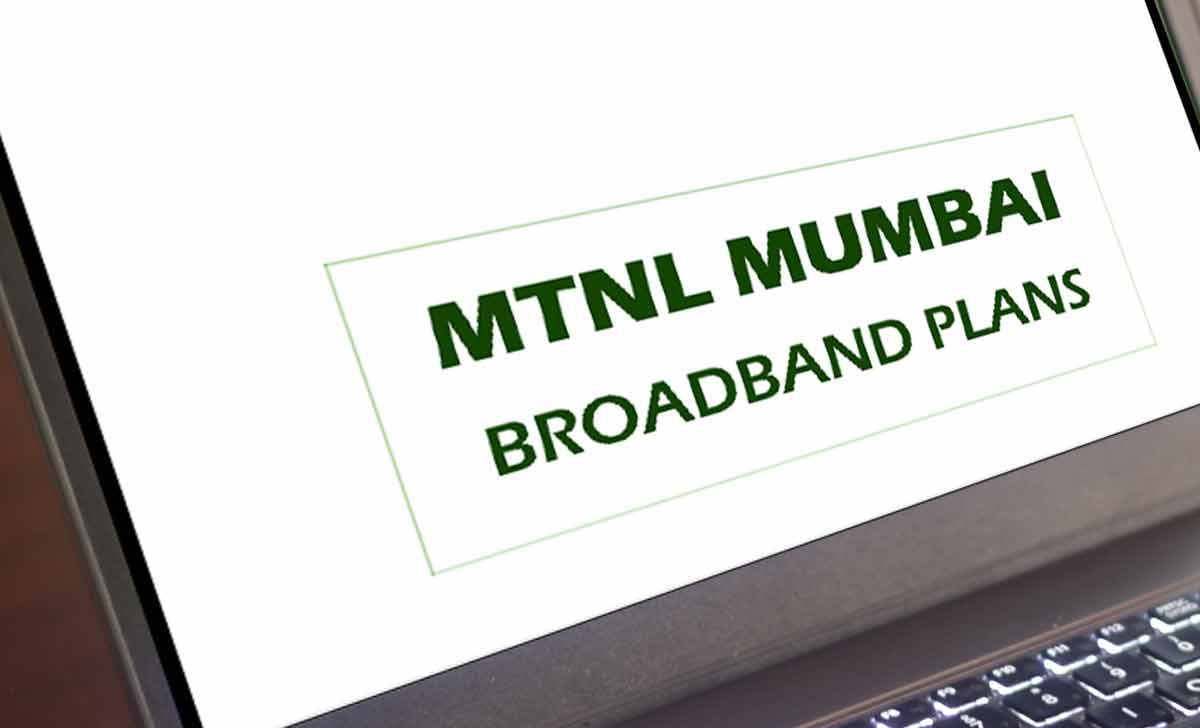 The MTNL Mumbai Broadband bill payment should be done every month or else their existing connection will be put on hold and if the account has been permanently closed, they need to re-register by paying the registration and installation changes to Sanchar Haat.
MTNL Mumbai Broadband Plans Tariff Details ( January 2023 )
Plan
Speed
Monthly Rent in Rs
BB-600-6M
BB-600-8M
BB-600-10M
BB-600-12M
BB-600-50M
6Mbps till 160GB, then 1Mbps
8Mbps till 140GB, then 1Mbps
10Mbps till 130GB, then 1Mbps
12Mbps till 110GB, then 1Mbps
50Mbps till 600GB, then 2Mbps
600
BB-800-6M
BB-800-8M
BB-800-10M
BB-800-12M
BB-800-50M
6Mbps till 290GB, then 1Mbps
8Mbps till 240GB, then 1Mbps
10Mbps till 190GB, then 1Mbps
12Mbps till 170GB, then 1Mbps
50Mbps till 1000GB, then 2Mbps
800
BB-1000-6M
BB-1000-8M
BB-1000-10M
BB-1000-12M
BB-1000-14M
BB-1000-16M
BB-1000-50M
6Mbps till 460GB, then 1Mbps
8Mbps till 380GB, then 1Mbps
10Mbps till 310GB, then 1Mbps
12Mbps till 280GB, then 1Mbps
14Mbps till 260GB, then 1Mbps
16Mbps till 240GB, then 1Mbps
50Mbps till 1500GB, then 1Mbps
1000
BB-1200-6M
BB-1200-8M
BB-1200-10M
BB-1200-12M
BB-1200-14M
BB-1200-16M
BB-1200-50M
6Mbps till 610GB, then 1Mbps
8Mbps till 500GB, then 1Mbps
10Mbps till 430GB, then 1Mbps
12Mbps till 380GB, then 1Mbps
14Mbps till 360GB, then 1Mbps
16Mbps till 340GB, then 1Mbps
50Mbps till 2000GB, then 1Mbps
1200
BB-1500-6M
BB-1500-8M
BB-1500-10M
BB-1500-12M
BB-1500-14M
BB-1500-16M
BB-1500-50M
6Mbps till 900GB, then 1.5Mbps
8Mbps till 770GB, then 1.5Mbps
10Mbps till 700GB, then 1.5Mbps
12Mbps till 630GB, then 1.5Mbps
14Mbps till 600GB, then 1.5Mbps
16Mbps till 580GB, then 1.5Mbps
50Mbps till 2800GB, then 2Mbps
1500
BB-2000-6M
BB-2000-8M
BB-2000-10M
BB-2000-12M
BB-2000-14M
BB-2000-16M
BB-2000-50M
6Mbps till 1350GB, then 2Mbps
8Mbps till 1250GB, then 2Mbps
10Mbps till 1190GB, then 2Mbps
12Mbps till 1110GB, then 2Mbps
14Mbps till 1050GB, then 2Mbps
16Mbps till 1000GB, then 2Mbps
50Mbps till 4000GB, then 2Mbps
2000
**All 50M plans are on VDSL
MTNL Mumbai Broadband Plans
MTNL Mumbai FTTH Broadband Plans
What is MTNL Mumbai's Broadband Plan Customer Care Number?

Existing and new customers of MTNL Mumbai can dial 1507 from landline or 011-22221507 from any mobile to connect with customer care executives, and they will take your complaint and will guide you accordingly by giving a service number for reference, and this reference will be closed once your respective complaint about connection or plan has been resolved.

How to Check my MTNL Mumbai Broadband Plan?

Anyone who has their registered mobile number with MTNL Mumbai Broadband can install the MTNL Mumbai Application to check the details from the official app or can call customer care number to get your detailed information on-call by providing your registered mobile number.

Can I convert my MTNL Mumbai Broadband to WiFi service?

Yes, you can anytime get your MTNL Mumbai Broadband Plan into WiFi service, by connecting the LAN Broadband wire to a Modem, and there are modems that are provided by MTNL Mumbai as well, which provides a range of maximum 40 Meters which can be available to connect devices in your surroundings.