Find here the new updated comparison chart of BSNL Vs Airtel plans with combo features for unlimited calls & mobile internet. Check the table for the available plans for both the network BSNL & Airtel and choose the best pack for your unlimited Voice, Data and SMS requirements as per the conclusion given…
In the current state, all the services are at high halt but services like telecom and communication industry are at high peak right now and at the same time with a disadvantage of lesser workforce, but despite these things we can see that the national companies like BSNL & Airtel, Reliance Jio and Vodafone Idea are coming forward to propose and release new plans.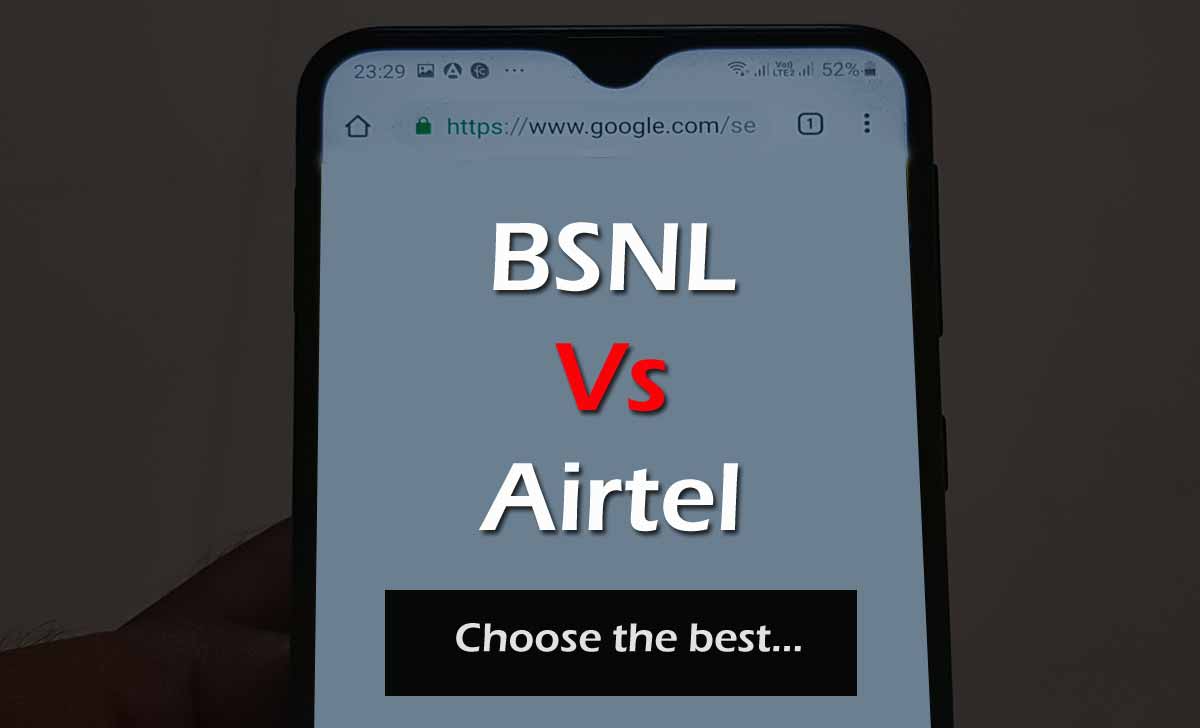 Recently Airtel hiked their tariffs upto 25% with new prices. So, here we are presenting the latest comparision chart to check and to choose the best carrier service for communication purposes. This comparision chart will surely help subscribers to get going during these times by presenting BSNL Recharge plans Vs Airtel prepaid plans.
BSNL Vs Airtel Plans Comparision Chart
BSNL Price
BSNL Pack Validity in Days
Data Per day
Airtel Pack Price
Airtel Pack Validity in Days
153
26
1GB/Day
265
28
187
28
1GB/Day
239
24
199
30
2GB/Day
359
28
485
82
1.5GB/Day
479
56
397
30
2GB/Day
319
30
499
75
2GB/day
—
—
666
105
2GB/Day
839
84
997
160
2GB/Day
—
—
1499
336
24GB
1799
365
1999
365
600GB
—
—
2399
365
3GB/day=BSNL
2GB/day=Airtel
2999
365
Now one of the main aspects, the operator has considered is that their majority of users are the IT and the working class who along with the non-IT sector class will constantly be using the Internet which shows a high consumption of the data, So, the operator launches different plans with combo services.
Check now: How to Port Airtel to BSNL with Latest Offers
As per the above chart, Airtel provides upto above 30% higher cost in some plans when compared to BSNL. So it is clearly proved that BSNL data plans are true valued best budget mobile internet combo plans.
Fore any clarifications, please login to bsnl.co.in
Can we have the same tariff if BSNL increased tariff after?

The customer who subscribes with latest plans as on date will continue upto their expiry with the same validity. But, if there is any revision, tariff changes will occur and changes will intimates to customer on SMS.

Is there any revision in tariff of BSNL prepaid plans?

No, At present, there is no change in tariff as on date, if any changes, BSNL Corporate office will give the instructions to all the circles on revised tariff.