Time to open BSNL VRS App and calculate Ex Gratia / Pension Amount which are eligible for VRS optee along with remaining service salary amount if not opted for BSNL Voluntary Retirement Scheme 2019…
Now check your retirement benefits on your mobile by installing BSNL VRS Calculator App, Let' find in detail about how to find your voluntary retirement benefits through mobile application on your smartphone screen
Open Google Play Store on your mobile screen
Search for BSNL VRS or go to the link https://play.google.com/store/apps/details?id=in.bsnl.bsnlvrs
Click Install
Press Open (BSNL VRS Calculator will open within seconds)
Enter your HRMS number (ignore first digit of your HR number)
Submit your Mobile number (Enter your ERP linked mobile number)
Click VALIDATE
Enter OTP Received (You will receive OTP on your registered mobile number)
Click Proceed
Immediately your next screen will display your complete VRS benefits (Ex Gratia Amount, Pension Amount, Total VRS Benefits and Remaining Service Salary)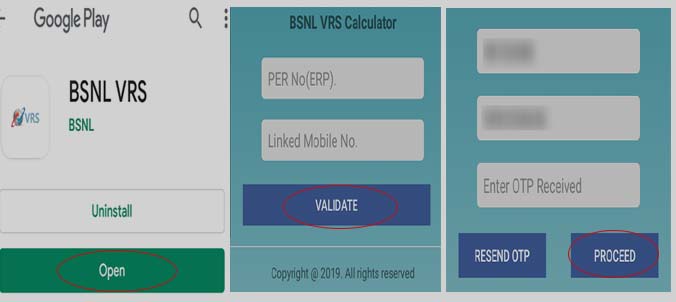 The Ex-Gratia Amount will be based on Gujarat Pattern, along with Pension Amount to be paid for the remaining years of service, where the next row display the total amount of VRS benefits (Ex-gratia + Pension Amount), and the Total VRS amount will be shown without leave encashment.
The additional emoluments like leave encashment will be paid in addition to BSNL VRS 2019 benefits, and the final row of BSNL VRS App will display the total amount to be paid to the working employee, if he continues the service till attaining the age of superannuation, so its the time to open BSNL VRS App and Check Ex Gratia / Pension Amount & Remaining Service Salary instantly on your mobile screen.
BSNL VRS Mobile App has been developed by our BSNL Recruitees ie Sri.CH.Narendra SDE & Sri.M.Venugopal JTO, ITPC, DEV unit, Hyderabad under the able guidance of Shri.S.A.Melmalgi GM ITPC DEV and Shri.Y.N.Sunderacharylu sir AGM, within very short span of time (within 2 days). It is really appreciable for their dedication in development of anything is needed by BSNL, and it is learnt that Private vendor asked 15 days time to develop the same App.
So BSNL internal talent has been utilized by ITPC DEV unit, Hyderabad for successfully launching of BSNL VRS 2019 Mobile App as per the word given by Shri.Melamalgi to Corporate Office, and Once again it is proved that BSNL employees internal talent is better than Private vendors, So in house talent should be encouraged and wastage of money on vendors also should be avoided by PSU in future.