Share your feedback on BSNL Broadband service to reach higher authority in organization about why you are disconnecting the BSNL DSL or Bharat Fibre broadband service and also suggest the best with your feedback in improving the reliable service.
Every day hundreds of new connections adds into BSNL family and some existing broadband services are disconnecting due to many reasons, To overcome that, Being a PSU which is trying to get broadband feedback in to the track to fill its gap and trying to come closer to the customer.
We think everyone feels good to give feedback in Customer Satisfaction Survey form, but accepting the feedback itself is a great task, You should be open at mind to know what people are thinking about you, but technically speaking for an individual to groom his personal and professional career feedback plays a vital role.
The same is applicable for an organization, but for individual the perimeter is small, and for an organization like BSNL, who is having country wide millions of end users, taking feedback itself is a big task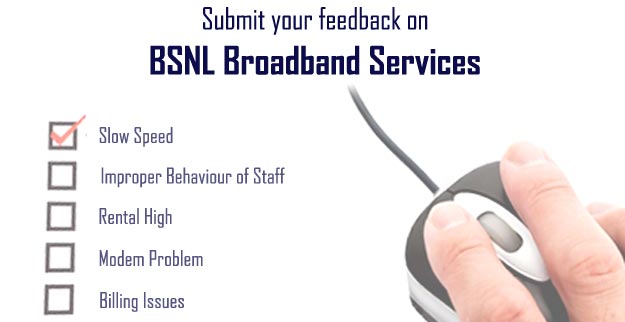 For the same reason BSNL should take customer feedback whatever possible way it have, the requests should be honoured and BSNL higher authority may look into the output of the customer satisfaction survey implemented which can retrospect itself from the result.
Now here you are going to push some feedback questions regarding BSNL Broadband services and why you are surrendering the connection, please do participate in this feedback and make BSNL to think about its stand in customer hearts, and you can submit any of the reason/problem which you have really faced like
Improper Behaviour of Staff
Highest Rental Plan Tariffs
Billing related issues
Customer service not up to mark and many more
Let's make our BSNL to work Smart in a new innovative way with suggestions, and try to change our BSNL broadband services working style with your valuable customer satisfaction feedback.
http://www.bsnl.co.in/opencms/bsnl/BSNL/services/broadband/broadband_feedback.html
Whether the working broadband connection customers are allowed to give the feedback here?
This is the form provided to know the disconnection reasons of the customers, but for existing customers, there is Public Grievance portal and online selfcare portal is available.
Any BSNL officer will approach us upon feedback?
For every genuine reason, BSNL higher authority will approach you on mobile number/email address provided to solve the problem and to get reconnection from you.
Register BSNL Long Pending Complaints at Public Grievance Portal to reach Higher Authorities