Maximum benefits offered for a BSNL prepaid subscriber with BSNL 999 Plan recharge voucher introduced from 10.11.2019 and revised from 01.07.2022, with unlimited benefits for mobile voice calls, on the Go to connect with virtual realities…
The new prepaid BSNL 999 plan offer maximum benefits up to 200 days from activation for plan validity as well as for freebies from activation date, find the complete details about BSNL 999 maximum plan tariff.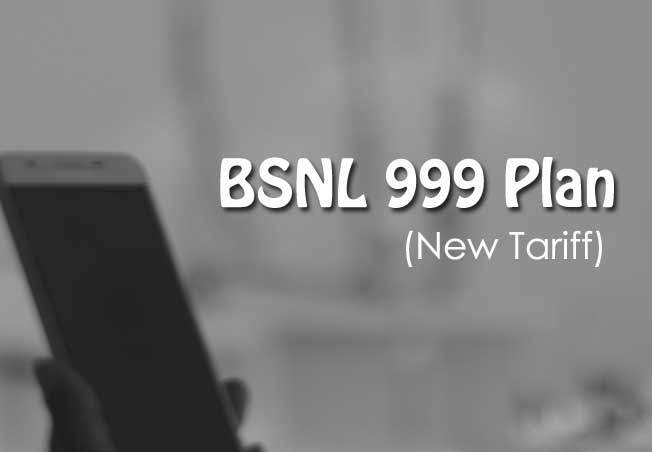 BSNL 999 Plan Details
Particulars
Plan 999 Tariff
Plan Voucher Cost
Rs. 999
Applicable for
All Users of BSNL GSM Mobile Services on PAN India basis

Voice
Unlimited Local and STD Voice calls in any network in HPMLN and National roaming including Mumbai and Delhi
Caller Tune
Free Caller Tune for 2 months from date of activation, allowed to activate through My BSNL Tunes APP or web portal
Validity
Having 200 days prepaid validity for Plan and Tariff from the date of activation.
Tariff Extension
Recharge with same Plan Voucher Rs. 999
Allowed
All Prepaid Special Tariff Vouchers to reduce the tariff
Pulse Rate
Per Minute Tariff
SMS cost
From Home circle: Local at 0.8Ps/SMS and STD at Rs. 1.2 per SMS and International at Rs 5 per SMS
In Roaming: Local Rs 0.25, STD : 0.38, International : Rs.5 and Non P2P SMS is Rs.3
Data Usage
Volume based usage at Rs.0.25 per MB and all 4G Data STVs are allowed for free data usage – Check now
Other Conditions
All other terms and tariff are allowed as per BSNL PER MINUTE PLAN
This prepaid 999 Plan of BSNL is revised with the above tariff from 01.07.2022 in all circles across India for new and migration under GSM services, customers can activate this plan through online recharge or directly through a retailer.
How the extra validity is available for PV999?
During extra validity offer period the normal freebies of PV-999 will be available, and the total freebies/ plan validity of PV-999 will extend for the recharge done during the promotional offer period, and however, bundled content (if any) will be available as per the announcement.
Is the extra validity available at any time for 999 plan?
This extra validity available as per the announcement with freebies which available for FRC/migration/validity extension done with PV-999 during the promotional period. This will be applicable for the all modes of recharge of PV-999 as per announcement.