Find the reasons, why BSNL selected for 5G airwaves, what is the launch date and the speed of 5G network, will BSNL 5G plans are costlier than 5G or lower, what are the lash backs and 5G devices available in market…
We all know that 5G is something that everyone across world is waiting for when we talk about modern telecommunication services, and we have a lot of carrier services which basically means telecommunication service operators and one of the largest is BSNL from India, that is accessible nationwide.
BSNL as already is a government owned entity which has been running for quite some time which is now making deals with International vendors of 5G services to bring this new mobile network technology to India first time, and the PSU was among the quite few nation-wide organizations to roll out the 4G technology and similarly they are in talk with some well-known International telecommunication and technology providers as vendors to make sure India can access the 5G in India by the year 2020.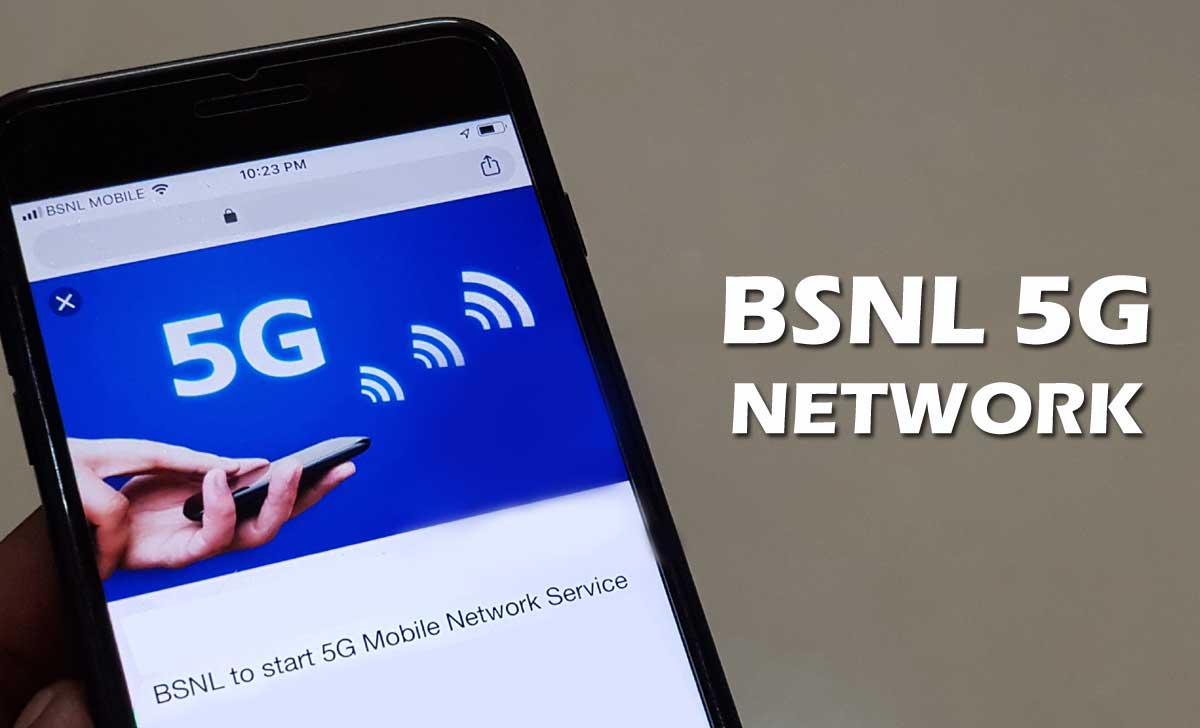 Some of those vendors are Coriant, ZTE and Nokia while talks with some more vendors are on the table as well which is not yet released, and we all know that 5G is not yet released globally except few cities, but BSNL chief has promised that they will be launching the latest high-speed mobile network technology the same day as the International launch day which is something every Indian should be looking forward to.
When compared to other Mobile operators in India, BSNL has been working hard to provide the 5G technology in India in the next new year 2020 which might seem pushing the limits, and to be frank there is a fair reason that they have to be the very first or pioneers of launching the 5G technology in India since they adopted both 3G and 4G very late.
Yes, if you have been a BSNL users for half a decade or more you would know that they have been slow when it comes to adopting new mobile communication technologies due to their widespread organization, but not this time because the chief of BSNL, has promised to launch the 5G in India as the same as the launch goes on for the International day.
What is 5G and Why is BSNL Acquiring 5G?
5G is the next version of the 4G telecommunication service which will use the same set of system cell sites across any territory but this version comes with a greater bandwidth and speed as well.
The major difference between a 5G and 4G is their Internet bandwidth, 5G speed or communication speed i.e, voice calling, and these are instrumental in determine the major difference but if you talk about a network in terms of hardware even 5G will be using different antennas and will have to operate on a radio frequency spectrum which is quite different from 4G so as to not mix up those two while working.
The reason why BSNL is going to bring the 5G service to India is simple to meet the demand of Indian users who are growing day by day while the services are not prudent enough for everyone. We all access to 4G service but when compared to the millions of users who access the same network, the speed comes to a downfall and most probably the user count will increase two folds in the upcoming decade which means companies like BSNL have to tighten their services and support with best out there.
Any Telecommunication brand like BSNL in India or across the world has to strive to give the best service to the customer and if they cannot, then only the users now have the option to change or port to some other service which will release the 5G service faster, so that, is why BSNL a government run telecommunication company is making sure it launches 5G first ever in India.
Let us assume that BSNL launches their 5G somewhere in the year 2020, but you might wonder if it would be a wise idea to select the 5G plans and start using the service. Every user might have this doubt that the connection won't be highly efficient while in the starter phase which is a wrong thing to think.
Reasons to Select for 5G from BSNL
All telecommunication brands including BSNL have started working on acquiring the 5G technology and on the other hand they have been implementing the hardware side as well for greater optimization.
Overall : 5G will be the fastest mobile network functionality all across the world that excels in speed, bandwidth, coverage and also reliability.
Supports more Devices : 4G can only accommodate or support less than 500 devices or so in a tedious of 1000 meters which is why there are a lot of towers, but 5G works with small antennas that can still support 1000 devices in a radius of 1000 meters with directional setting.
High Frequency and High Speed : 4G relies on a radio frequency spectrum range of less than 6 GHz while the new network 5G will operate in the range of 30 GHz to 300 GHz range which is quite large, and the high frequency range leads to high speed that means 5G will be giving a better speed over a wide range of area with more device supported too.
Data Request Switch : 5G networked devices will have the functionality of switching between 4G and 5G when they know what kind of data requested and transmitted from the network operator.
Bandwidth and Speed : I think the most important criteria to look at the bandwidth which refers to the amount of data which you allow to use over a period of day or month depending on your plan. While the speed of 5G will be 20 times faster than the 4G connection which means the bandwidth will gradually 10 to 20 times more than the normal BSNL 4G data plans.
Minimum Download Speed : 5G has a minimum download speed of around 20Gbps where as 4G is only at a limit of 1Gbps.
BSNL 5G Data Plans – Will 5G Plans be at lower price?
Hope you're aware that, 4G Network of BSNL has been launched in Kerala and it is about to be welcomed to other countries very soon, In this gap we might come across 5G BSNL network all over India, and the Data Traffic Plans will be slightly costlier then compared to 3G or 4G plans based on speed including upload and download limit provided.
BSNL 5G Launch Date – When will BSNL 5G Launch in India
The mobile networking companies and brands are working to acquire the 5G technology to implement those as soon as possible but 5G is available in only few cities across the world in test phase, and It will be quite some time till BSNL will release their 5G plans but we are sure that it will happen sometime in the year 2020.
Hopefully we can witness the speed of 5G by the last quarter of 2020 to see how seamless streaming across the web and videos will look like.
Lash backs of 5G Launch in India – How BSNL can help 5G Device Users?
Even after the launch of 5G technology in India there will be quite few problems and one of the most important one seems to be the device limitations. Yes, even though BSNL can launch the service the devices which every Indian use should have the ability to access and user the 5G service.
Now it all comes down to the particular smartphone company provider who has to make sure that every smartphone they released are up to date with the new software update to work in synchronous with the BSNL 5G service.
Frankly speaking there would be nothing BSNL can do when the phone brands have to make sure their devices can adopt to the 5G facility, but if your device does not have such ability or software update released till then, you might have to look for some other device or push the brand to launch the updates.
As we speak, all telecommunication providers are working on the 5G trials while the smartphone brands are also on their peak to make their devices adoptable to the new technology, So, we can see that most of the famous brands and popular smartphone that are in wide use can get the update quickly but we might have to wait for others while the updates come in for 5G usability.
Reselling of BSNL 5G to other Mobile Operators in India
BSNL, a government owned organization as we already discussed and for the Indian government to release the 5G they have acquired it from International vendors at cost of trillions in rupees, Frankly speaking the government cannot get the investment back from BSNL alone in returns from users who will use the 5G service.
In this case the government will be conducting an auction where other India based telecommunication mobile operator services will bid to release the latest ultra high speed technology on their platform as well, In this way government can make a profit while earning constant revenue from their owned BSNL as well.