Why 4G network of many private operators in India not providing the data browsing speed to their customers even like 3G Net of BSNL GSM services, finding the reasons for customer sake, must know…
Let us see the reports of Andhra Pradesh telecom circle with some figures, In AP there are above 5 crore mobile customers across all networks and PSU is having 11% share i.e. 55 Lack BSNL mobile numbers. In that share, only 4 lack subscribers using mobile data with net packs subscription or by main balance under BSNL prepaid or postpaid mobile services.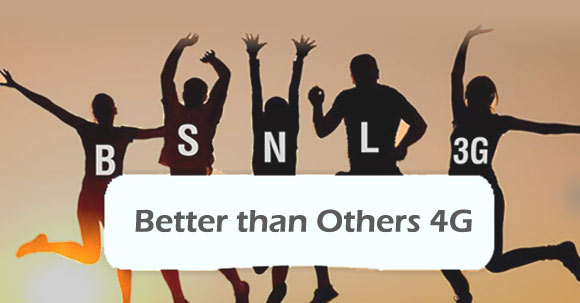 Market Share
As per the various reports, let us see the customers of other private network operators.
The market share of JIO in AP State is 28% ie 1.4 crore Reliance Jio customers, where data subscribers are about 1 crore people. Coming to Airtel's market share, it is 35% by having 1.6 crore customers and about 1 crore people as data consumers.
As per the live mobile connections report when compared to other private networks, the market share of AP BSNL telecom circle is 1:25. Note (1).
Mobile Operator BTS Sites
Let's check the count of Mobile BTS (Base Termination Stations) in Andhra Pradesh and the bandwidth available to data subscribers.
BSNL have 4350 stations, Airtel is having 5500+ sites, JIO have 7500+ locations and if assume each network site connects with two BTS, then the Cell sites have a ratio of 2: 3 when compared to BSNL and other private operators. Note (2)
Details of GSM bandwidth
Let's check the details of bandwidth in detail provided with each cell site of all operators.
Cell bandwith means, the total speed band that can be used together with all mobile data customers who are serving in a cell site location. The speed of various networks is as follows
If a network connects with 3G, the maximum speed connects with 63Mbps bandwidth.
While a BTS connects with 4G means, the maximum bandwidth is 500Mbps.
As per the above data the maximum speed from one cell tower is 1: 8 ratio between 3G and 4G. The average mobile net speed item of a data user, depends on the number of cell towers on a single location and bandwidth assigned to each tower range.
Above Note 2 and 3 says that, In AP circle, BSNL and other 4G private operators allotted a bandwidth of 1:12 ratio to the data users net usage, but at the same time, if we check the Note(1), we can observe that, the number of users of BSNL and private 4G operators data in our AP circle is 1:25.
Why private operator's 4G speed is slower than BSNL 3G?
When we observe the above bold figures, we can clearly observe that, EACH and EVERY BSNL data customer is getting 1Mbps speed, but when comes it to other private operator's 4G network, TWENTY FIVE subscribers together getting 12Mbps 4G download speed, means that one user gets only 0.45Mbps speed in 4G network which is lower than the available BSNL 3G network speed.
Now, you may know clearly why private operator's 4G SIM is not getting the 4G speed and is lower than BSNL 3G Mobile Data even your mobile displays 4G network.
Other important news
Because of the frequency of the 4G tower is high, mobile network coverage is very low, and where there is no mobile signal, the places called as black spots. These Black spots are very high in the case of private 4G operators. When considering the fact, compared to BSNL, other 4G private operators are also covered by consumer coverage issues in a large extent more than BSNL and the Government's owned company is also having additional BSNL 4G WiFi hotspots to overcome the speeds in uncovered GSM areas.
Example for 4G slow speed
The bandwidth of other 4G private operators is much larger than a national highway, but that national highway covered with heavy vehicles, Cranes, JCB's, lorries and bigger buses. In such circumstances, there is no way to go to another bicycle and those heavy vehicles stopped traffic jam, then where the bicycle moves.
But when comes to Government's owned telecom operator, the network coverage of present BSNL 3G data SIM card is higher than 4G coverage of private operators, and the bandwidth is slightly smaller than a state highway, no vehicle can be jammed. The reason is that BSNL has the best bandwidth availability.
That is why, since the difficulty of those 4G private operators has grown significantly, the average data speed BSNL consumer receives higher than the average speed available with other private 4G consumer.
Please note, this review is made by P.Raju SDE BSNL by taking the whole state as a unit. The above review is also applicable for all the states, because all the states is having the same 4G speed issues. So, if BSNL employees can do the best marketing with all latest trending BSNL data services will surely achieve up to 50% market share in the present scenario only.