BSNL WiFi broadband plans are kicking off with strategic alliance between BSNL and Tikona Digital networks and the WiFi broadband alliance provides ultra speed unlimited wireless internet to customers under BSNL broadband services over WiFi with maximum speed.
Tikona Digital networks join the hands with BSNL to provide WiFi broadband to netizens and the idea of offering wireless internet is a new welcoming concept, the both ISP's jointly ventured in delivering the network products which will be interoperable to provide the maximum speed over WiFi with new tariffs.
The long expected moment on broadband service now comes into action for the provision of Wireless internet services with new speed variations and also, this is not a WiFi internet prepaid service, and it's straight out for the preparation of WiFi broadband plans via postpaid.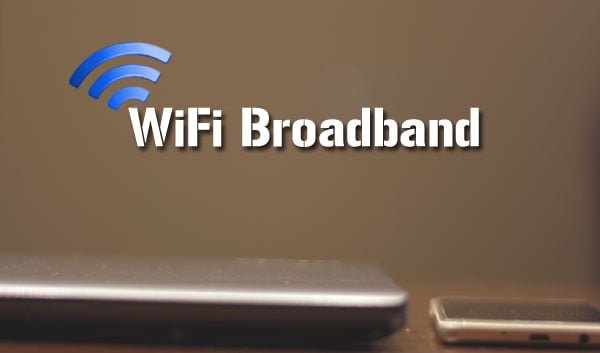 You may know about the existing BSNL broadband without a landline, and now you may get the complete info on BSNL Broadband over WiFi, where these tariffs provide broadband maximum speed and were able to scrub through a streaming 4K video on a big-screen WiFi TV without any buffering.
From 01.11.2017, ISP enhances download speed in all BSNL wired broadband plans, now this BSNL WiFi internet plans is an ultra fast wireless internet which is an alternative to traditional wired broadband and future coming internet access.
We present the newly launched BSNL wireless broadband plans for home and business, accordingly you can check the indicated total charges, and BSNL broadband maximum speed (bandwidth) offer as a regular measure on WiFi technology in all zone wise BSNL circles.
BSNL WiFi Broadband Plans
| Plan Name | Monthly Charges in Rs | Bandwidth (Download Speed) | Free Calls |
| --- | --- | --- | --- |
| 300GB_Fi | 500 | Up to 10 Mbps till 300GB, after 2Mbps | # |
| 500GB_Fi | 600 | Up to 15 Mbps till 500GB, after 2Mbps | # |
| Flat 6 Mbps_Fi | 750 | Up to 6 Mbps Flat | # |
| 650GB_Fi | 777 | Up to 15 Mbps till 650GB, then 2Mbps | 24 Hrs. unlimited free calling (Local+ STD) to any network within India |
| 850GB_Fi | 845 | Up to 20 Mbps till 850GB, after 2Mbps | # |
| Flat 8Mbps_Fi | 1000 | Up to 8 Mbps Flat | # |
| 1100GB_Fi | 1051 | Up to 25 Mbps till 1100 GB, upto 2Mbps beyond | # |
| Flat 10Mbps_ Fi | 1200 | Upto 10Mbps Flat | # |
| 1400GB_Fi | 1200 | Up to 30 Mbps till 1400 GB, then 2Mbps | # |
| 1800GB_Fi | 1491 | Up to 30 Mbps till 1800 GB, after 5Mbps | 24 Hrs. unlimited free calling (Local+ STD) to any network within India |
| 2500GB_Fi | 1991 | Up to 30 Mbps till 2500 GB, then 10 Mbps | # |
| 3500GB_Fi | 2295 | Up to 35 Mbps till 3500 GB, then 10 Mbps | # |
| 7500GB_Fi | 6995 | Up to 50 Mbps till 7500 GB, beyond 20 Mbps | # |
# Voice can be enabled through existing Add-on Voice Pack
The above BSNL WiFi plans are available as regular plans for all the WiFi service zones as mentioned below with effect from 03.02.2021.
In order to make voice solution as financially viable for existing as well as prospecting BBoWiFi / Bharat Air Fibre customers, voice service is to be offered through SIP platform by installing BSNLs App WINGS without additional cost to customers of revised BBoWiFi plans 650GB-Fi & 1800GB_Fi who are refusing to opt these plans due to high price of IP phone for voice calling, Hence, customer will be given voice service either through the App or regular phone attached through CPE, but not both.
BSNL WiFi Broadband Static IP Deposit
ISP also introduced the following charges for One Static IP address (on request) under all the Bharat Sanchar Nigam Limited WiFi plans for all the existing and new customers as below.
| Broadband Over WiFi Plan (s) | Additional Charges per Annum (Rs.) |
| --- | --- |
| Broadband over WiFi plans with FMC Rs. 1000 and above but less than Rs. 1500 | Rs. 2000 |
| WiFi broadband plans with FMC Rs.1500 and above but less than Rs. 2799 | Rs. 1800 |
BSNL WiFi Zones India
Zone-1 (AP / Telangana)
Zone-2 (Karnataka)
Zone-3 (Tamilnadu and Chennai TD),
Zone-6 (Gujarat)
Zone-7 (Maharashtra)
Zone-11 (UP West, UP-East, Uttaranchal)
Zone-12 (Haryana)
Zone-13 (Punjab, H.P., J & K)
Zone-14 (Rajasthan)
All we know about the future of internet access is wireless and this new unlimited WiFi plans promises to deliver maximum speed at an astonishing rate and if you have any doubts regarding BSNL WiFi broadband plans and services, you can post here or dial to BSNL broadband customer care number.