Fair Usage Policy is the term for FUP, and it is applicable for BSNL services as per their tariffs, check here about the FUP limit on BSNL broadband and mobile data services, also how you can bypass the limit and restore high speed internet.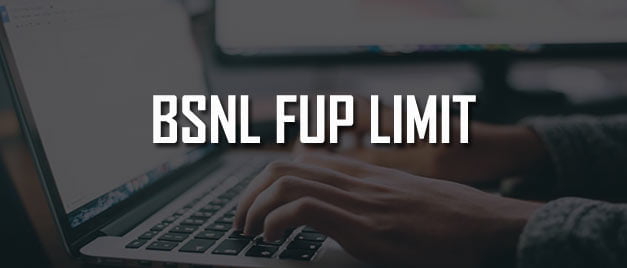 FUP BSNL
For which plans FUP Limit is applicable?
All the unlimited broadband plans and unlimited data plans of BSNL prepaid and postpaid category are configured with fair usage policy limit.
Can BSNL FUP limit be added to next month, if does not consumed in present month?
At present, this kind of carry forward facility is not available, in future this may be launched.
What are the options and link to check BSNL FUP Limit in online?
You can perform a check for broadband usage in three ways

Consolidated usage at http://172.30.110.25:8090/ssssportal/manualRedirection.do
Why FUP limit launched and configured?
To control the unauthorized heavy data usage among customers on Broadband or Mobile, ISP configured FUP limit in each plan, where the customers who required higher FUP can opt for highest FUP plans.
Whether FUP Limit happy browsing link is available to restore speed?
What to do if FUP Limit of subscribed plan crossed and Top Up page skipped?
You can restore high speed internet at anytime using the link http://172.30.139.25:9090/ssssportal/manualRedirection.do from that particular data connection, and it is applicable only for BSNL broadband services.
Can we restore high speed data in mobile like FUP TOP UP in broadband?
No, if you are already subscribed with daily data pack(unlimited), you have no chance, but if you have subscribed with fixed data pack(limited usage) and exhausted, then you may recharge with required voucher.
Whether Daily GB broadband plan users are allowed for BSNL FUP TOP UP facility?
If you are subscribed to daily FUP limit in any BSNL broadband plan, you are not allowed to top up the broadband FUP, but allowed to others as per the technical feasibility

Ex: The customer of FTTH 500GB CUL plan at Rs.777 allows 500GB per month FUP, then he is allowed to top up after the limit, but in the case of the customer who subscribes with BSNL 33 GB plan cannot, because everyday at 00:00 hours, the plan itself restored to high speed internet as per FUP limit.