Introduced Bindas Bol a new recharge plan for PAN India BSNL Prepaid Mobile users at 1499 with 336 days validity, Check the new tariff for unlimited…
PAN India Bharat Sanchar Nigam Limited has now introduced a new prepaid recharge plan BINDAS BOL at Rs.1499 with inclusive of all taxes with one year free calling and 24GB data with an exclusive promotional offer allowing 30days extra validity.
The free calls shall also be allowed in entire India including MTNL network areas (Mumbai and Delhi), and this new tariff shall be available in all circles with revised tariff from 01.07.2022 in addition to the existing BSNL prepaid recharge plans, Let's check the new tariff of Bindas Bol prepaid recharge.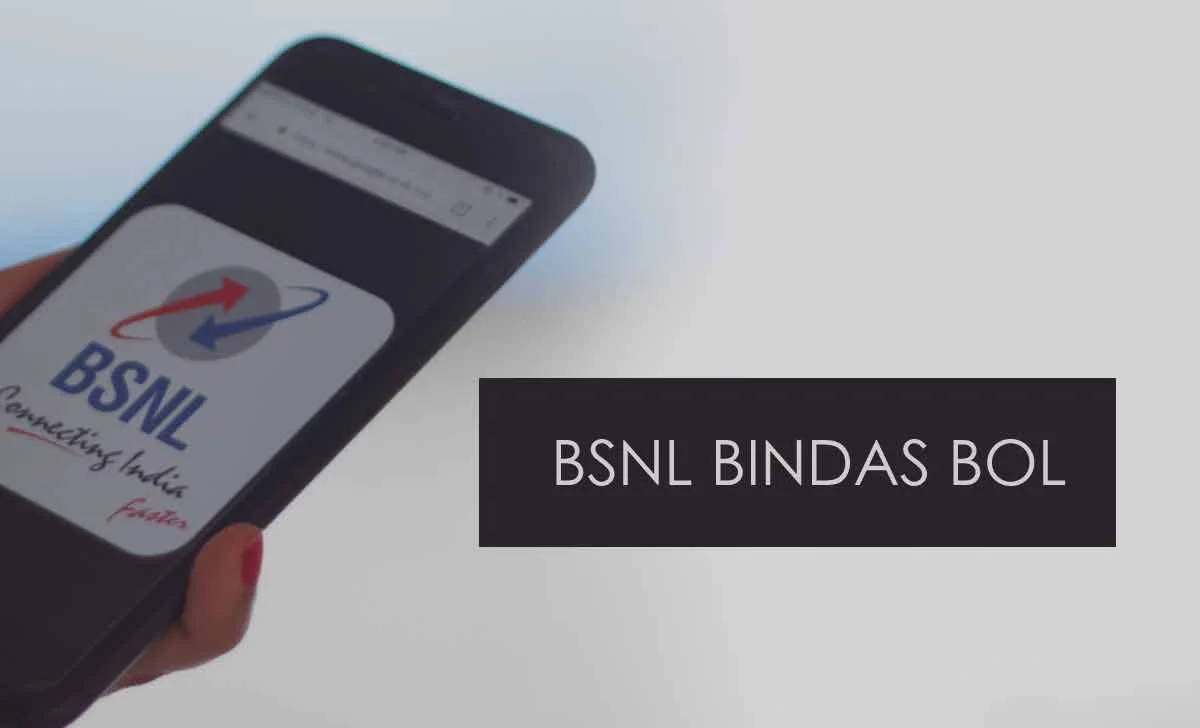 BSNL Bindas Bol 1499 Details
Particulars
FRC / PV 1499 Tariff
Price of FRC/PV in Rs. (incl. GST)
Rs.1499
Free data usage
24GB
Voice freebies $
Unlimited free voice calls in home and national roaming including MTNL network roaming area of Delhi and Mumbai and with in India.
Free SMS any network
100 Free SMS/day will be applicable in home and national roaming including MTNL network roaming area of Delhi and Mumbai
Actual Validity for Freebies & Tariff
336 Days
Call Charges after Free Usage
Rs.1 / Min for Local
Rs.1.3 / Min for STD
Data Charges after Free
Rs.0.25 / 10KB
SMS Charges after Free
Local/STD = Rs. 0.8/1.2
$ = This voucher is intended only for the personal use of included services. BSNL reserves the right to discontinue service immediately in case of misuse/ fraudulent use/ unauthorized telemarketing and commercial use, where unutilized free benefits will be forfeited at the expiry of current recharge of the plan.
Whether the free calls allowed for Premium Numbers?

No, the Voice benefits/SMS benefits (if any) under this voucher cannot be used for outgoing calls/SMS to premium numbers, IN numbers, international numbers and other chargeable short codes will be charged as per the applicable tariffs.

Can this BSNL 1499 recharge allowed to Old customers?

The existing prepaid customers are allowed to migrate to BSNL 1499 recharge (BSNL Bindas Bol plan) at any time with all freebies applicability as mentioned in the tariff chart.

Is it a regular plan or promotional offer?

This new introduction is a regular plan with effect from 01.09.2020 and with revised tariff from 01.07.2022, and allowed to recharge through BSNL online recharge portal and with My BSNL App.