BSNL launches SMS registration facility to apply for new Landline, Broadband or new connections of BSNL Bharat Fiber plans, With this facility, customer can book for a new service through SMS, and within 24 hours, an executive from BSNL will contact your mobile number and send BSNL executive / representative to your contact address for New Registration of the service…
This is a new initiation taken by Bharat Sanchar Nigam Limited to register any kind of service through SMS, but the customer has to send the following code to the destination number 54141 to apply for of new BSNL broadband services through SMS, Here is the list of SMS codes.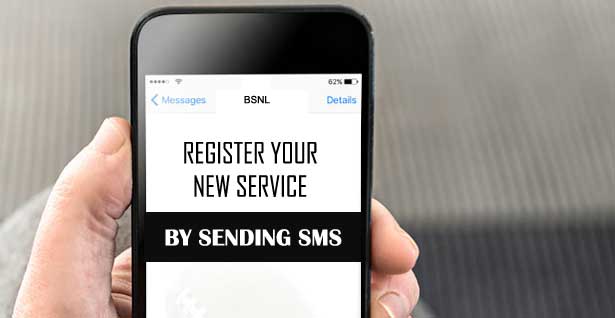 Customer has to send SMS to 54141 if having BSNL mobile number, where if having other network number (Airtel, Vodafone Idea, Reliance Jio) has to send ans SMS to 9400054141
| Service | SMS Code 54141 / 9400054141 |
| --- | --- |
| Landline | LL*STD Code |
| Broadband | BB*STD Code |
| Landline + Broadband | LL+BB*STD Code |
| WiMAX | WIMAX*STD Code |
| Others (3G Data Card etc..) | OTHERS*STD Code |
Which STD code will have to send in SMS?
Customer has to send the STD Code of the area where the BSNL New Service is Rendered instead of message sending location.
Ex:- If your are in Bangalore, but required Broadband at PUNE, then send STD code of PUNE (020).
Example to Send SMS for BSNL New Service Registration
If your want BSNL Broadband at Bangalore, then just send BB*080 to 54141 (from BSNL Mobile) or to 9400054141 (from other network)
Is there any charges to apply BSNL services through SMS
NO charges from BSNL mobile, but from other operators mobile, SMS cost is applied.
Whether this BSNL New Service registration through SMS is available in all India?
Yes, this is PAN India based service available in all circles across India
Can we send any surrender request in this format?
No, at present, the closure requests are accepted only through written request.
This SMS facility is one of the service at your doorstep with latest plans, which will provide more convenience at your location, so just send an SMS with the above required code and avail BSNL Landline / Broadband / Bharat Fiber services at your doorstep as per the feasibility.