Find the latest MTNL broadband plans in Delhi over DSL and Fiber network, check the new tariff of 2023, and new download speed introduced for this month…
The Mahanagar Telecom Nigam Limited of Delhi has revised the broadband plans to plan for double FUP benefits, and the data benefits are doubled now or earlier and with giving good speed even after the FUP limit is utilized.
The State-Owned Telecom company does have limited packages, but the network continuity is better when compared with other service providers, and anyone willing to get an MTNL Delhi Broadband connection can visit the nearest office in the region or call the toll free number to register.
The modem provided by MTNL is better to serve your LAN connection into good Wi-Fi with cost effectiveness, and a new connection with MTNL will also get a Modem as per MTNL Delhi FTTH plans or DSL to get your Broadband LAN connection as a Wi-Fi to be used for multiple devices in your surroundings, Let's check the new tariff.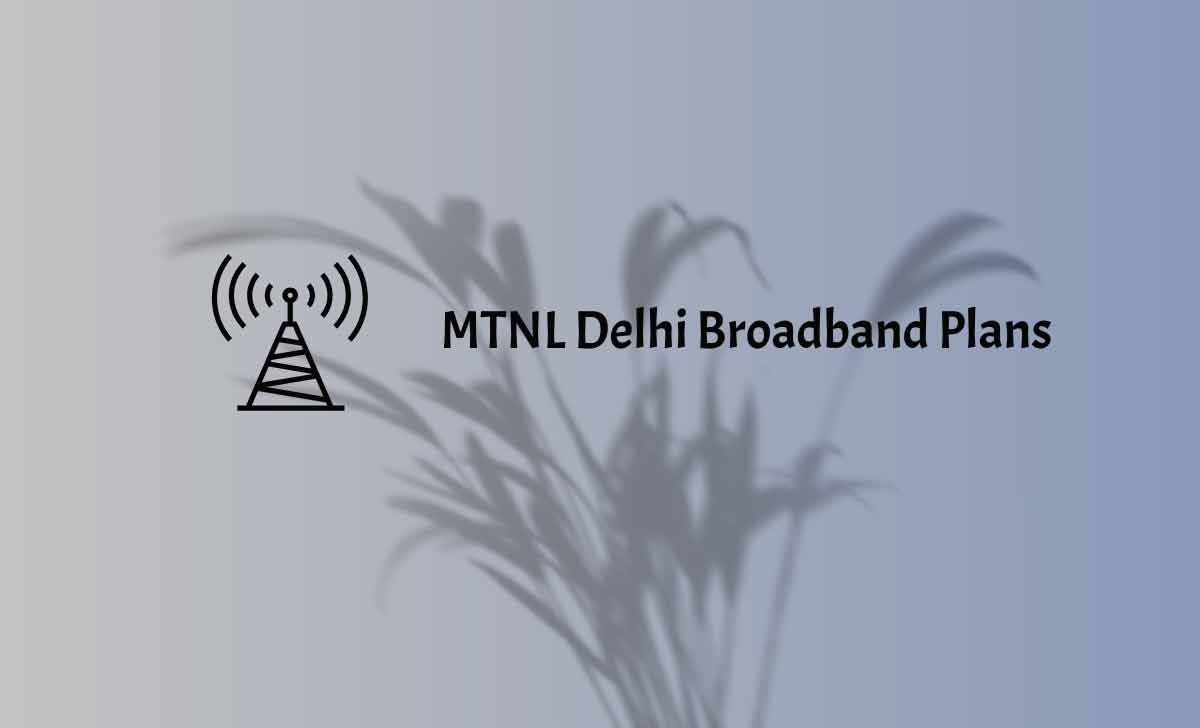 MTNL Delhi Broadband Plans October 2023
DSL Plan Name
Download Speed
Rent in Rs
Freedom ULD 699
8Mbps upto 400GB, then 1Mbps
699
Freedom ULD-849
8Mbps upto 600GB, then 1Mbps
849
Freedom ULD-999
8Mbps upto 650GB, then 1Mbps
999
Freedom ULD-1099
8Mbps upto 750GB, then 1Mbps
1099
Freedom ULD-1299
8Mbps upto 1000GB, then 1Mbps
1299
Freedom ULD-1499
8Mbps upto 1200GB, then 1Mbps
1499
Freedom ULD-1999
8Mbps upto 1500GB, then 1Mbps
1999
TriB UL Data-3699 Combo
8Mbps Unlimited
3699
Fiber Plan
Download / Upload Speed
Rent in Rs
FTH 777
100Mbps upto 800GB, then 1Mbps
Month=777
3Month=2070
1Year=7770
FTH 1111
500Mbps upto 1500GB, then 5Mbps
Month=1111
3Month=2960
1Year=11000
FTH 1500
(New Customers Only)
500 Mbps upto 2400GB, then 5Mbps
Month=1500
3Month=4000
1Year=15000
FTTH Fire
500Mbps upto 3000GB, then 5Mbps
Month=2000
3Month=5400
1Year=20000
FTH 2990
1Gbps upto 6000GB, then 5Mbps
Month=2900
3Month=7970
1Year=29900
FTH 4990
1Gbps upto 12000GB, then 5Mbps
Month=4990
3Month=13300
1Year=49900
MTNL Delhi Broadband Plans
Which is the best MTNL Delhi Broadband WiFi Modem?
If you have recently got a new MTNL Broadband connection, then you can request to get HG 520 Modem with your connection, and this gives a 40 meters range which is much wider for effective WiFi connection, also it is better to use WEP key as a password, as only authorized users to get access to your WiFi.
How to Increase MTNL broadband speed?
Yes, broadband speed can be increased at any time by requesting a service provider with an upgrade plan, and once the new plan has been added to your connection the speed will be automatically increased with giving extra FUP data limit.
How to Get MTNL Delhi broadband connection?
MTNL is only limited to Delhi and Mumbai region, so anyone who is willing to get a new connection can visit MTNL Designate Area customer Service or Sanchar Haat in the local area, just submit the new Subscription form with all your details and opt for an initial MTNL broadband plan for your connection.