Having bought a new Linksys router and requires WiFi login setup for best wireless speed is something different, but here we make this a simple process at 192.168.1.1 IP with complete support which is the most essential part of getting a new router…
Linksys Router
Assuming that you've got yourself a new Linksys WiFi router then you basically have to complete the setup, Well, for beginners this might seem like a hard task but frankly, if you go through our article and information provided below you will be able to understand the complete process in quick time to setup Linksys wifi device.
| Particulars | Login Details |
| --- | --- |
| Login IP | 192.168.1.1 |
| Username | admin |
| Password | admin |
| Support Number | 1800 326 7114 |
Linksys Router Login
So first get the route hardware setup done which probably takes sometimes since you need to pull all the connections together, but once done you simply have to follow the instructions shared which will walk you through various steps as below
Login Process & IP to Access
Open your browser and then connect to 192.168.1.1 to load this webpage
Next simply login by entering the login information for both Username & Password to be admin only
Click login button and now you will be redirected to their homepage to continue further with the configuration.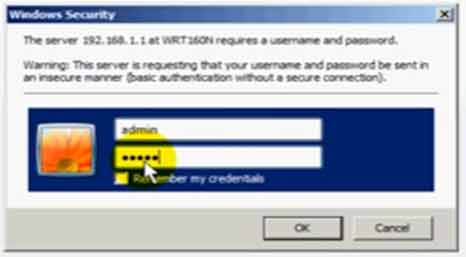 Basic Setup Settings
This section shows the basic settings that you have to complete to initiate the configuration process.
From the top menu click on Setup > Basic Setup
Host Name: Enter any name
DHCP Server: Select Enabled option and then click on Save Settings from the bottom of the page
Wireless Setup
Go to the Wireless option from the top menu section > then click on Basic Wireless Settings
Click on the Manual option and make the settings as shown below
Once done click on the save settings button and your Linksys router is now completely set up.

Network Mode: Select Mixed from the drop down option
Network Name (SSID): Enter your Router network name here
Radio Band: Select Standard – 20MHz Channel from the drop down option
Wide Chanel: should be 3
Standard Channel: Select Auto
SSID Broadcast: Select Enabled > Save
Wireless Security
Through this section you will be able to configure the router wireless settings security that is related to the password and encryption.
Go to Wireless Security and then for the Security mode select "WPA-2 Personal"
Encryption: select "TKIP or AES" option
Passphrase: enter your password
Key Renewal: Enter "3600" > Click on Save Settings button to make the changes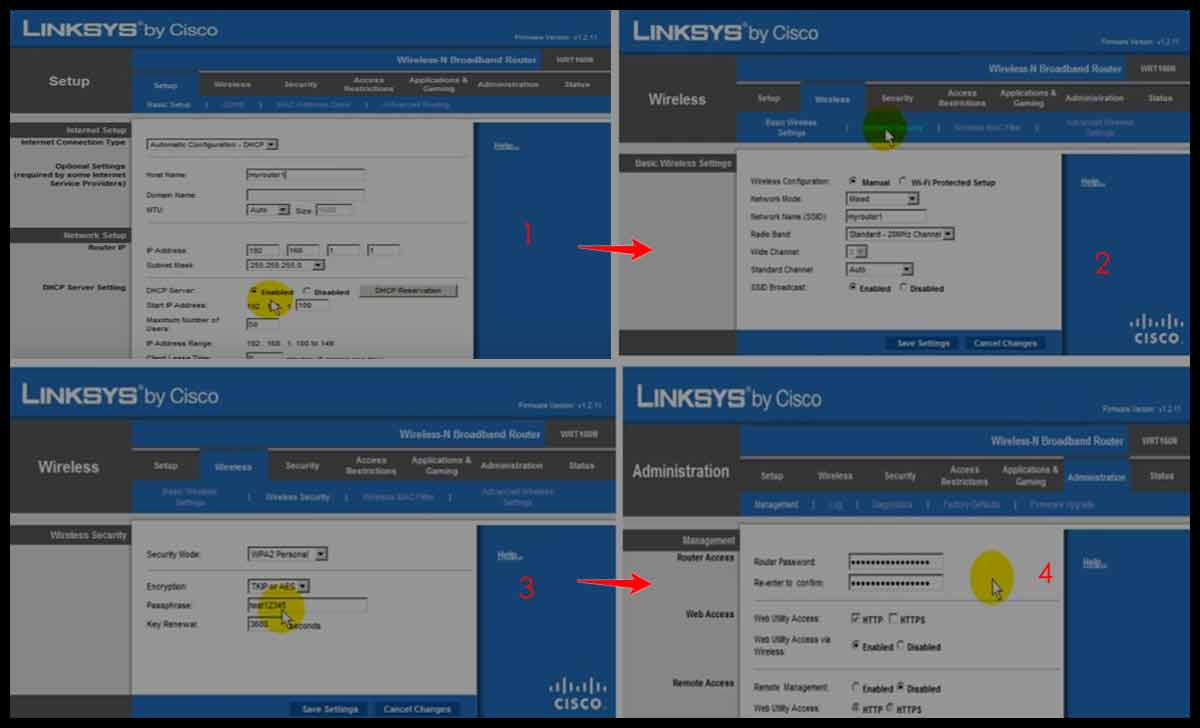 Linksys Router Password Change
Go to Administration
Select Management
Enter Password > Reenter Password
Confirm
In this way you can change your Linksys router login password at any time.
My Linksys login password and username does not work?
Well this might be the case because some routers have the username and password on their box which you can refer and try to use. Or else if it does not work then use admin for both username and password, but ensure even for password it is admin but not Admin which can be the issue sometimes.
WiFi does not work on my Linksys router, cannot see my WiFi Name?
In case after the configuration if you are not able to see your Linksys router WiFi name under the WiFi search then it may be that the Wireless settings are not enable which you can refer from our Wireless Settings section of this article to ensure that the WiFi is enabled and working properly which is the main reason for having a router in the first place.
How do I set up my Linksys wireless?
Sometimes people get confused between Linksys router and wireless router terminology, but in any case any router is wired which means it needs power connection and ether connection for the Internet supply. You can simply follow this above article for your Linksys wireless router configuration process.
Can I change my Linksys router WiFi data usage & bandwidth for IPs?
Yes, in order to ensure that no IPs or users use more data or Internet from your WiFi you can do the bandwidth limitations settings from the bandwidth section and make the changes as per your preference to allow certain speed, bandwidth for users or defined IPs as selected.